Blogging your research: Tips for getting started

Published by Lupin Battersby
Curious about research blogging, but not sure where to start?
In this post, Alice Fleerackers and Lupin Battersby answer common questions about why, when, and where to blog about research. Inspired by a recent SFU Knowledge Mobilization Hub webinar on research blog writing we weave in best practices for effective knowledge mobilization, and offer helpful resources for entering the world of research blogging.
What is a "research blog"?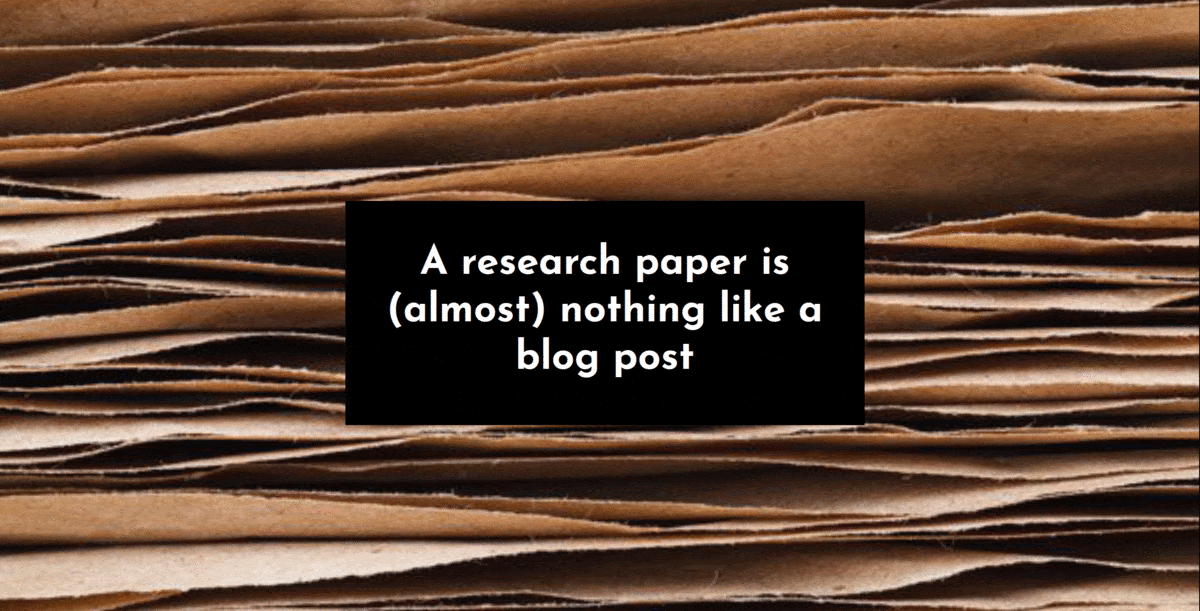 Research blog posts take many shapes and forms, but most look nothing like a scholarly paper 
What is a research blog
Research blogs can take many forms, from commentaries to summaries. But, at the most basic level, all research blog posts should have two things in common: 
Scholarly: True to their name, research blog posts incorporate scholarship in some way. That could look like a detailed overview of a recent study, a deep dive into a new method, a summary of key findings, or something else entirely. While many scholars blog about their own research, you can also use blogging to comment on work by others in your field.
 
Web-friendly: No matter what the topic, effective blog posts are written and formatted with the online reader in mind. That means they should include clear language, plenty of visuals, and a mobile-friendly design. Different bloggers have different styles, but most posts tend to be between 500 and 2,000 words long.
How to write effective research-based blog content is a topic for another post. But to get you started, here are some basic research blog formats to explore: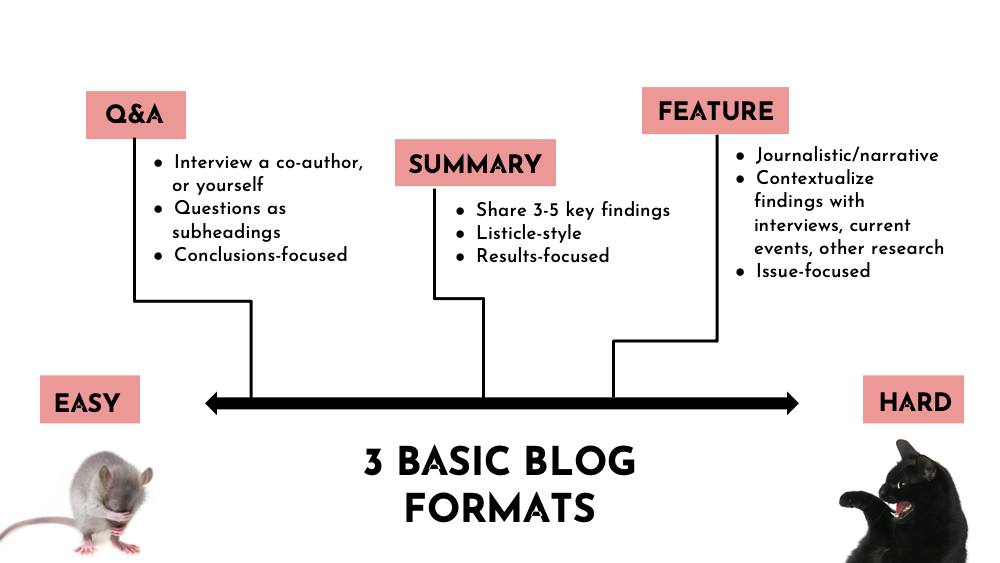 Image courtesy of Alice Fleerackers  

 Attribution-NonCommercial CC BY-NC 
3 basic blog formats
Why to blog about your research
Research blogging is a form of knowledge mobilization that can help get the right information to the right people at the right time. Blogging your research can reduce research waste, improve access, build awareness, and increase connections.
A research blog can boost your impact within and beyond academia, benefiting you professionally and personally. Well crafted posts can increase the reach of your publications and lead to further collaborations and opportunities. They can also become tools to close the loop with participants and engage stakeholders with your topic area. Connecting with your community and knowing that your research is being read is deeply satisfying.
Plus, blogging is a great way to practice plain language communication—excellent preparation for conference presentations and lectures.
Deciding where to blog
The best place to start blogging will depend on your time, budget, skills, experience, and goals. A few common options include:
Create your own blog
If you plan to do a lot of blogging, consider starting your own website. Code your own if you have the skills. (If you need to purchase hosting, Reclaim Hosting offers a very affordable student plan.) Otherwise, you can create a free or low-cost blog using services like WordPress, Wix, or Squarespace. You may also be able to add a blog to your existing website, especially if you are already using one of these services.
Starting your own blog has the advantage of control: It's up to you how often to blog, what style and tone to use, and what topics to cover. But it has the disadvantage of time and effort. Running (and promoting) your own site only makes sense if your schedule allows for it.
Blog on a third-party platform
If you only plan to blog from time to time, posting on a third-party site can be a good option. Platforms like Medium or Write As offer a space where anyone can publish content for free. These platforms are designed for the web and easy to use. (No coding required!) Some also offer extra features, like newsletters and analytics, though these can cost extra.
Third-party platforms have the advantage of letting you post professional-looking blog posts without having to start an entire blog. But the disadvantage is that you have less control over your content. Medium, for example, is notorious for changing its business model. It's always possible that, one day, everything you've posted there will disappear.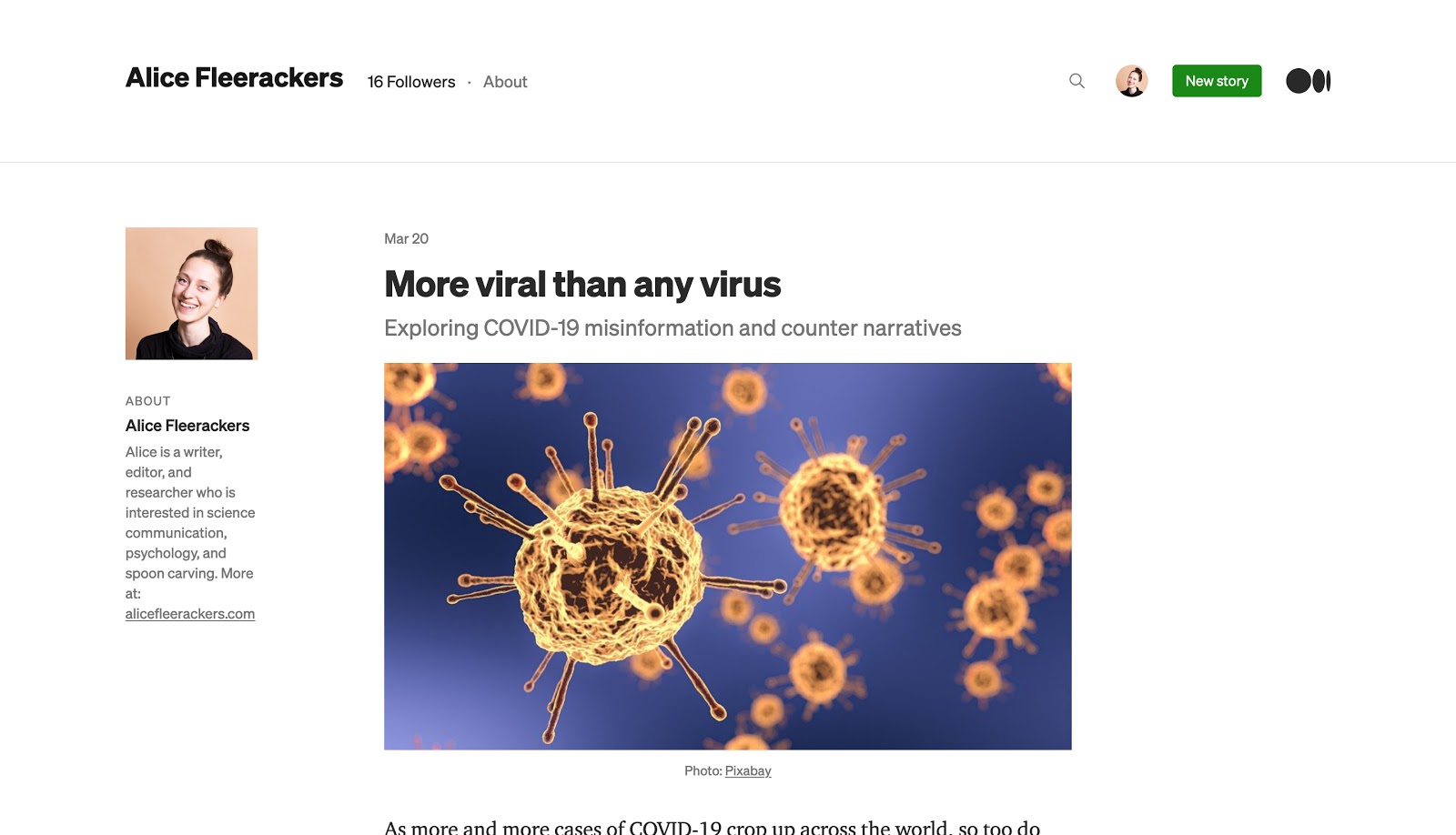 Platforms like Medium offer spaces where anyone can publish content.
Guest post on another blog
Does your university library or your faculty have a blog? If so, contributing a guest post is an option worth considering.
Guest blogging makes a lot of sense when you are just starting out, or only plan to blog occasionally.  Because there's already a built-in audience for the blog, there's less pressure to promote the content to reach readers. If you're lucky, you may even get some editorial support from the blog you're writing for.
Just remember that you'll need to tailor your writing style and topic to suit the blog you're posting on. Again, the trade off for less effort is less control.
Setting a (workable) blogging schedule
Good blogging takes time—and, for researchers, time is often in short supply. Even outside of academia, many blogs fail because the person running them has overestimated their capacity to keep things going.
Avoid this trap by being honest with yourself from the get-go. Sit down and evaluate how much time you can realistically contribute to blogging before even writing your first post. While posting frequently can help boost your blog's Search Engine Ranking, posting consistently is more important. Whether you're publishing a blog post once a week, once a month, or once a year, it's easier to build a following online when you stick to a set schedule.
Choose the platform that makes the most sense for your capacity (see "Deciding where to blog"). Set a schedule that you think you can maintain, then stick to it!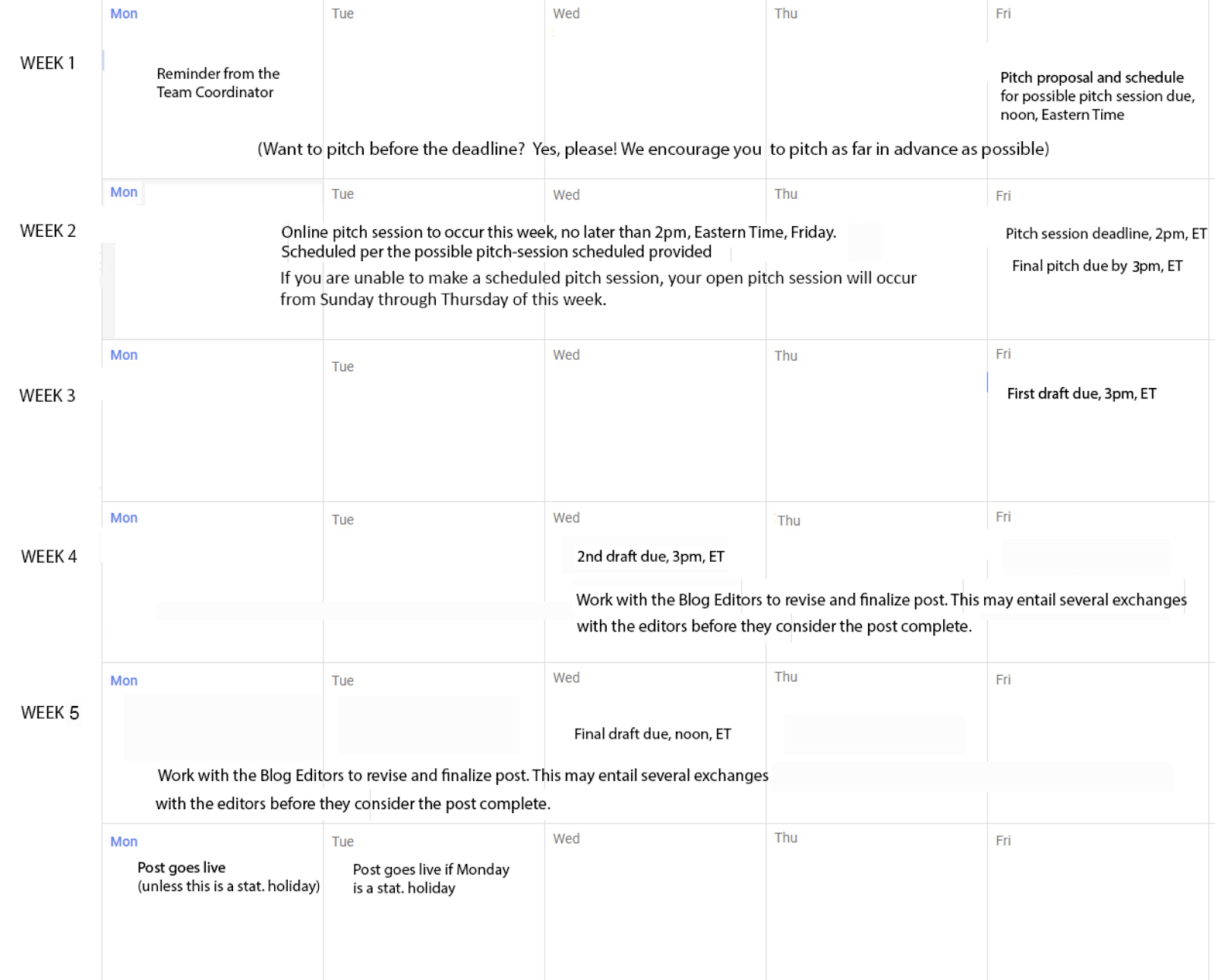 Setting up an editorial calendar, like this one by Science Borealis, can help you keep your research blog on schedule.
Promoting your posts
Once you have a blog set up, you'll need to find some readers.
There are lots of different ways to promote your blog. Sharing posts on social media is often a good start, especially if you already have a following there. Depending on your target audience, promoting new posts through a newsletter or an email listserv could also work.
Reaching out to existing blogs in your field can be another effective strategy. Some blogs will let you write a guest post that includes a link to your own blog. Others, like Library Journal's infoDOCKET or LSE Impact Blog may want to "reblog" your content. Reblogging and guest posting are a win-win for everyone: The blog you're contributing to gets free, high quality content. In return, you get to introduce yourself to a relevant community of readers.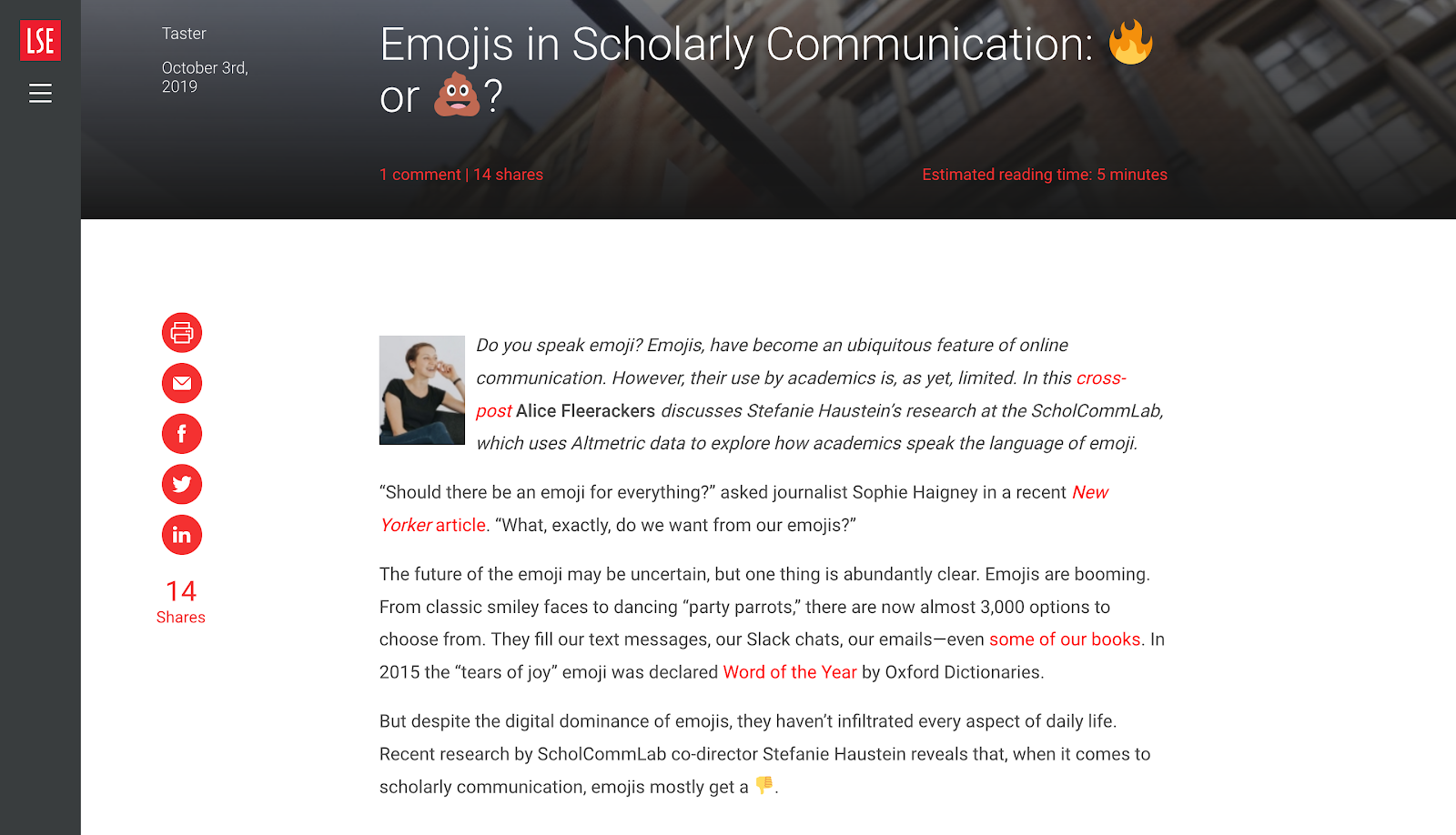 Some blogs, like the LSE Impact Blog, occasionally repost blog posts published on other sites — a great way to promote your content to a relevant readership.
Setting worthwhile goals
Before you start on the metrics, set yourself short- and medium-term goals. What will success look like for you?
This could range from improving your lay writing skills, to building interest in a problem space, to expanding your reach. Ensure it makes sense for you in terms of the scope of your research and your resources (e.g. time). Then determine what to track and measure.
Tracking and measuring success
Many platforms, like Wordpress, Squarespace, and Medium, offer built-in analytics. Most websites are also compatible with Google Analytics or a similar alternative. All of these tools let you track metrics like number of daily users, time spent per post, most popular posts, and more. These metrics can give you insights into how your content is performing and who you are (or aren't) reaching.
Just like any metrics, it's important to consider qualitative measures as well as quantitative ones. How long are people staying on your website? Are they leaving comments? Are they sharing it on social media? Depending on the kind of research you're covering, the answers to these questions may be more important than how many clicks you're receiving.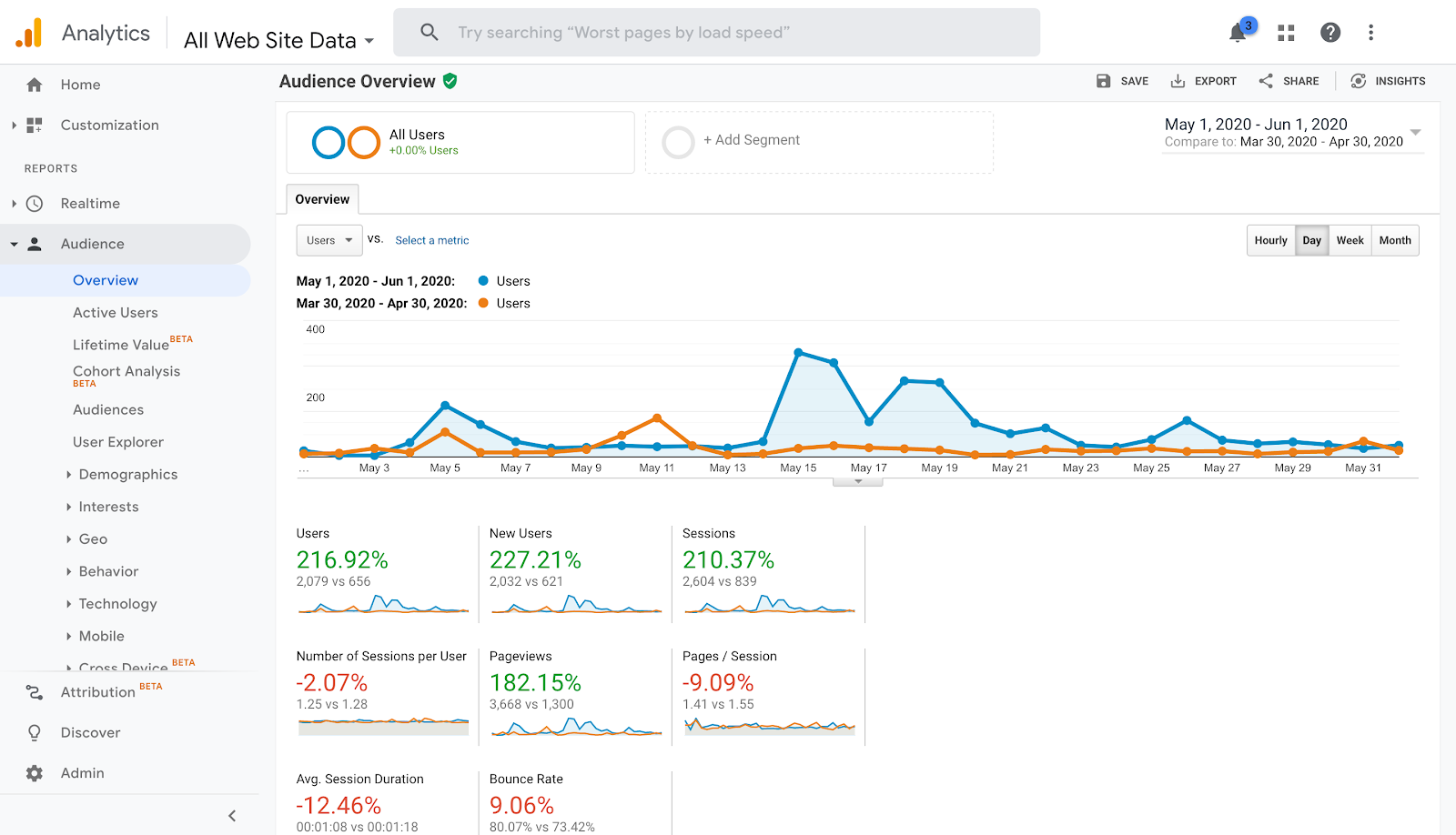 Google Analytics offers insights into how many views your posts are receiving, how long users are staying on your blog, and more. 
Most of all, use your analytics responsibility. It can be easy to get caught up in the numbers and forget the big picture. Let these tools guide you on how to improve your content and outreach to achieve your goals. But don't let them mean more than they do.
Research blogs to explore
Looking for inspiration for your first post? Familiarizing yourself with what's available in your field is a simple way to decide on a style and topic for your own blog. Plus, reading other blogs is a great way to get your creative juices flowing.
Luckily, there are tons of amazing research blogs out there to explore. Below, we've listed just a few of our favourites, but there are many, many more. Enjoy!
Researcher- or research group-led blogs
Institution- and organization- led blogs
Blogging networks and collectives