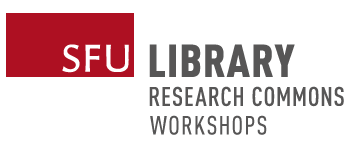 Dates
Friday, June 30, 2023 - 1:00pm to 4:00pm
Location
Burnaby, Bennett Library, Rm 7010, Research Commons
Registration dates
open until Thursday, June 22, 2023 - 6:00am
All times are Pacific Time Zone (Vancouver, BC, Canada).
About the workshop
Do you know that a very large amount of data from many resources (the web, government, research, etc.) contains coordinates or other geographic information that can be mapped? If you are not taking advantage of the spatial characteristics of your data, you are missing key insights spatial analysis and maps can offer.

Do you hope to make a decent map for your publications?

Do you want to tell which maps are telling blatant lies (believe us, there are plenty of such examples floating on the web) or avoid making misleading maps yourself?

 
Come to this in-person workshop to learn some fundamental concepts of Geographic Information Systems (GIS), and how to use QGIS- a free, open-source GIS platform with powerful tools and a wide variety of plugins- to import, analyze, and visualize your data spatially. We will also introduce some basic concepts of cartography (this is a fancy word, but basically, it means how to make meaningful, trustworthy, and aesthetic maps!).  
You are welcome to talk about your project ideas or how you would like to visualize or analyze your data.  
Learning Outcomes:  
By the end of this workshop, you will be able to:
Understand a few basic GIS concepts

Import data to QGIS

Edit data within QGIS

Understand a few basic types of thematic maps and the connections between thematic maps and data

Manipulate map symbology

 

Understand a few basic cartographic concepts

 

Create and export a map using the layout manager
Target audience
This workshop has been designed for those with little or no prior experience with GIS. It may also be of interest to those already familiar with GIS, but would like to have some hands-on experience using QGIS.
Requirements
Please bring your own laptop. 

 

You need to install QGIS on your device prior to attending the workshop. QGIS runs on Linux, Windows and Mac operating systems.

 

To download QGIS, please visit

https://qgis.org/en/site/forusers/download.html

.