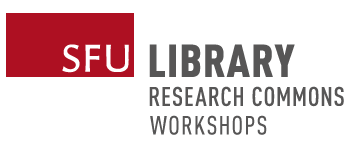 Dates
Friday, January 27, 2023 - 10:00am to 12:00pm
Location
via Zoom (link will be sent to participants 24 hours before the workshop/event begins)
This workshop is in the past and registrations are unavailable.
Registration dates
closed Thursday, January 26, 2023 - 6:00am
All times are Pacific Time Zone (Vancouver, BC, Canada).
About the workshop
Spatial thinking allows us to ask questions about the spatial patterns and organization of people, places, and environments on Earth:
What is the travel route of the Anna's hummingbird (Calypte anna)? Does it pass close to areas where predators are present, specifically those which prey on eggs?

Are neighbourhoods with low socioeconomic status spatially correlated to high morbidity rates?

Or, a more pressing question, what neighbourhoods are COVID-19 hot spots?
Many of these questions ask about the spatial relationship between two or more phenomena. This workshop is an introduction to spatial thinking and the use of Geographic Information Systems (GIS). This workshop assumes attendees have no previous experience with GIS. ArcGIS Pro is Esri's newest desktop software, which will eventually replace ArcGIS Desktop (aka ArcMap).
Target Audience
This workshop is designed for those with little or no prior experience with GIS but are interested in getting started with it or learning ArcGIS Pro.  It may also be of interest to those who are already familiar with ArcMap, but are interested in migrating from ArcMap to ArcGIS Pro. 
Learning outcomes
By the end of this workshop, participants will be able to:
think spatially about their research;

understand the basic elements of GIS, geospatial data, and spatial analysis;

use a GIS environment (ArcGIS Pro);

create simple maps using geospatial data;

look for and find geospatial data and resources
Core competencies
finding and using spatial data, projections, spatial thinking, map essentials
Requirements
Software
ArcGIS

Pro. Current

SFU

students, staff, and faculty members are eligible to download and install ArcGIS Pro

to their personal computers.

Please make sure you download

ArcGIS

Pro (not

ArcGIS

Desktop, which is the first one on the list)

from the download page.
Resources