Women in the workforce: Statistics, causes, and issues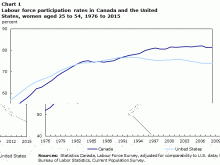 Source: Statistics Canada
Published by Mark Bodnar
I see that Statistics Canada has just released the results of a study on The Canada–US gap in women's labour market participation, 1997 to 2015.  (Spoiler: The two countries had similar, and rising, rates until about 1976, then Canada's participation rate continued to climb while the US rate began to decline, to the extent that there is now 7-point gap between us on this measure.)
As is often the case, these numbers raise all sorts of questions: Do parental leave policies (government and corporate) play a role?  How about immigration levels or the relative size of each generation?  Could education costs or housing prices be part of the equation?  Are there broader cultural issues involved?
If you, too, are intrigued by such issues, try the links below to search for books, ebooks, reports and more about women and employment in Canada. 
Feel free to change "Canada" to another geographic region (United States, British Columbia, Europe...) or to leave the geography out entirely to research each subtopic more broadly.
Frequent readers of the BUEC Buzz will know that this is just tip of the iceberg and that I could go on much longer about relevant resources. I'll spare you the full essay today, but please do let me know if you would like to discuss researching this topic in more depth.  
Happy researching!
-- MarkB
~~~~~~~~~~~~~~~~~~~
Mark Bodnar
Business & Economics Librarian
mbodnar@sfu.ca