SimplyAnalytics: When only local market info will quench your thirst
Published by Mark Bodnar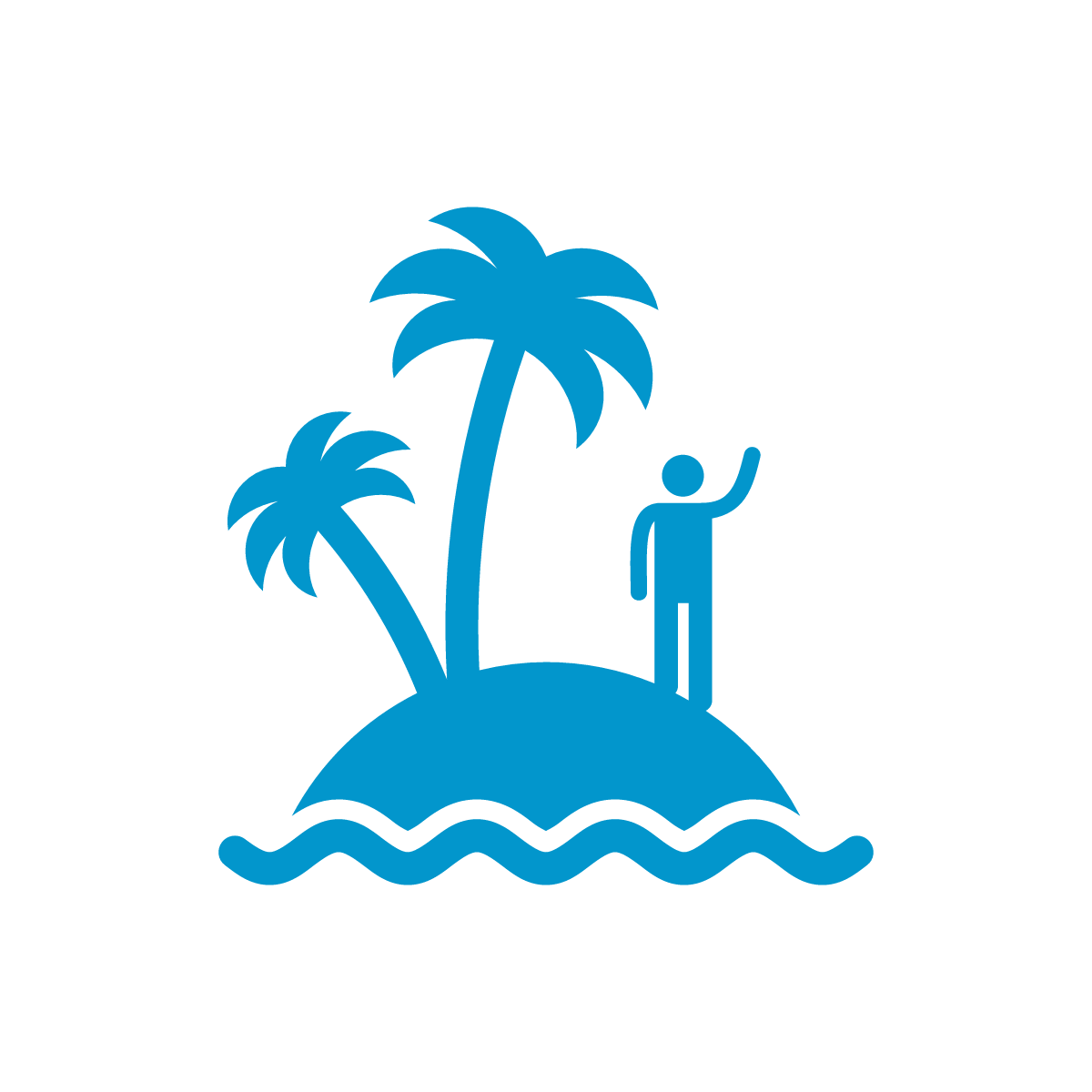 "Water, water everywhere, / Nor any drop to drink"
It's rare that I get a chance to quote poetry here in the BUEC Buzz, let alone a 185-year-old poem by a master like Samuel Coleridge... but this line from The Rime of the Ancient Mariner is oddly apropos of the frustration involved in trying to research a local market in our information age.  
We are all awash in information, so it can seem like doing good market research requires just a Google search or two — a quick dip with a cup over the side of the boat.
Of course, research is rarely that simple. Much of the best data and analysis is not free on the web (hence our cool databases!) And when you get ultra-specific in your needs — local markets, niche products — the well dries up quickly.  
That's one of the reasons we are so pleased that our library provides access to SimplyAnalytics, a "web-based mapping, analytics, and data visualization application that makes it easy for anyone to create interactive maps, charts, and reports."
Before we get into the details, here's a sample of what you can get out of SimplyAnalytics: the image below is a map of part of Metro Vancouver in which each small neighbourhood has been shaded based on the average amount households are spending on children's clothing.  We've then added the locations of all of the stores that specialize in selling children's clothing (the little numbers in yellow circles).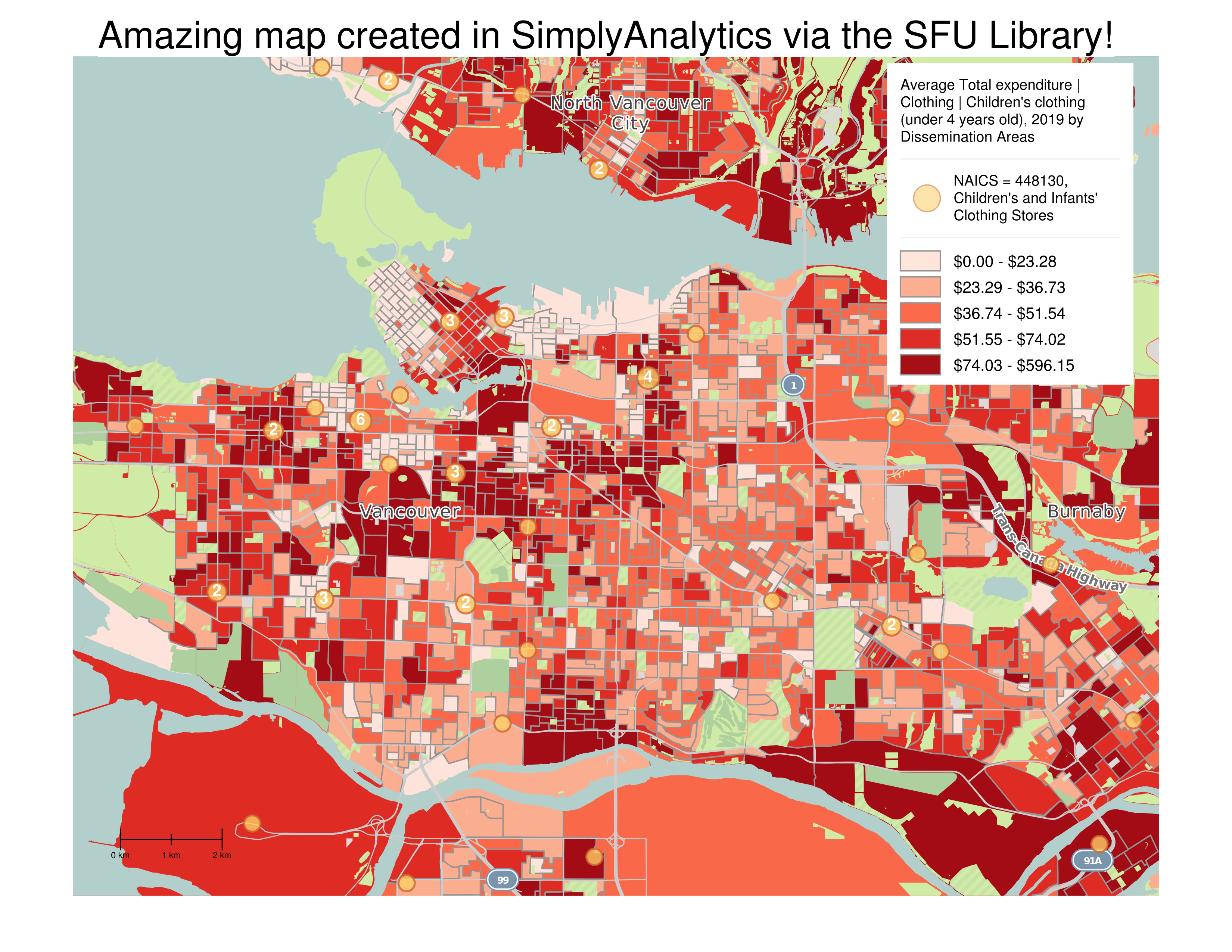 This is just a simple example of what can be done with SimplyAnalytics.  Click here for another map in which we looked at spending on sewing materials and the locations of used clothing stores. 
If necessary, we could filter out all all the neighbourhoods with incomes above a specific amount, then export a ranked list of the remaining neighbourhoods.  Or we could pick a location, perhaps one where I'm considering starting a clothing store, then chart the percentage of homes within 1, 3, and 5 km of that location that have kids aged 0-4.  
And we could even combine neighbourhoods into custom locations that fit our specific needs.
That's only a hint of the functionality offered by SimplyAnalytics.  Let's talk a bit about the content...  You can use this powerful database to map, chart, compare, and rank the following types of data for any Canadian location:
Demographic estimates for Canada — covering all census topics: age, income, housing, language, immigration status, commuting method, and much more.
Broad spending data for Canadians: "current estimates of annual expenditures for 480 variables, spanning 18 categories of goods and services used by Canadian households." (Doesn't cover brands, but such category-level info can often serve as the basis for estimates about narrower topics.)
Business records from Dun & Bradstreet covering over one million Canadian businesses: Legal Name, Business Name, NAICS & SIC Code, Address, Telephone number, Web address, General description, Estimated revenues, Number of employees, Year started, Key contact person and more.
PRIZM5 psychographic cluster data on Canadian consumers "that integrates geographic, demographic and psychographic data" into 68 lifestyle types.
Ironically, SimplyAnalytics isn't a simple resource to use, but there is a great deal of support (manuals, variable lists, and videos) available within the database. We'd be happy to help you if those resources don't suffice.
-- Mark & Adena
----------------------
Mark Bodnar - Business Librarian: mbodnar@sfu.ca
Adena Brons - IAT Librarian: adena_brons@sfu.ca