Inter-Corporate Ownership Data (Canadian) - 2016 now available
Published by Mark Bodnar
I just heard that the Inter-Corporate Ownership dataset has been updated in ABACUS -- 2016 - First Quarter Data is now available.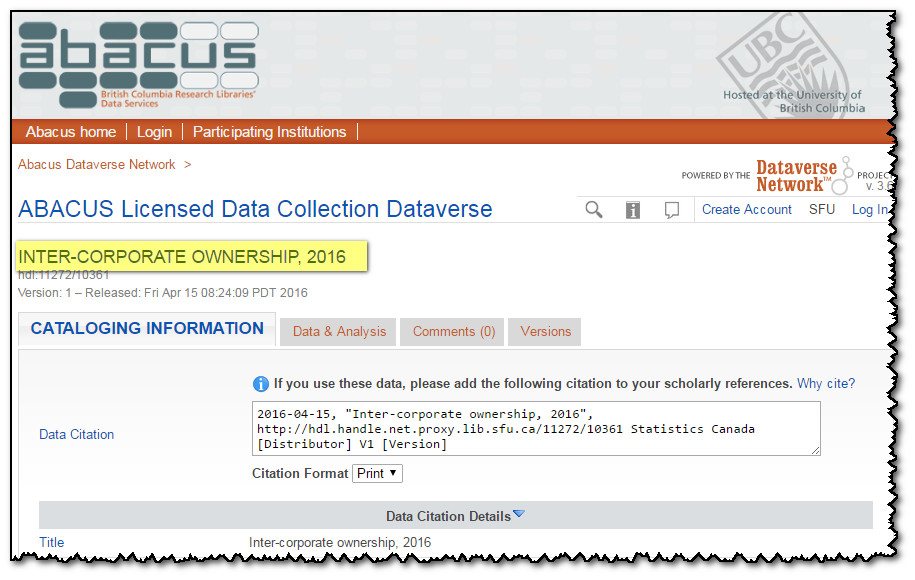 This is an amazing chunk of data -- one that I hope is getting the use it deserves.
It's deep (we have it in various formats all the way back to 1965).
It's Canadian (yay!).
And it's on a hard-to-research topic. (Although it's produced by Statistics Canada, it's not publicly available through their site -- plus it uses some info on privately-held corporations that can be hard to find in such a consistent and comprehensive format).
Description from within ABACUS (where you will find downloadable Inter-Corporate Ownership data from 2004 to the present): 
The Inter-corporate ownership product is the most authoritative and comprehensive source of information available on corporate ownership; a unique directory of "who owns what" in Canada. It provides up-to-date information reflecting recent corporate takeovers and other substantial changes. Ultimate corporate control is determined through a careful study of holdings by corporations, the effects of options, insider holdings, convertible shares and interlocking directorships. The number of corporations that make up the hierarchy of structures totals approximately 45,000.

The information that is presented is based on non-confidential returns filed by Canadian corporations under the Corporations Returns Act and on research using public sources such as internet sites. The data are presented in an easy-to-read tiered format, illustrating at a glance the hierarchy of subsidiaries within each corporate structure. The entries for each corporation provide both the country of control and the country of residence.

The product covers every individual corporation that is part of a group of commonly controlled corporations with combined assets exceeding 600 million dollars or combined revenue exceeding 200 million dollars. Individual corporations with debt obligations or equity owing to non-residents exceeding a net book value of 1 million dollars are covered as well.
Note: We also own earlier editions of Inter-Corporate ownership in print and/or CD-ROM formats (depending on the year): all the way back to 1975, then roughly biannually back to 1965.  Maybe there's a research project in there somewhere!
Need more along these lines?  If company ownership information makes you happy, also consider trying the following: 
1. MINT Global & ORBIS
These two databases contain the same content, but offer different interfaces with different functionality.  And, for many of the companies they cover on a global scale, that content includes detailed "ownership" data: 

Qualify companies according to their degree of independence with regard to their shareholders;
List the shareholders of a given company with their percentage of ownership; [note: the database will list key owners/shareholders 4 levels up from the target company]
Indicate, if any, the Global Ultimate Owner and the Domestic Ultimate Owner of a given company;
List the direct and indirect subsidiaries of a given company together with their percentage of ownership; [note: subsidiaries are also shown as much as 4 levels down from the target company]
Qualify such direct and indirect subsidiaries with regard to their ownership status (Ultimately Owned by the given company or not).
2. LexisNexis Corporate Affiliations
Provides "Corporate hierarchies including parent company and related subsidiaries." for almost 2 million companies (globally).
We own this annual publication from 1991 to 2015 in print format, but the current data is also available in our LexisNexis database if you don't mind doing a bit of digging: 

From the initial LexisNexis search screen, search for a company in the Get Company Info box in the lower right, then click on Go.
Choose your target company from the result list.
Click on Company Hierarchy on the left side of the next screen.
Expand the levels within the subsidiaries by clicking on the little arrows next to them.
Questions?  Send them my way!
-- MarkB

~~~~~~~~~~~~~~

Mark Bodnar

Business & Economics Librarian

mbodnar@sfu.ca