On innovation...
Published by Mark Bodnar
Frequent readers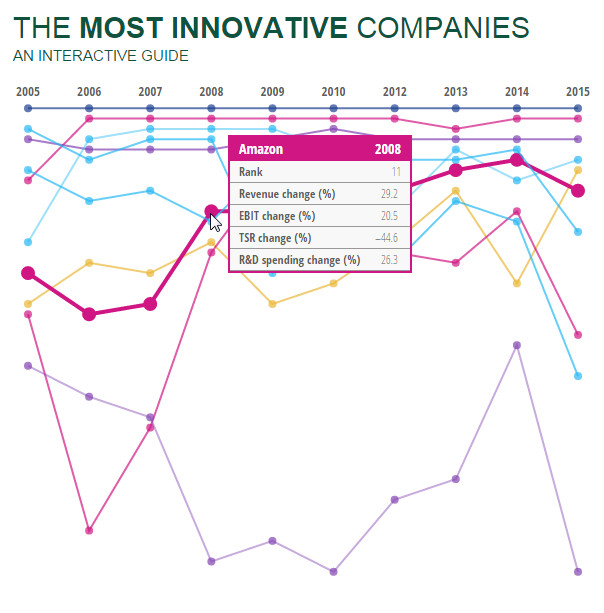 of the Buzz will know that I'm a fan of the Boston Consulting Group's  articles and alerts.  Today's BCG alert helped me discover their interactive guide to innovative companies:
"To explore the state of innovation, The Boston Consulting Group fields an annual innovation survey of thousands of senior-level executives. Since 2005, our survey has revealed the 50 companies that executives ranked as the most innovative. This interactive shows the dynamism of the survey results over time. You can explore rich performance data going back a decade, and you can also see which companies stand out for their movements on, off, and around the list."
And those same frequent readers (you know who you are!), will know that I can rarely talk about one cool resource without using it as an opportunity to highlight related resources and search strategies, both in our collection and beyond...
1. Let's start with the BCG mentioned above: If they have one innovation resource, maybe they have more, right?  Definitely.
2. Over to articles, try the following terms in a Business Source Complete search:
3. OK, even I will admit that reading through thousands of articles might be a bit overwhelming. Hmmm... if only there was a resource that pulled a whole bunch of innovation theories and research together into one place... like maybe a BOOK! :-)   (or ebook)
4. Or perhaps you just want to browse recent issues of journals aimed specifically at this area?
I'll stop now, but -- and here's yet another thing that frequent readers will know -- I could go on and on... If your research is on innovation in a business/economics context, start with the sources above, but don't hesitate to contact us if you want to discuss additional sources and strategies.
-- MarkB
~~~~~~~~~~~~~~~~~~
Mark Bodnar
Business & Economics Librarian (Burnaby & Surrey)
mbodnar@sfu.ca
Moninder Lalli
Business Librarian (Vancouver)
Moninder_Lalli@sfu.ca