New to IBISWorld for SFU researchers: business environment data and analysis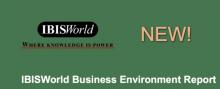 Published by Mark Bodnar
Very few things exist completely independent of the rest of the world, including businesses.
To properly understand a business or its industry, you must also understand the water in which it swims: the key economic, demographic, and consumer behaviour indicators that can determine the success or failure of all its plans.
Start with the following new modules in our super-popular IBISWorld database:
Canadian and US Business Environment Profiles: short reports (data and analysis) on over 250 key economic, demographic, and consumer behaviour indicators that impact industries and drive change across various sectors. From obesity rates to the number of cars sold, from the world price of wood pulp to the rental vacancy rate... these reports provide both raw data and brief analysis on where IBISWorld's experts believe the numbers will go in the near future.
Frankly, much of the same data could be obtained by some diligent searching of various government and association sites, but the value of having such information in IBISWorld is that... 
(a) it's all pulled together into easy-to-access reports, and
(b) the indicators and analysis are also tied into the most relevant 1700+ Can/US industry reports in the same database, thus giving you the context exactly when and where you need it.
To learn more about the scope of these reports, check out these brochures: Canada + US.  (Or just log into the database and explore!)
Questions? Comments?  Send them my way!
-- MarkB
~~~~~~~~~~~~~~~
Mark Bodnar
Business & Economics Librarian
mbodnar@sfu.ca