On gleaning data and insights from research firm sites...
Published by Mark Bodnar
Those of you who have had a business librarian visit your class may remember some discussion of the "likely publisher" categories for marketing information.  Even if you've never seen an image like the one below, you probably know that government agencies, industry associations, academics, companies, and news sources are all great places to look when you need some marketing information.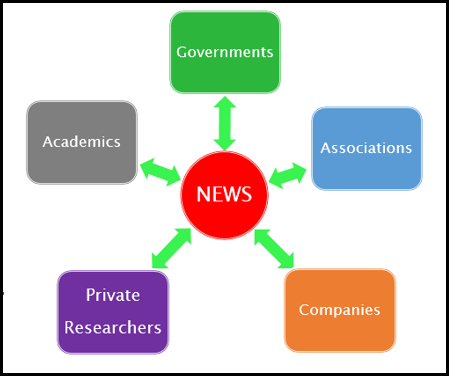 And you may have also noticed that private research firms can be a bit more difficult to research, given that such researchers often sell their reports for thousands of dollars.
In our classes, we often talk about ways to obtain some of the valuable information produced by such firms, whether it's from the few market/industry/survey report databases that we subscribe to, or (more likely) through mining the sites of the organizations that do buy such research and want to make the results public (especially industry associations and governments).  And we point out the value of checking general, business, and industry news sources (via databases such as Business Source, Nexis Uni, Factiva, and Canadian Newsstream) to find any mention of the findings from such private sources.
There's also a slightly more direct method that you could try: Many private research firms provide at least partial results at their studies via blogs, press releases, and colourful infographics. Check out the sites below, for example.
And that is just a taste of what's out there!  Frankly, although it's still true that having full (subscription) access to some of the big market & industry report databases can make research much simpler, no one (and no library!) can afford everything. Isn't it fortunate that there are some bits of free data that you can gather, evaluate, triangulate, and extrapolate...?
-- MarkB
... on behalf of your Business/Economics Librarian team:
Mark Bodnar (Business – Burnaby): mbodnar@sfu.ca
Megan Sorenson (Business – Vancouver): megan_sorenson@sfu.ca
Andrea Cameron (Business – Surrey): amcamero@sfu.ca
Carla Graebner (Economics – Burnaby): cgraebne@sfu.ca