The 2022 Undergraduate Research Symposium - Interview with the organizers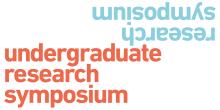 Published by Ioana Liuta
SFU's 5th annual Undergraduate Research Symposium (UGRS) took place on March 23, 2022 and the third volume of their open access journal is now available. The UGRS is an interdisciplinary event where undergraduate students showcase their research in a friendly and supportive environment. In 2022, students created research posters which were displayed in Bennett Library, presented live at the Symposium, and published in the UGRS journal.
In this post, we hear from the UGRS Organizing Committee about what it's like running the UGRS, working with Open Journal Systems, and the benefits they see for students in participating. Thanks to the UGRS organizing committee: Julie Jones, Research Commons Librarian; Julia Lane, Writing Services Coordinator; Stevie Benisch, Coordinator, Professional Development & Student Experience (GPS); and Sarah Close Humayun, Coordinator, Events & Community Engagement (GPS).
Tell us about how the UGRS came to be and how it has evolved over time.
The UGRS was conceived as a way to showcase undergraduate student research happening at SFU. Initially it was a collaboration between the Library and the Centre for Educational Excellence (formerly the Teaching and Learning Centre). Graduate and Postdoctoral Studies stepped in to co-chair the event in its second year, while the journal didn't come about until later. In 2020, we had to cancel the symposium due to the pandemic and we really wracked our brains for how to best handle the cancellation. We made the decision to publish the work the students had done up until that point. That led to the idea of creating an Open Journal Systems (OJS) instance to act as a place for the proceedings to be published.
What excites you most about the UGRS? About the journal?
We're really proud of the fact that we're providing this opportunity and space for undergrads at SFU to celebrate and showcase their work. Some disciplines prepare students more for this kind of activity, even when they're undergrads, whereas in other disciplines, there's not a lot of preparation or discussion of scholarly outputs and conference participation. We try to find ways to level the playing field.
With the journal, we have a record of all the amazing research the students have done. In the first year, the UGRS was in person and after the presentations happened, it all disappeared. Having the journal is such a great way to have the history of the participation and the different research. It allows for a permanent record of the event and connects to learning objectives for students around things like open access publishing and submitting to a journal.
Some of the most thorny problems we're wrestling with as a society require an interdisciplinary approach. To have the opportunity to engage in interdisciplinary dialogue is actually very special.
What are the benefits to students in participating in an event like this one? What are the challenges?
The students are really proud when they see their work as a publication.  A lot of these students are considering going on to graduate school. Having this kind of experience and something concrete that they can show about their research is really exciting. It gives students experience with a number of assumed competencies that aren't necessarily taught in a consistent way across disciplines. Often students learn how to present at a conference or create their first scholarly outputs because they have a particularly active and giving faculty mentor. But the UGRS opens up the opportunity to get experience with conference participation and other important skills for early career researchers.
One of the challenges for us is that the format of the symposium keeps changing. That's also been an opportunity because we're recognizing what are some of those received skills that we can give students the opportunity to try out. They've really risen to these challenges and it's been exciting to see the ways that different aspects of the symposium can create wider reach, beyond just an event that happens in one day.
What do you like about working with Open Journal Systems (OJS)? What are some challenges?
One of the things that appealed to us about OJS was the sense that it's a relevant experience for the students. It's simulating the experience that students would have submitting their works for peer review to a journal and that's often not something you get to test run.
Having all the information about the submissions in one place was really helpful and also being able to collaborate with the team through OJS like being able to assign things and having people respond in the same place. It's very robust and there are opportunities to have the students be even more actively involved. There's a lot of room for growth!
If another conference/symposium was interested in a project like this, what would you recommend they do to make it successful?
The advantage was that the Library is already using this system so there were people in Digital Publishing who could meet with us and give training and support. We've also built up how we've used it. In the first year, we just had the basics and we've added more every year. If you look at the scope of what a system can do, it can be overwhelming, or really exciting, but then it's not practical. You can start small and practical and build from there.
Looking at examples of other journals published on the OJS platform was really helpful. The good news is there's lots of really interesting examples of both straightforward and more boundary pushing creative uses of the platform.
To find out more about publishing a journal using OJS, visit Digital Publishing.