How Community Science opens a new way of knowledge creation: the BC Parks iNaturalist Project
Published by Alison Moore
This blog post was written by Sarah Zhang, GIS & Map Librarian and Librarian for Geography.
Did you know that a hiker, birder, or beachcomber can contribute to scientific knowledge while they are exploring nature? Nature enthusiasts can upload a picture and description of plant, animal, insect, fungi or other organism through an app on their cell phone. This information is stored on a website that collects, manages, and visualizes such information. Scientists and researchers can then use the vast amount of data collected by others for studies on ecology, biodiversity, climate change, and more. In doing so, these amateur scientists are contributing to scientific knowledge in a way that was non-existent 20 years ago. This article introduces a trend called Community (or Citizen) Science, the website iNaturalist that uses Community Science to identify plant and animal species, and the role of GIS (Geographic Information Systems) in creating easy to use visualizations.
What is Community Science? 
Community Science, also called Citizen Science, can be understood as the crowdsourcing of research projects, also known as "public engagement in science." The general public (as opposed to the researchers) volunteer to collect data for a research project, usually through an online portal or an app. Citizen Science has the potential to fill huge gaps in the scientific study needed to resolve some of the most pressing problems we face globally.
What is iNaturalist?
As one of the largest community science projects globally,  iNaturalist's goals are to "connect people to nature and contribute useful global biodiversity data to support science." Users can also learn about biodiversity locally or around the world. The power of iNaturalist is it allows anyone to use the free, easy-to-use app to add photos and records. As such, it gathers far more data than professional biologists can collect. As of December 2021, iNaturalist users have contributed 87 million observations of plants, animals, fungi, and other organisms worldwide.  
The BC Parks iNaturalist Project
Dr. John Reynolds, a professor from the department of Biological Sciences at SFU, along with Dr Brian Starzomski from University of Victoria lead the project, in partnership with BC Parks. By compiling mapped records of flora and fauna uploaded by park visitors and hikers, the project aims to improve inventory of over 1,000 provincial parks, better document species migration, threatened species, and invasive species.
How have the data collected in this project been used?
From May 2019 to November 2021, the BC Parks iNaturalist program saw an addition of 453,000 observations, which have immensely helped improve the inventory of the provincial parks. The increase in observations of species has led to a better understanding of invasive species, which are a huge concern for conservation. 
Another amazing thing about iNaturalist is its ability to view observations on maps, enabled by the fact that user-generated pictures are geotagged (meaning coordinates are attached to them). This is an easy way to visualize where observations are clustered geographically. The picture below shows two maps of non-native introduced species in BC Parks at two points in time. These on-the-fly maps can be generated with just a few clicks.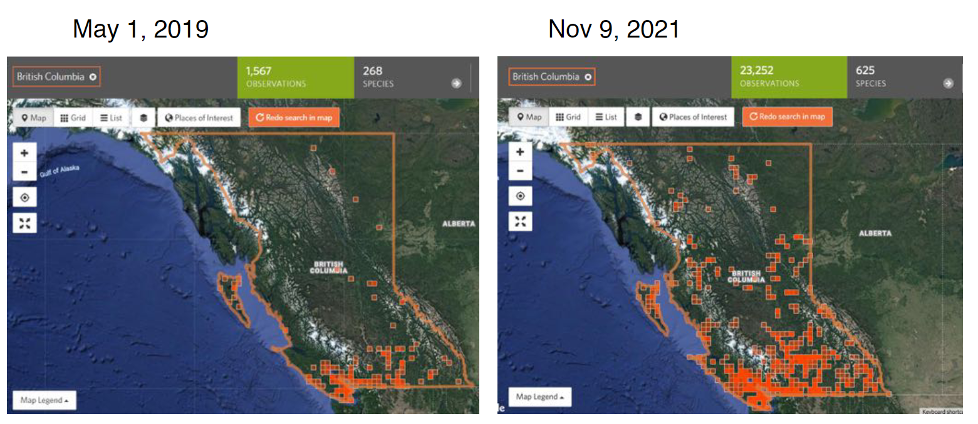 The records added by nature lovers also help scientists study threatened species. For example, Dr. Reynolds, who chairs COSEWIC, the Committee on the Status of Endangered Species in Canada, wanted to assess a rare dragonfly called Grappletail. iNaturalist served as his starting point: he found one record and, based on the information, organized a search north of Mission, BC. Amazingly, they did find the species on a site where it had not been seen for 40 years. As of November 2021, there are 67 records of this rare insect in iNaturalist! The increase can be attributed to people seeing the records in iNaturalist, and looking for more. The images below show the original Grappletail record, with only one observation, in contrast to a 2021 map showing 67 observations in southwest British Columbia.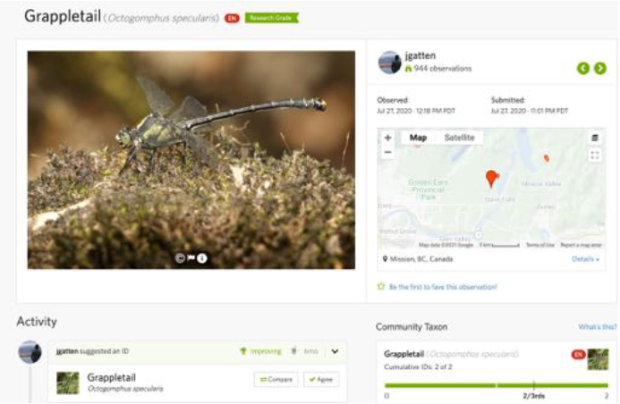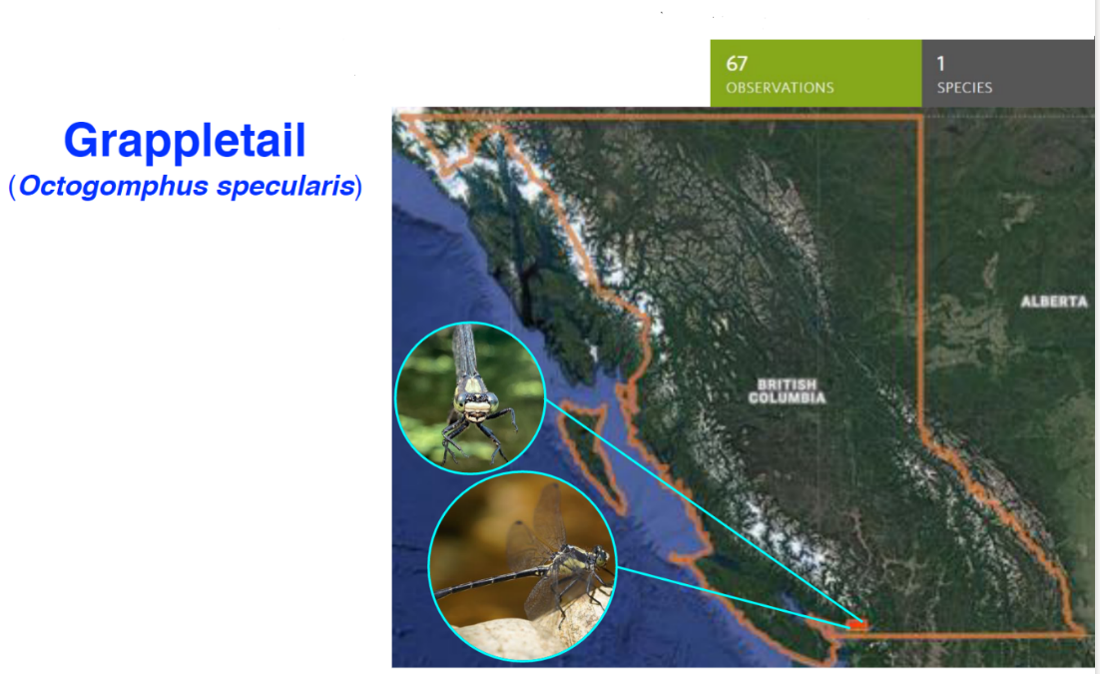 Citizen Science and GIS (Geographic Information Systems)
A Geographic Information System (or GIS) is any system that creates, manages, analyzes, and maps different types of data. GIS connects data to a map, integrating location data (where things are) with all types of descriptive information (what things are like there). Since biological data have a spatial component (coordinates) and other descriptive information, GIS helps iNaturalist manage and visualize a massive amount of data.
As the BC Parks iNaturalist project demonstrates, Citizen Science can play a role in "open scholarship," demonstrating a more open and collaborative way of knowledge creation between academia and the public. iNaturalist emphasizes community participation, facilitated by developments in technology, particularly mobile apps and GIS. Modern web technologies allow people to use mobile devices to collect data in the field, seamlessly add it to a database, and see it reflected on a map in real time. The ability to view observations on maps is wonderful; after all, maps can tell stories that few words can express adequately. These capabilities make the iNaturalist app easy and fun to use, contributing to the exponential growth in the records of the BC Parks project.
Acknowledgement: this article was written based in part on a presentation titled "GIS and Community Science: The BC Parks iNaturalist Project" given by Dr. John Reynolds at the GIS Day 2021 event cohosted by SFU and UBC.