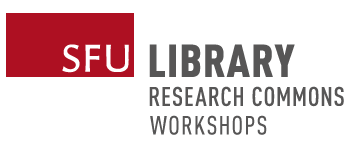 Dates
Thursday, June 16, 2022 - 10:00am to 12:00pm
Location
Vancouver, Harbour Centre, Research Commons (RC), Room 7050.2
This workshop is in the past and registrations are unavailable.
This workshop has been cancelled.
All times are Pacific Time Zone (Vancouver, BC, Canada).
About the workshop
Many funding agencies, journal publishers, and universities require research data to be ethically and appropriately published and shared online. Data sharing also encourages collaborative research enquiry, supports new discovery and innovation, and foregrounds research accountability. Not sure how to get started with planning to publish your research data? This session will get you thinking about how, when, and where to publish and share your research data for future use, and will also discuss strategies for data storage and organization.
Note: Due to low registration, this workshop has been cancelled. If you would like more information on this workshop, please email data-services@sfu.ca
Facilitator(s)
Carla Graebner
Keshav Mukunda