COVID-19: Media and Maker Commons services
Limited by-appointment services for SFU Instructors only are available in the Media and Maker Commons.
All SFU Libraries are currently closed to in-person use due to the COVID-19 virus.
We continue to offer online and virtual support where possible.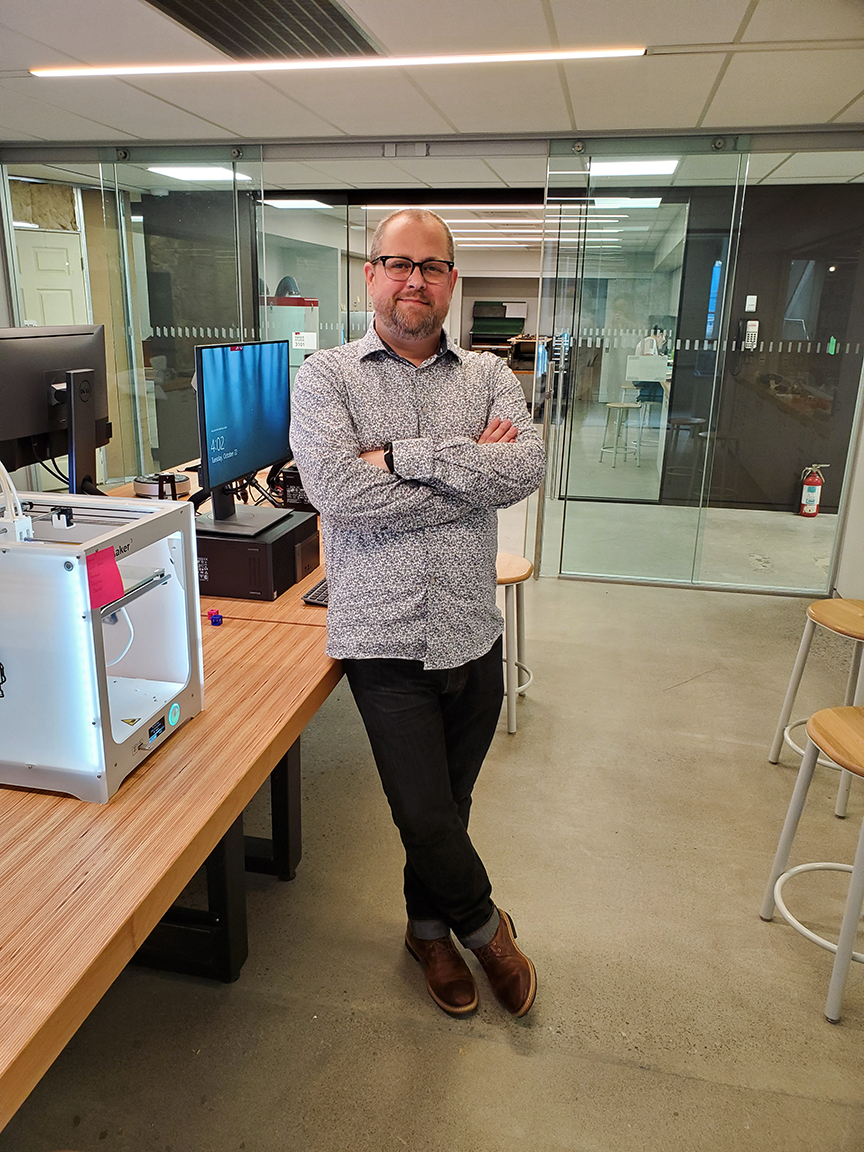 Mikael comes to the library from Saint Louis University, where he was the subject librarian for Communication and Fine & Performing Arts for sixteen years. Mikael shared his perspectives on what constitutes a "maker," and how he envisions the Media and Maker Commons becoming "one of the coolest places on campus."
Conversation with Mikael Kriz
Why were you drawn to this position at SFU Library?
For the past four years I served on a task force at Saint Louis University Library to design the Academic Technology Commons (ATC), a 14,000-square foot facility that combined the library's Information Commons along with the University's Media Services, while integrating Maker technologies into the space. I became the ATC's Outreach Coordinator in 2017. With my Arts background, I found myself really drawn to making and makerspaces both professionally and personally -- Saint Louis has thriving arts and maker communities. 
When I saw the posting with SFU Library, I was really interested. There aren't a lot of makerspaces that hire librarians specifically. I think a librarian can bring a supportive, educational model to this environment. Making isn't just about the tools -- successful artists and makers are researchers and they go through a process: research, plan, design, then make – and librarians are well suited to assist at all stages. 
Can you expand on that – how do you define a "maker"?
Everyone is a maker. You can be a maker if you're doing home renovations, or cooking for example. Let's say you want to make a dish you've never cooked before. You're going to start with researching and planning. You look up recipes, you try to find one that matches your level of comfort and skill in the kitchen. And you design – you collect the ingredients and tools you'll need. And finally, you make your meal. We do this all the time: research, plan, design, and finally execute.
Why is the idea of "making" or makerspaces intimidating for some people then?
New technology can look exotic and intimidating. And the price of some of this technology can also be a huge barrier. But makerspaces are good for acquiring new and emerging technologies and putting them in the hands of anyone who wants to learn – we can provide access to the tools that you can't necessarily afford on your own. In addition, we have the space, and most importantly the support. My hope is that we can build effective programming and develop a reputation for being open, friendly, and supportive – where the Media and Maker Commons is considered one of the coolest places on campus!
That said, if you walked into the Media and Maker Commons in 5 months, what would you hope to see?
Lots of people making, doing, asking, learning. That last one -- learning -- is key. Makerspace tools and technology have so much potential to support learning and research in a post-secondary environment. Virtual Reality for example is being used for a lot of great research. We can explore outer space in new ways, or even examine places like the Lascaux caves – which are closed to the public -- with virtual reality tools.
What can the Media and Maker Commons do to support this learning?
Once we've settled our policies and procedures, we can really get into our programming. We want to make the Media and Maker Commons a place that is welcome to all disciplines. A place where, even if you don't know how to do something, we can brainstorm together and figure it out. "Making" is a good metaphor for learning: you research, plan, design, then make. We're here to help you through all those phases.
In light of SFU's commitment to inclusivity, what can the Media and Maker Commons do to make people feel welcome?
Making is for everyone. We want to make sure everyone feels supported here, and we can do this by creating a welcoming environment. Physically the space is designed to be very open and accessible. We have a large monitor near the entryway, and we plan to show slides and videos of student-created works. Speaking to makers and about making in positive terms is also vital. The second thing we can do is outreach – over the next while we'll be reaching out to student groups and associations on campus to invite them into the space. We'll also be building relationships within the academy and beyond, in the professional world.
My hope is to -- over time -- build a network of connections across academic, professional, and personal spheres. I hope new people feel welcome to join us with their questions or areas of exploration, and people can share knowledge, information, and expertise across the network and create a community where people feel welcomed and engaged.  
Interview by Leah Hopton, SFU Library Communications