On this page
Welcome to the SFU library!
Ask us!
Don't hesitate to ask us. Our librarians are approachable and committed to helping students and researchers.
You can contact us with your research and other questions in person, by phone, email or by live chat.
---
Library cards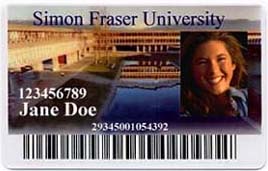 Your SFU student card is your library card. 
Don't have a student card yet? See How do I get a library card? for more information.
---
Borrowing Library materials
You can take out as many books, video, and most other media as you need, as well as accessing many of our materials (like journal articles) online. See Borrowing Library materials for more information on borrowing from the Simon Fraser University Library collections.
Library notices by e-mail
We will send you automatic notifications by e-mail when a book you have requested is ready for pickup, or when the due date for your books is close.
---
Computers, computer access, wireless
Logging in to Library computers and accessing online resources
Use your SFU computing ID and password (the same as for SFU email) to log on to computers in any of the SFU Libraries. If you need help activating your computing account, contact IT Services.
Working from home
If you are doing research from home, you can use the same ID and password to sign in to your account in the Library Catalogue. This will allow you to access online resources like journal articles, ebooks, and even academic encyclopedia entries. 
If you need help with your computing account, contact SFU's IT Services.
Library computers and equipment
Log in to a Library computer for writing, researching, or printing, or check out a laptop or other types of equipment.
Technical assistance
If you are in the library and have a problem with a Library computer or your own laptop, or need help with software, printing, or scanning, ask for help at the nearest service desk. For more Library help with technical problems, or help when you are off-campus, see our Ask a Librarian services. 
For help with Canvas, your SFU account, or password, contact SFU's IT Services.
Wireless access (wifi)
To access the SFU campus wireless network, you need  a valid SFU computing account. For more information about configuring wireless on your devices, see SFU IT Services's Wireless instructions. 
---
Reserves
Reserves are required readings assigned by faculty for specific courses. You can search Library Search or the Library Catalogue by course number or instructor's name for reserves.
If you need assistance with this, ask a staff member for help.
---
Getting started (or re-started) with Library research
Libraries are constantly changing and library instruction and help is always available, for both new and returning students. 
For an overview of the Library research process, tips for finding sources, and writing and citing, Start your research here. 
You can also always Ask a Librarian for help online or in person.
---
How do I request materials from other libraries?
If we don't own it, we will get it for you, free of charge, via our interlibrary loan services. 
---
More information