What is a literature review, and why do one?
Literature reviews summarize the existing conversation on a topic. They can accomplish something similar to environmental scans, researching industry best practices, summarizing evidence-based approaches, or laying the groundwork for a new initiative. A literature review can be done as its own complete product, or it can serve as an introduction for the original research you plan to do to add to the conversation in your field. In academic research contexts, such as for theses and dissertations, they provide a grounding for the new work a scholar is presenting to add to this conversation. 
However, most guidance available on conducting literature reviews does not consider how to do a literature review in a nonprofit context, or outside of university settings in general.
What a literature review could do for you
Outside of academia, your motivations for research may be different. For a non-profit, literature reviews might help you:
Gather evidence to assess your organization's best practices
Provide evidence for grant proposals
Look for new approaches to an issue
Provide background or a methodology for your original research
Synthesize what's known on a topic, to share with others working in your area
Find out if someone has already studied the topic you are interested in
What are the steps?
What you're looking to create may not be exactly a formal literature review. Most guidance on conducting literature reviews assumes an academic context, with strict guidelines for how a review should be conducted. As a non-profit or NGO worker your resources, needs, and audience may be different from researchers in academic institutions.
Here is a structure to follow based on the literature review process, with questions to consider along the way to help you tailor the process to your context. Each step is described in greater detail below the infographic.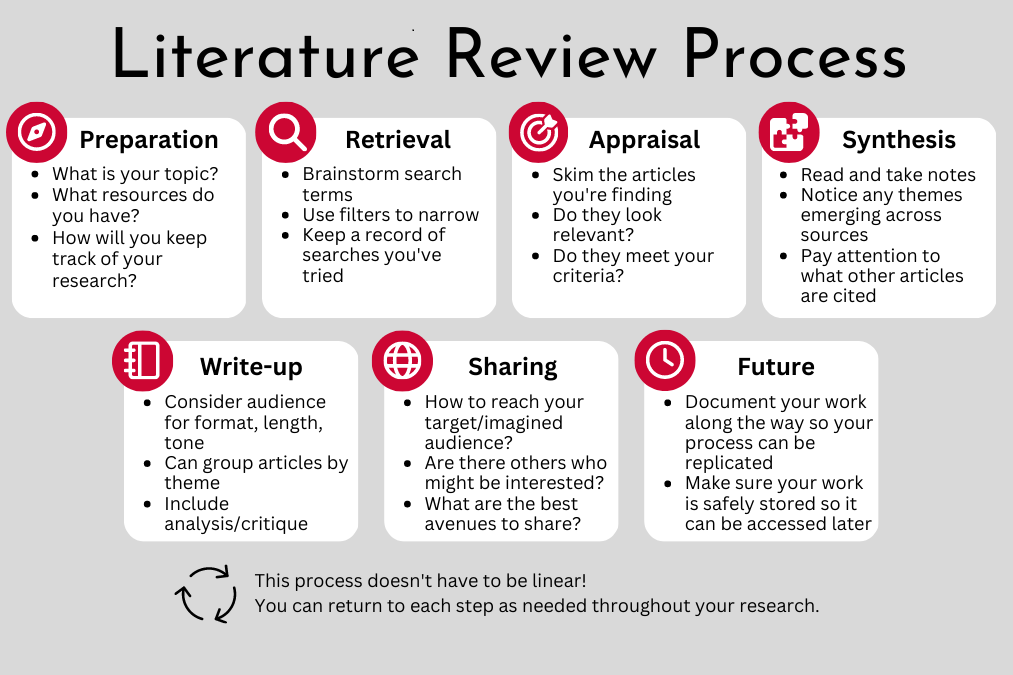 Preparation
Think through your needs, capacity, and resources to plan your work.
What is your topic? 
What resources do you have?
How will you keep track of your research?
 Retrieval
Brainstorm search terms
Use filters to narrow
Keep a record of searches you've tried
Resource links: The collapsed "Where to search section" below describes some options of where you may be able to find information and documents, as well as support services that could help you in your research. "Research strategies" contains more information on research strategies and approaches.
Where to search
Research strategies
 Appraisal
Skim the results you're getting: do they look relevant? Do they meet your criteria?
Resource links
 Synthesis
Read and take notes
Pay attention to which other articles are cited
Notice any themes emerging across sources
Resource links
 Write-up
Consider audience for format, length and tone
Structure: can group articles by theme, include analysis/critique
Resource links
 Sharing
How to reach your target/imagined audience?
Are there others who might be interested?
What are the best avenues to share?
 Planning for your project's future
Document your work along the way so your process can be replicated
Make sure your work is safely stored so it can be accessed later
Examples
The following links contain literature reviews conducted by and for community groups and nonprofits. They provide an example of the different forms your literature review could take.
Further resources
For more detailed advice on literature reviews, see our guide on literature reviews for graduate students.
For more information on citation, see this page on citation and style guides, this guide on citing Indigenous Elders and Knowledge Keepers (APA 7), and this piece on citational justice by Neha Kumar and Naveena Karusala.
Acknowledgments
This guide draws on research supported by the Social Sciences and Humanities Research Council. It was developed as part of the Supporting Transparent and open Research Engagement & Exchange (STOREE) research project.
Thank you to the Community Scholars and others who reviewed drafts of this page, including Savannah Swann from the Dr. Peter Centre.