Surrey Writing & Study Strategies Consultation Schedule is now active.
The Yosef Wosk Student Learning Commons (SLC) at Surrey campus is an academic learning centre and provides learning and writing support services primarily for students in their undergraduate years at SFU Surrey.
We're located in room 3695, adjoining the Library, on Podium level 3 of the Surrey Campus.
All SFU students in credit programs are welcome to use our free services.
We help students thrive at all stages of their undergraduate academic career by providing a range of support programs, including one-on-one consultations, workshops, and online resources to meet changing academic needs.
Check out other areas of this web site for additional resources or drop-in to the SLC Surrey, Monday to Friday, 9:00 - 4:30.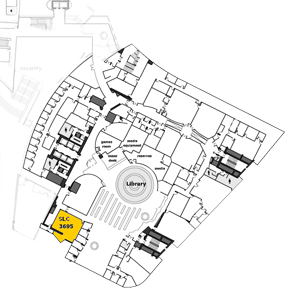 Floorplan showing the Fraser Library (SFU Surrey) with the SLC in yellow
Writing and learning strategies consultations at SLC Surrey
Book an appointment online for a writing or learning strategies consultation. If you haven't made an appointment with the SLC before, please see Consultation Information to learn more about our appointments process and how to register on our system.
Workshops at SFU Surrey
We offer a number of one- to two-hour workshops covering a variety of learning and writing-related topics.
Services for graduate students
Specialized writing and other research support services designed for graduate students are available through the Research Commons.
Contact information: Email, phone, mailing address
Find the SLC at SFU Surrey 
email: slc-surrey@sfu.ca
phone: 778.782.7614

Student Learning Commons,
Fraser Valley Real Estate Board Academic Library, room 3695
#250-13450 102nd Avenue
SURREY BC  V3T 0A3