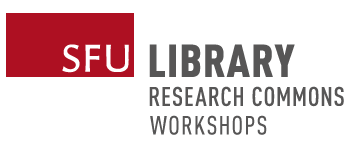 Dates
Thursday, October 12, 2023 - 10:00am to 2:30pm
Location
Burnaby, Bennett Library, Rm 7010, Research Commons
If you register and then realize you cannot attend, you must cancel by Thursday, October 5, 2023 - 11:59pm to avoid a $25 non-attendance fee applied to your library account in accordance with SFU Library's Cancellation Policy.
All times are Pacific Time Zone (Vancouver, BC, Canada).
About the workshop
This workshop, intended for those who have at least an introductory competence in R, will teach participants how to use RMarkdown. RMarkdown is a flexible filetype available in RStudio that integrates the ability of running R code with the features of word processing software.
Participants will learn how to create interactive webpages, beautifully and professionally formatted PDF documents, and potentially other types of professional documents that truly set them apart from typical Microsoft Word documents. A basic understanding of R coding is required to participate in this course.
The topics covered include:
RMarkdown documents
Markdown document formatting
LaTeX document formatting
Integrating customized tables and figures into documents
Creating various document types, such as html and PDF documents
Requirements
Facilitator(s)
Hung Truong
Louis Arsenault-Mahjoubi