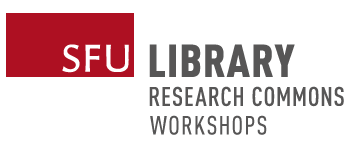 Dates
Saturday, June 11, 2022 - 10:30am to 5:30pm
Location
Burnaby, Bennett Library, Rm 7010, Research Commons
This workshop is in the past and registrations are unavailable.
Registration dates
closed Friday, June 10, 2022 - 6:00am
If you register and then realize you cannot attend, you must cancel by Saturday, June 4, 2022 - 11:59pm to avoid a $25 non-attendance fee applied to your library account in accordance with SFU Library's Cancellation Policy.
All times are Pacific Time Zone (Vancouver, BC, Canada).
About the workshop
Python is a popular language for scientific computing, and great for general-purpose programming as well. This hands-on workshop will cover basic concepts and tools, including data structures, and popular data science libraries such as pandas and numpy. This workshop uses curricula from Software Carpentry, whose mission is to help researchers get more work done in less time and with less pain by teaching them basic lab skills for scientific computing.
Note: This is an in-person workshop.
Requirements
Setup & Software Installation
Participants need to bring a laptop with Python installed on their device prior to attending the workshop
We will be using Python 3.7 and Jupyter notebooks throughout the workshop. The easiest way to install is via Anaconda https://docs.anaconda.com/anaconda/install/. We will also explore incorporating an IDE such as PyCharm https://www.jetbrains.com/pycharm/, please ensure you install this. 
In addition to this, please make sure you install the following Python dependencies:
Prerequisite:
This workshop is designed for people with no background in Python.