Contact info

If you need help, please contact Sylvia Roberts, Liaison Librarian for Communication & Contemporary Arts at 778.782.3681 or sroberts@sfu.ca or Ask a librarian.
This guide is intended to assist you with research for courses at SFU, grant applications and your MFA project documentation. It should help you to find literature to support exploration of the theoretical, historical and contemporary contexts of your arts practice.  
If you do not find the information that you need to write your paper, please Ask a Librarian for assistance or contact Sylvia Roberts, Liaison Librarian for Contemporary Arts (contact details in the box on the right). I am pleased to meet for one on one consultations about your specific research project.
When you email or phone, please give me some details about your research and times when you're at the Vancouver campus so we can find a mutually convenient meeting time. My schedule does vary during some weeks so dropping in at Belzberg to find me is a bit of a gamble.
Contemporary Arts scholars at SFU often work across traditional academic disciplines so it can be helpful to go beyond familiar journals or databases in your explorations.
Books
The Library catalogue contains records that describe books (electronic and print), media (CDs, DVDs, slides), conference proceedings,  journal subscriptions and other research materials at the SFU Library.  Catalogue records describe the material and will provide the means to access it, whether a location & call number or a link to an electronic version.
You can request items to bring them in from Bennett (Burnaby) or Fraser (Surrey) branches of SFU Libraries as well as borrowing directly from the Belzberg Library at SFU Vancouver.  Generally, it takes 2 days for a book to be delivered from one Library location to another. You'll get an email when the requested item is ready to be picked up.
A keyword search will find records that contain your search terms. This is often a useful way to begin your research but is often not very exact.
Searching for synesthesia finds art, music, physiology and cognitive science focused materials, for example:
You can focus your search by either adding additional keywords, representing key aspects, of your approach OR by identifying subject headings in catalogue records that are a good fit for your search concepts.
Adding additional search terms to a keyword search can be done using the Boolean operator AND.
Searching for synesthesia and art finds the following materials:

These may provide you with better results but still contain outlying materials.   Choosing a title that is a match for your interests from your results may lead you to a subject heading that will enable you to find all works at SFU that focus on that topic.
Subject headings (sometimes called descriptors, index terms, etc.) are standard terms used to describe what the item is about.  Often subject headings have subheadings to add further definition to the description, such as format, time period, nationality, approach, etc.
For example, 
Sensory crossovers: synesthesia in American art
contains the subject headings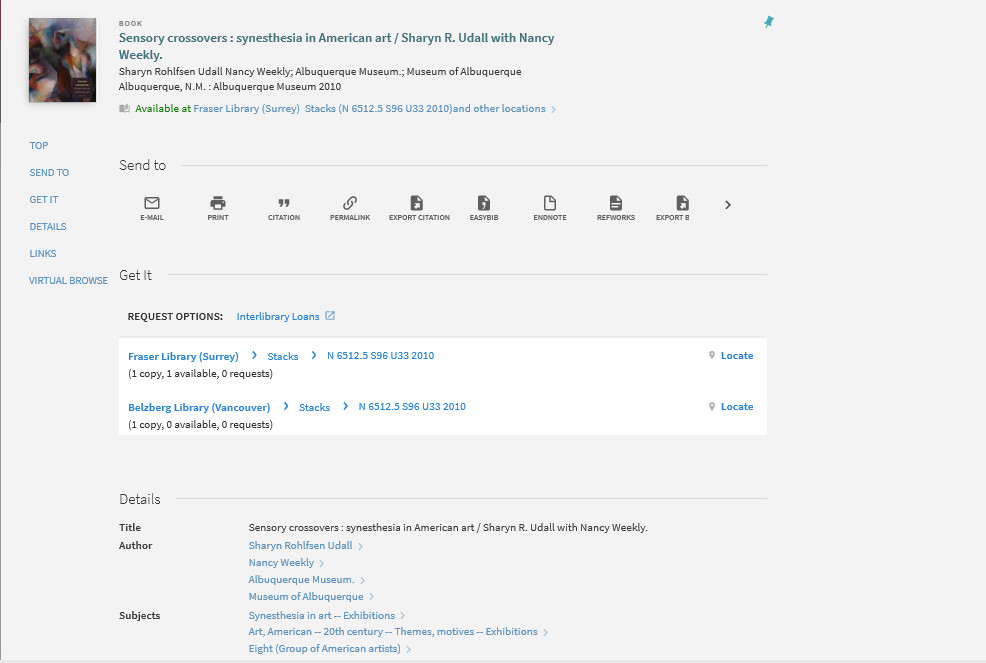 Following the subject heading link will take you to all materials at SFU that have a major focus on that topic.   You can also browse the list of subject headings to find other headings of interest, with different subheadings or related terminology.
If I click on the subject, Art, American -- 20th century -- Themes, motives -- Exhibitions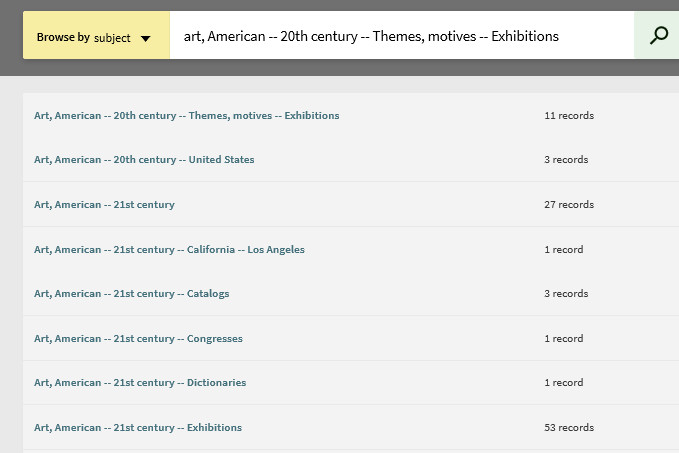 You can see that there are 8 books about exhibitions (likely exhibition catalogues) that focus on different themes in 20th-century American art AND 27 books that discuss American art in the 21st century (like scholarly works).
You can see a list of the titles by clicking on the subject heading link, for example: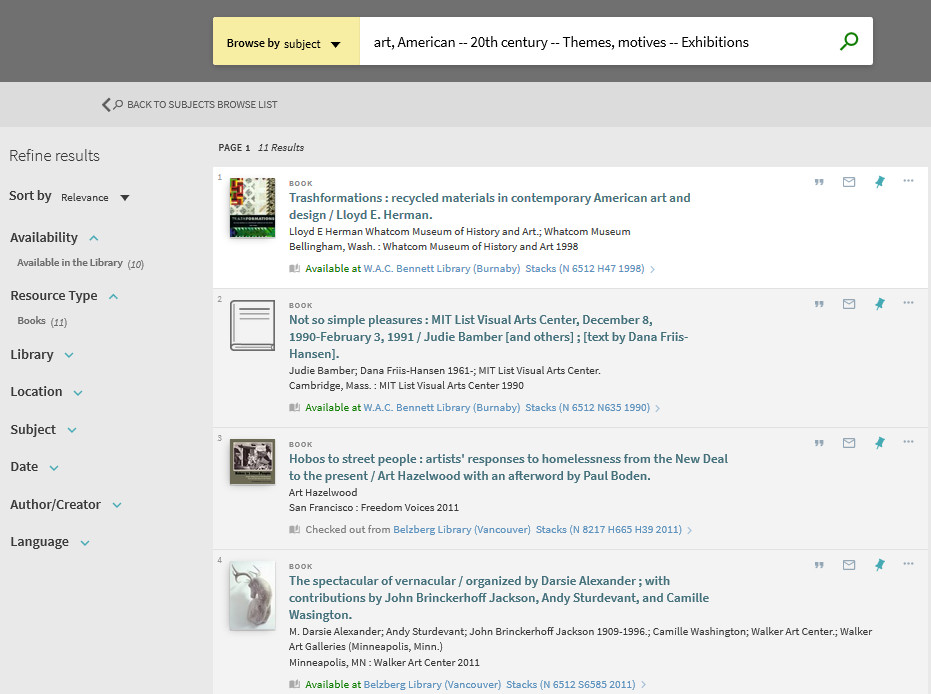 Subject headings can only capture one dimension of a work at a time. And it can take some time for a body of work to emerge to inspire the creation of a new subject heading so new topics or approaches may not have a specific subject heading.
One useful strategy is to combine subject heading terminology in a keyword search to find all dimensions of your research project OR to use subject headings with other keywords in a search.
Subject headings can include artists' names, institutions, movements, time periods, etc. Names of people as subject headings follow the format, last name, first name.
As well as searching for books by topic, you can also search for books by specific authors. Artists are included as authors of exhibition catalogues about their work, as composers, performers (in film or music), directors, etc. 
You can search for a persons' name as a subject and as an author, for example,  browsing an alphabetical list of authors to find C.S. Peirce: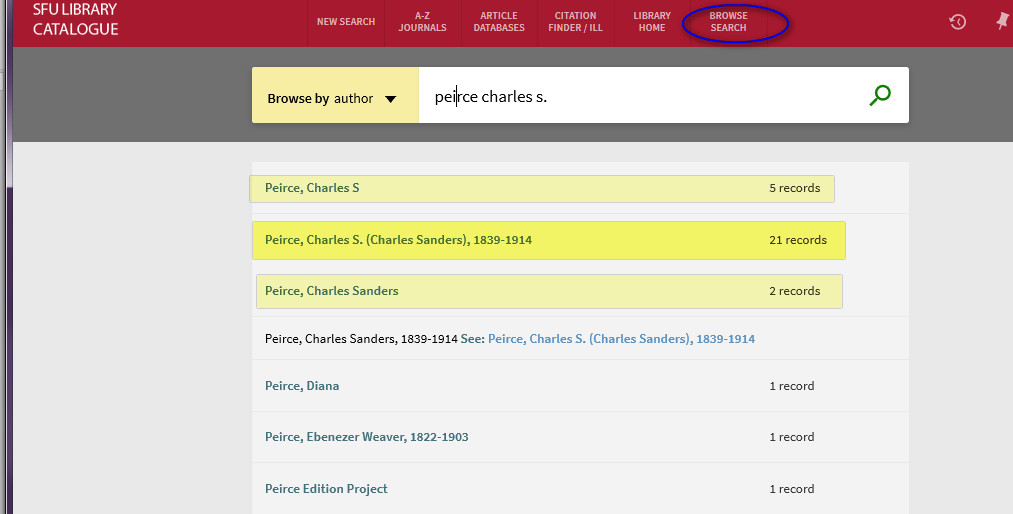 If you browse for Charles S. Peirce as the subject, you'll find books written about Peirce and his work by many authors: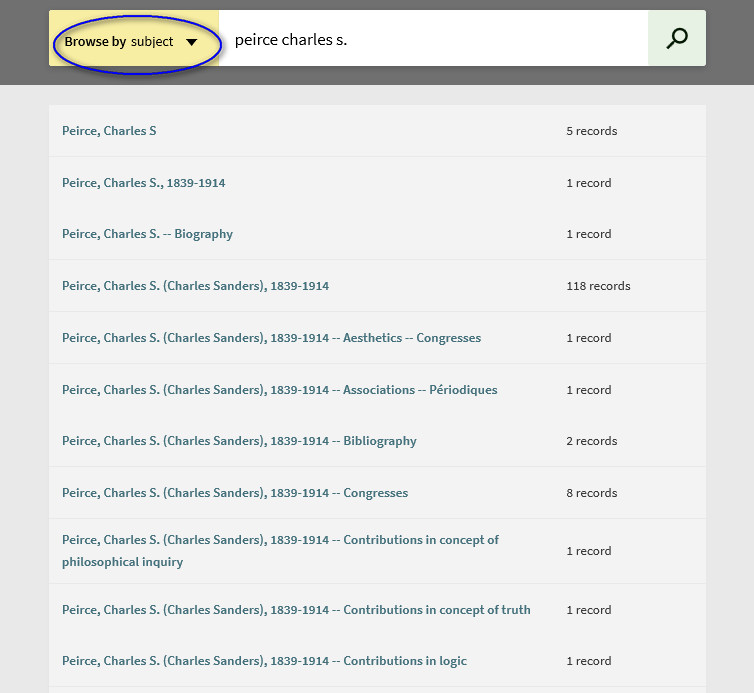 Once you have identified materials that interest you, you can locate them.  Digital materials (e-books, e-journals, streaming video or audio) have links in the catalogue records that take you directly to the content. 
Catalogue records for physical materials are assigned locations (which library) and classification codes (also known as call numbers) that provide an exact "address" on the shelf for each item.
Call numbers group books according to the major intellectual content of the object.  This can be a useful research strategy as you can browse a collection of materials that focus on the same topic. 
Call numbers for contemporary arts books are generally:
DANCE  GV 1580-1799.4 
MUSIC (Literature about Music)   ML
VISUAL ARTS   N - NX 
FILM    PN 1993-1999
THEATRE   PN 2000-3307
PHOTOGRAPHY  TR
***IMPORTANT NOTE*** 

The Belzberg Library at SFU Vancouver has a small print collection of books and current journals.  The largest SFU Library collection of print materials about contemporary art and artists will be found at the Bennett Library on the Burnaby campus, with additional materials in the Fraser Library at SFU Surrey. 
It takes about 2 working days to move a book from one campus to another.  There's no cost to you and you'll get an email notice when they're ready to be picked up.You will need to use your library card to request and to borrow these materials.
ACCESSING MATERIAL NOT AT SFU LIBRARY
In addition to the materials at SFU, you can access books from other libraries. 
SFU Library has reciprocal borrowing agreements with academic libraries in British Columbia, such as Emily Carr University of Art & Design and UBC, and across Canada, to enable you to borrow books directly from these institutions. Please talk to the Library Loans staff before visiting another library to ensure you have the paperwork in place before you go. See Borrowing privileges at other universities: Borrowing Library Materials for further information.
SFU Library will also borrow books or get copies of articles on your behalf from other libraries.  If you identify material that you want that's not held by SFU, fill in the appropriate interlibrary loan request form.  There's no cost to you for this service (except the waiting time) and no limit on the number of requests that you can make.  Turnaround time for book loans can be 2 weeks or longer, depending on where it's coming from, and the loan periods for these materials are usually 2 to 3 weeks.
Those are working within a longer time frame, may want to consult the following sources, to find relevant research materials held elsewhere:
Full-text access to PhD and Master's theses in all subject areas.

A database which lists the items held by many libraries around the world.
Use the following recommended indexes or databases to find information on your topic in scholarly or critical studies journals.  Many of these databases include the full text of journal articles or provide a link to the article online.
Click on the link to "Where can I get this?" to see if the article is available in electronic and/or print format at SFU Library.
If it's not available at SFU, you can make a request to get the article from a library that does have a subscription to this journal.  There is no cost to you for this service but you may have to wait 2 weeks for the delivery of the item, though sometimes it's as fast as 3 days.
You can see a list of links to databases for each program in Contemporary Arts.  The following databases are a good place to start:
Discipline specific indexes
Multidisciplinary indexes
Humanities & Social Sciences Index

Index to scholarly journals in the humanities and social sciences. Good coverage of the performing arts (music, film, theatre, dance) and related topics.
JSTOR

Archival collection of core scholarly arts, humanities and social sciences journals.  

Project MUSE Search
Full-text collection of scholarly humanities and social science journals. Subjects covered include the visual and performing arts, cultural studies, gender studies and related topics
 
A good strategy for academic research is to start with an excellent source that you already know.  
The assignment guidelines suggest that you use readings from your syllabus and from course reserves.   These are useful because they've been selected by a scholar (i.e. your professor) and because the author(s) will cite the sources used in the course of their own research, in their bibliography or footnotes.  Often citations will include "classic" scholarly writings.   
Research that is cited frequently by other scholars is a sign of its influence.
Some databases enable you to see how often a work has been cited by others (Google Scholar and Web of Science, for example).  Google Scholar includes citations for books and other materials while Web of Science focuses on journal articles.
Humanities scholarship also tends to be slower to demonstrate influence but that influence can last longer.  If research from 50 years ago is still being cited today, that's often a sign of enduring influence.  The context for the citation will indicate what kind of influence it continues to have.
To find examples of thesis writing completed by Contemporary Arts graduate students, do a keyword search for "thesis and simon fraser and contemporary arts".  You can focus this search further by adding additional keywords that describe your topic.
Online media
If you're looking for artistic works themselves, you can use the the SFU library catalogue to search for DVDs, CDs and slides held in the collection. We also have several collections of streaming media that you can access from anywhere.
IMAGES
MUSIC
VIDEOS
You must cite your sources according to either Chicago or MLA style. The SFU Library has brief guides to both citation styles, providing an overview and examples of how to do this:
If you are citing images of artworks in your paper, you may want to consult the following guide:
If you're new to writing university papers, you may want to consult the Library tutorial on Plagiarism: What is plagiarism and how you can avoid it.
Writing for your discipline
Renee McCallum and graduate writing assistants provide writing consultations, by appointment.  Details can be found on the Research Commons writing resources web site.
To find examples of thesis writing completed by Contemporary Arts graduate students, do a keyword search for "thesis and simon fraser and contemporary arts".  You can focus this search further by adding additional keywords that describe your topic.