Mergent Archives: 100+ years of global corporate documents online for SFU researchers & alumni!
Published by Mark Bodnar
SFU researchers now have online access to a deep archive of historical business resources:  Mergent Archives!
The Mergent Archives collection includes... 
Mergent Historical Annual Reports (1844–present)
A growing collection of more than 1,000,000 digitized annual reports 
USA—Over 370,000 documents
Canada—Over 150,000 documents
International—Over 500,000 documents
Key features: 
A simple, online screening tool allowing researchers to search across reports by company name, year, city and state, and document type
Fully searchable text in every document, allowing researchers to find the information they need most and streamlining their research by helping them to more easily explore data
Continued and daily updates to both the historical reports collection and currently released documents
Mergent/Moody's Corporate Manuals (1909 onward)
A longtime standard reference source for business, the online Manual collection gives you access to corporate history, business descriptions and detailed financial statements, with just a few mouse clicks.
The Corporate Manuals collection includes: 
Mergent/Moody's Bank & Finance Manuals, 1928 to 2 years ago
Mergent/Moody's Industrial Manuals, 1920 to 2 years ago
Mergent/Moody's International Manuals, 1981 to 2 years ago
Mergent/Moody's Public Utility Manuals, 1914 to 2 years ago
Mergent/Moody's Transportation Manuals, 1909 to 2 years ago 
plus OTC & Supplemental content for several decades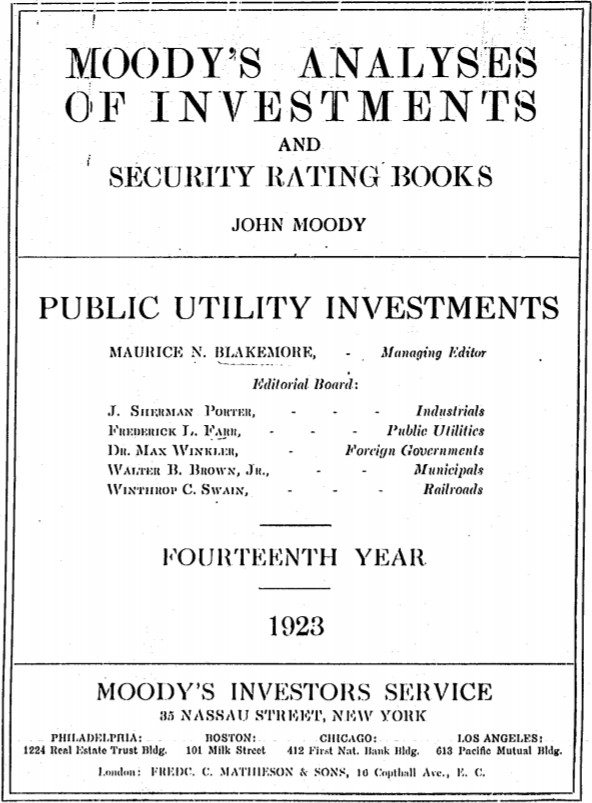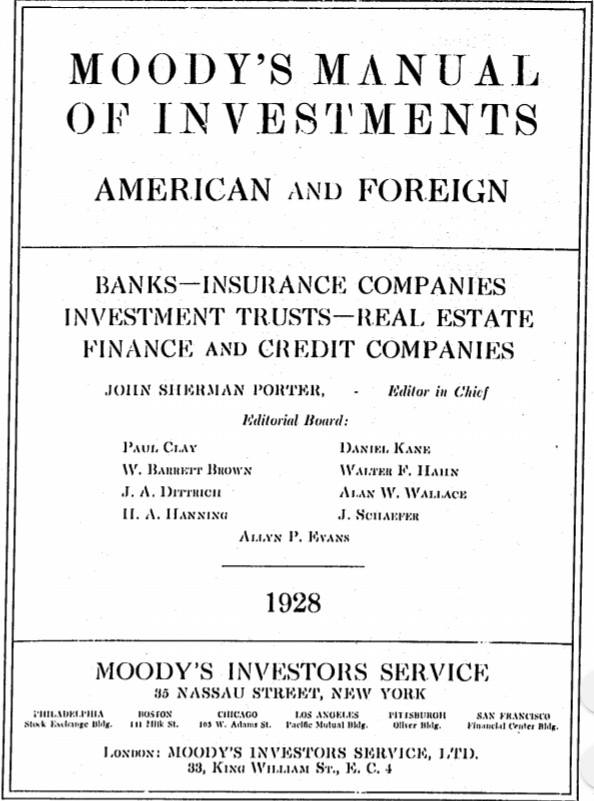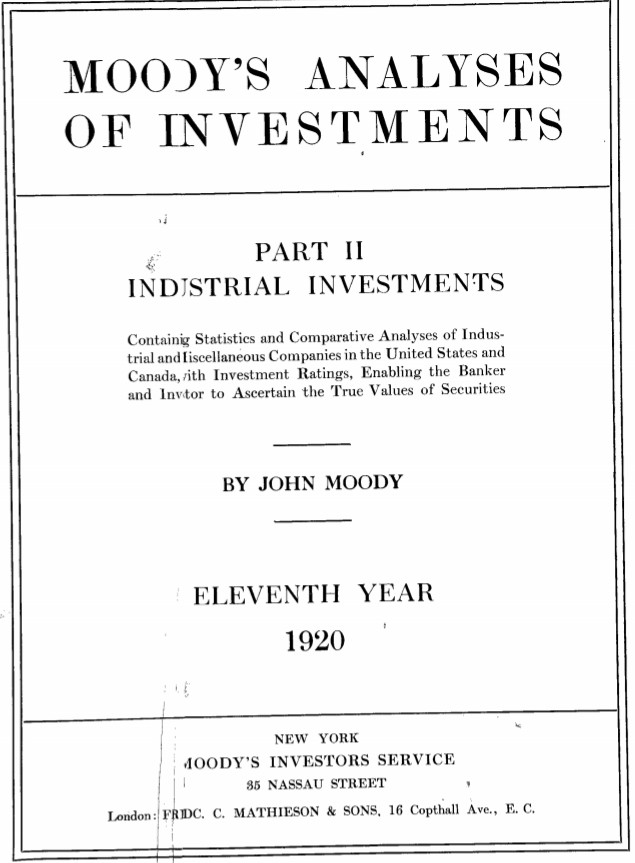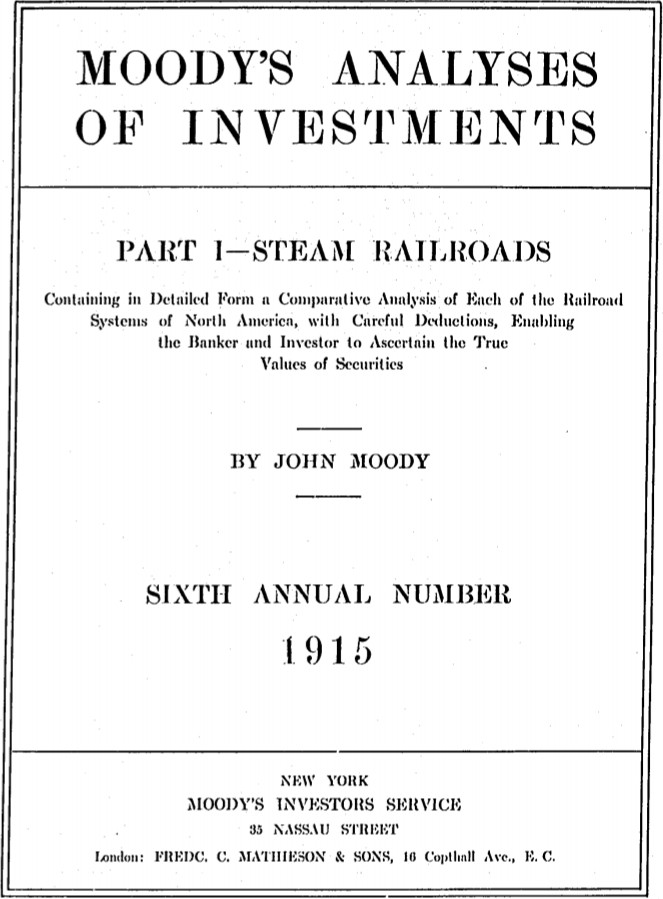 Mergent/Moody's Municipal & Government Manuals (1918 onward)
Me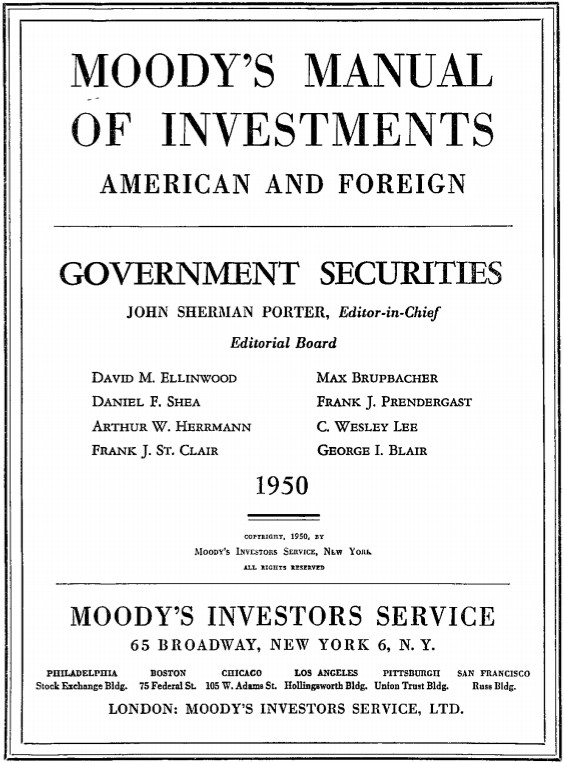 rgent Municipal & Government Manuals include approximately 16,500 issuers of municipal securities. In this comprehensive manual, you'll find a historical perspective on each issuing entity, as well as...
• statistical data,
• financial statements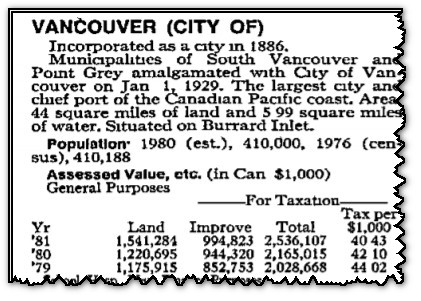 • and full bond descriptions.
Although the Municipal & Government Manuals are currently focused on the US, in the past (up to 1982) they also covered many international government securities, including those of Canadian cities and provinces.
Mergent Bond Record (2004 onward)
Mergent's Bond Record publication offers a comprehensive view on corporate, government, municipal, industrial development/environmental control revenue, and international bonds, plus structured finance and equipment trust issues, medium-term notes, convertible issues, preferred stocks and commercial paper issues.
The CRB Commodity  Yearbook (1939 onward)
The Yearbook
is the book of record of the Commodity Research Bureau, which is, in turn, the organization of record for the commodity and futures industry itself. 
Its sources — reports from governments, private industries, and trade and industrial associations — are authoritative, and its historical scope is second to none.
We now have online volumes from 1939 to 2016 of this valuable publication.
Each volume of the CRB Commodity Yearbook gives the investor:
Worldwide supply/demand and production/consumption data for all the basic commodities and futures markets–from A(luminum) to Z(inc), including all the major markets in interest rates, currencies, energy, grains and stock index futures
Over 900 tables, graphs and price charts of historical data, many of which show price history dating back to 1900
Concise introductory articles that describe the salient features of each commodity and help put the quantitative information in perspective.
Over 100 commodities — foods, metals, energy products, etc. — are covered by this publication: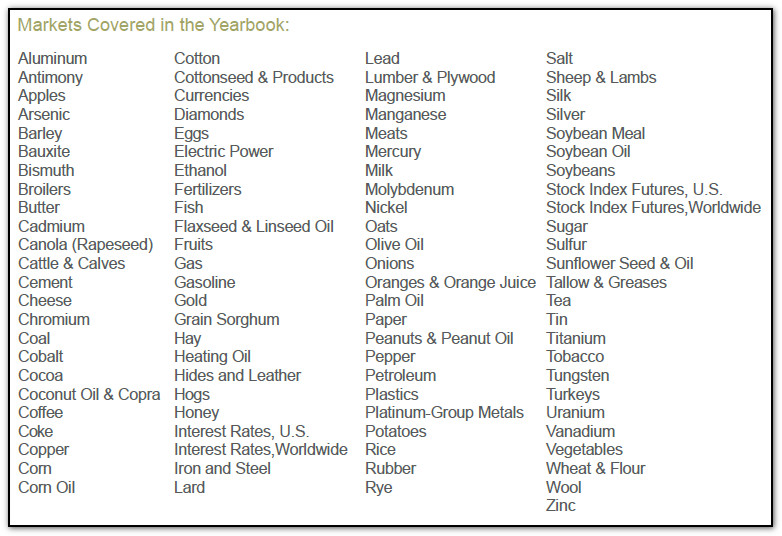 Again, all SFU researchers have access to this database from both on and off campus.  And we're very excited to announce that we were able to license Mergent Archives for full access (remote and on-site) by all SFU Alumni as well!
Note: Our subscription to this database is still quite new, and we're ironing out some wrinkles.  If you encounter any access or image quality issues, please do let me know.
-- Mark
~~~~~~~~~~~~~~~~~~~~~~
Mark Bodnar
Business & Economics Librarian
mbodnar@sfu.ca