International Open Access Week is a global, community-driven week of action to open up access to research. The event is celebrated by individuals, institutions and organizations across the world. This year's theme is Designing Equitable Foundations for Open Knowledge, which reflects a scholarly system in transition. While governments, funders, universities, publishers, and scholars are increasingly adopting open policies and practices, how these are actually implemented is still in flux. As open becomes the default, all stakeholders must be intentional about designing these new, open systems to ensure that they are inclusive, equitable, and truly serve the needs of a diverse global community. This year's Open Access Week invites all interested stakeholders to participate in advancing this important work.
Established by SPARC (the Scholarly Publishing and Academic Resources Coalition) and partners in the student community in 2008, International Open Access Week is an opportunity to take action in making openness the default for research—to raise the visibility of scholarship, accelerate research, and turn breakthroughs into better lives. 
Open Access Week events
Join SFU Library during Open Access Week 2018 from October 22nd to 28th for a series of events focused on learning more about and celebrating working in the open. 
Next semester's workshops will be posted soon.
Paywall: The Business of Scholarship (Movie Screening)
Join us for a free screening of the recently released movie Paywall: The Business of Scholarship.
This documentary focuses on the need for open access to research and science, questions the rationale behind the $25.2 billion a year that flows into for-profit academic publishers, examines the 35-40% profit margin associated with the top academic publisher Elsevier and looks at how that profit margin is often greater than some of the most profitable tech companies like Apple, Facebook and Google. 
Tuesday, October 23
11:30 - 1:00pm
Room 3008, Bennett Library, Burnaby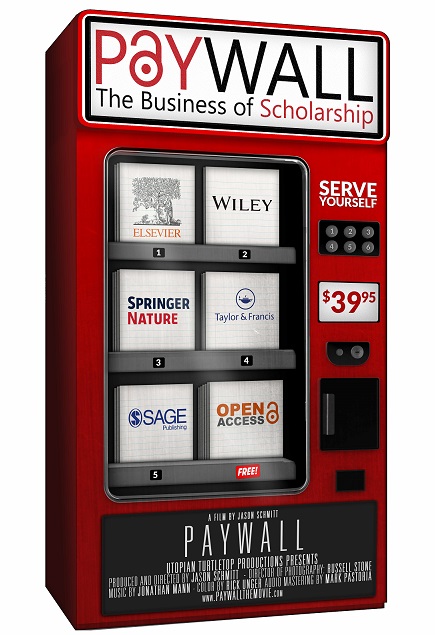 Contact for further information
Kate Shuttleworth, kshuttle@sfu.ca