Start here
Send the Right Message 
Learn more about LGBTQ allyship with this campaign, created by LGBTQ youth to educate and encourage their straight peers to be better allies. It's full of great resources on allyship, privilege, differences between gender identity and sexual orientation, and tips on how to advocate for others in day-to-day conversations.  
The 519's Glossary of Terms (Toronto) 
Full of concise and clear definitions of specific terminology, this glossary has been crafted for"facilitating shared understandings around equity, diversity, inclusion and awareness." 
Toolkits & reports
Queer-Friendly On-Campus Resources (SFU)
Out on Campus's list of resources at SFU. 
Being Seen Being Counted
For resources to create gender-expansive forms and questionnaires, check out this report, prepared for the BC Registrars Association. Includes recommendations for expanding gender categories and best practices for collecting names and pronouns.
In & Out: Diverging Perspectives on LGBT Inclusion in the Workplace
For more on LGBTQ inclusion at work, check out this report from the Canadian Centre for Diversity and Inclusion.
Transgender Students in Higher Education
If you want to learn about the experiences of trans students, this report from the Williams Institute (UCLA School of Law) highlights institutional barriers and supports.
Transitioning employers: a survey of policies and practices for trans-inclusive workplaces 
This 2020 report is the first Canadian study dedicated to understanding workplace policies and practices for supporting trans and gender non-conforming people. It explores how organizations can invest in building a future where all people have safe and affirming workplaces.
Your Journey: a career guide for trans and nonbinary students (University of Toronto)
This guide supports trans and nonbinary students in applying for jobs by explaining how to leverage available resources, make decisions based on their wants, needs and values, and know their rights in the workplace.
More graphics, tips, and further resources
For more, see Creating Authentic Spaces: A Gender Identity and Gender Expression Toolkit, which includes sections for Starting Conversations, Being an Effective Trans Ally, and Gender-Specific and Gender Neutral Pronouns. This resource is designed to support screen readers. (From the 519 in Toronto.)
Sample graphics: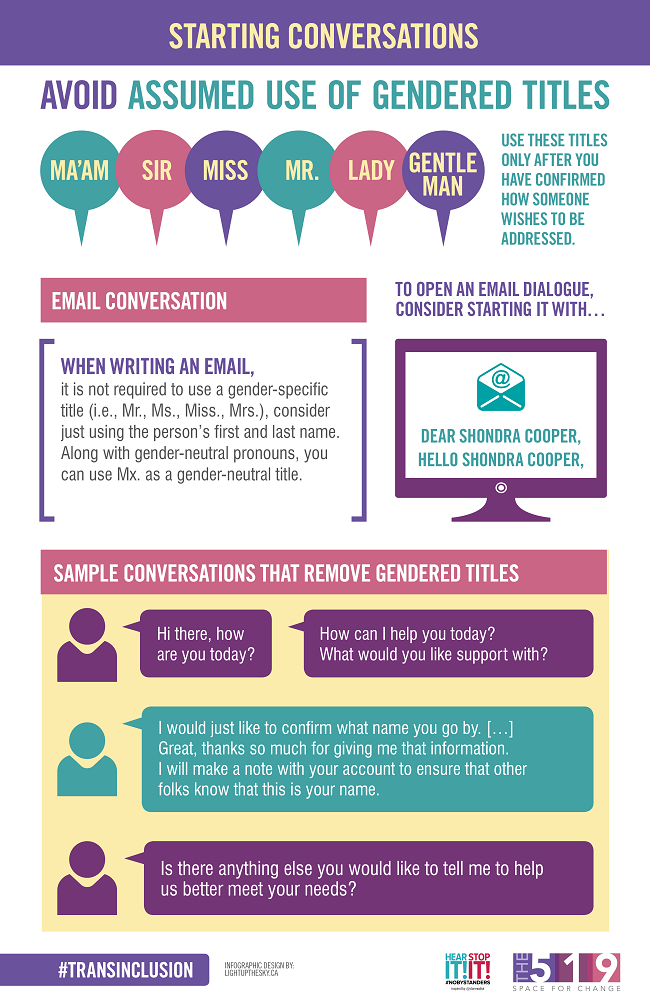 Source: Starting Conversations, from the 519's Creating Authentic Spaces (accessible to screen readers).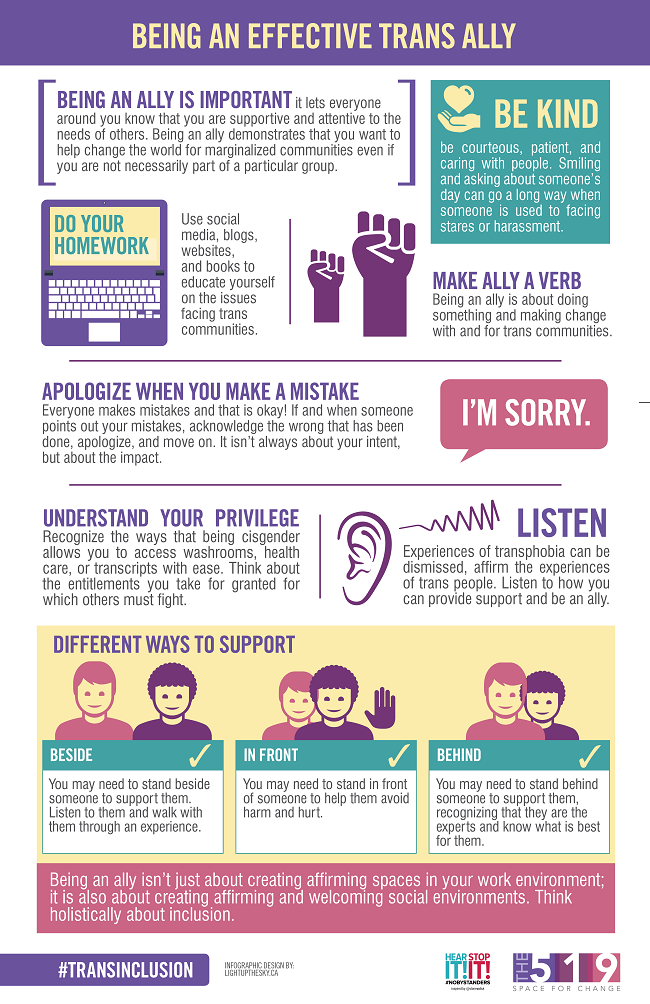 Source: Being an effective trans ally, from the 519's Creating Authentic Spaces (accessible to screen readers).