On this page
The following selected resources are drawn from national agencies, intergovernmental organizations and other official sources of statistics. Use these resources when you:
Need processed data, or data that have been analyzed in some way
Wish to support an argument or position in a study or report and don't need to process raw data
Want to use something presentation ready
Refer to Microdata resources for data resources.
If you need help, please contact Carla Graebner, Librarian for Data Services and Government Information at 778.782.6881 or cgraebne@sfu.ca or Ask a librarian.
Sources by category
Statistics usually fall into one of two categories:
Official Statistics: collected and published by governmental or inter-governmental agencies/organizations (for example, economic or demographic statistics)
Unofficial Statistics: produced by commercial entities or by non-profit organizations (trade associations will publish statistics relevant to their industries, non-profit organizations will collect statistics relevant to their mandate).
Identifying official and unofficial statistics
The following chart may assist in identifying official and unofficial statistics.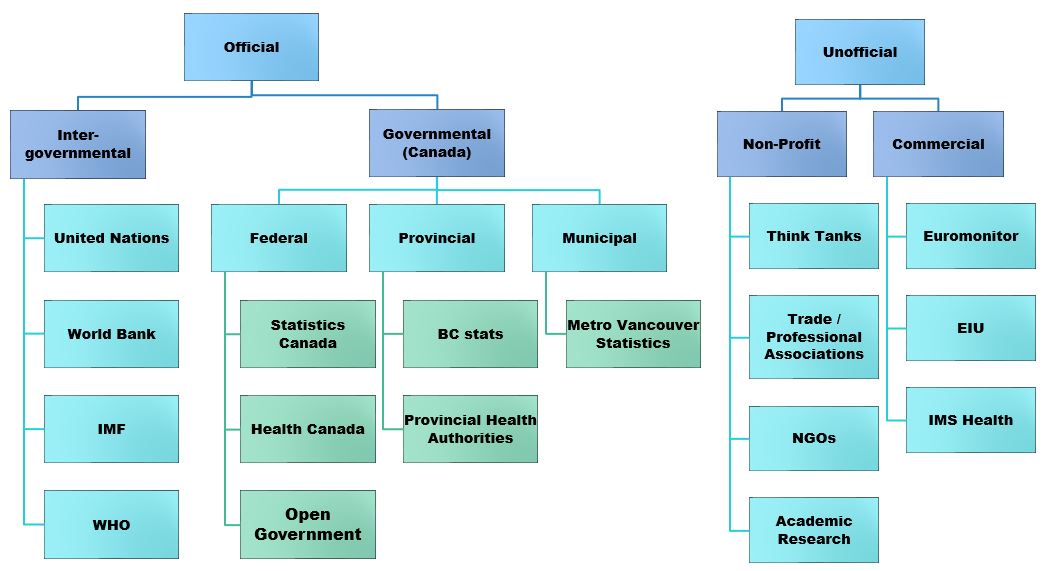 Identifying official and unofficial statistics flowchart description:
Official

Intergovernmental

United Nations
World Bank
IMF
WHO

Governmental (Canada)

Federal

Statistics Canada
Health Canada
Open Government

Provincial

BC Stats
Provincial Health Authorities

Municipal

Metro Vancouver Statistics

Unofficial

Non-Profit

Think Tanks
Trade / Professional Associations
NGOs
Academic Research

Commercial

Euromonitor
EIU
IMS Health
Canada
Statistics Canada
Under the Statistics Act, Statistics Canada is required to collect, compile, analyse, abstract and publish statistical information relating to the commercial, industrial, financial, social, economic and general activities and conditions of the people of Canada.
CANSIM Update (effective January 30, 2017)
In order to comply with Statistics Canada's Web Archiving Directive and the Treasury Board standard for managing and archiving web content, it was decided to implement the term "Archived" in the CANSIM database.
 
According to the directive, archived web content is information that is no longer current but is retained on the website for reference or to provide context to current content.
 
Data tables are archived
when there is a concept or methodology change and a break in the time series is introduced; or
when there are updates to indexes or classifications; or
when the data product is significantly re-configured/re-structured.
 
Effective January 30, 2017, the term "Terminated" has been replaced with the term "Archived" in the titles for all terminated CANSIM tables. In addition, the archived banner has been added to each terminated table on the website.
 
The terminated members and series contained within active tables have retained the status "Terminated".
 
A replacement of the term "Terminated" has been applied in the table titles in the SDMX and Beyond 20/20 downloadable files. The CSV files have not been affected by this change.
 
Footnotes which refer to the term "Terminated" will be updated manually over time to reflect the new label.
 
The Daily
The Daily is Statistics Canada's official release bulletin providing information on new products along with information on current social and economic conditions in Canada. Start with The Daily to find information on a particular topic, links to statistical tables and further resources.
Canadian Socio-Economic Information Management System (CANSIM)
Statistical time series covering a wide variety of social and economic aspects of Canadian life
CANSIM via CHASS
The CHASS interface offers additional functionality and access to historical versions of CANSIM not available on the Statistics Canada website. Access is limited to SFU staff, students and faculty
Census
For help with using the Census, please refer to the SFU Library's Guide on the Canadian Census which provides detailed information on census related topics.
Find latest data from the 2016 Census
Census Analyzer
The Canadian Census Analyzer provides access to Canadian census data, along with data from the National Household Survey, by various levels of geography including Census Tract (CTs), Dissemination Areas (DAs), census subdivisions (CSDs), census divisions (CDs)*, federal electoral districts (FEDs), forward sortation areas (first three digits of a postal code), provinces/territories, and Canada.
Historical Statistics of Canada
contains about 1,088 statistical tables on the social, economic and institutional conditions of Canada from the start of the Confederation in 1867 to the mid-1970s. The tables are arranged in sections with an introduction explaining the content of each section, the principal sources of data for each table, and general explanatory notes regarding the statistics.
Beyond 20/20: Please note that in order to effectively use many of Statistics Canada datasets, you'll need to download the Beyond 20/20 Professional Browser which is a free, downloadable utility. If you have any questions, please refer to the Beyond 20/20 User Guide.
Other sources
Government of Canada
Find direct links to statistics produced by government departments and agencies
Canadian Institute for Health Information
CIHI is an independent, not-for-profit organization that provides essential information on Canada's health system and the health of Canadians
British Columbia
Please refer to the SFU Library's guide on Finding Statistics on British Columbia
United States
Fedstats
More than 70 agencies in the United States Federal Government produce statistics of interest to the public. The Federal Interagency Council on Statistical Policy maintains this site to provide easy access to the full range of statistics and information produced by these agencies for public use. Most require use of Adobe Acrobat Reader.
US Bureau of the Census
​Locate detailed US socio-economic statistics based on the US Census and other surveys.
Statistical Abstract of the United States (2012 - )
The Statistical Abstract compiles statistics drawn from the US Census, Current Population Surveys and other sources both governmental and private. The Statistical Abstract provides detailed source notes so you can locate the original source from which the tables are composed. While largely federal in nature, there are many relevant state-level tables.
1878 - 2012 via the US Bureau of the Census
Note! Since tables within one edition do not necessarily correspond to tables containing the same information in another edition, have a look at their concordance (2006 - 2009).
Historical Statistics of the United States
Topics ranging from migration and health to crime and the Confederate States of America are each placed in historical context by a recognized expert in the field. This fully searchable database will permit users to graph individual tables and create customized tables and spreadsheets reflecting their own particular areas of interest
Bureau of Labor Statistics
The Bureau of Labor Statistics of the U.S. Department of Labor is the principal Federal agency responsible for measuring labor market activity, working conditions, and price changes in the economy.
Bureau of Economic Analysis
BEA produces economic accounts statistics by collecting source data, conducting research and analysis, developing and implementing estimation methodologies
DataLumos is an ICPSR archive for valuable government data resources and is a good resource for accessing data when other sources are unavailable.
International
African Development Bank Data Portal
International Historical Statistics                                                                                                                                                                                             For SFU researchers: Access 490 tables, covering data on over 200 countries and territories; provides unique historical data for Africa, Asia & Oceania, ranging from 1750-2010. Content is available in either pdf or excel format and is compatible with econometrics tools. Consistent sources and collation method allowing for comparison of tables across volumes 
International Monetary Fund (IMF)
Range of time series data on IMF lending, exchange rates and other economic and financial indicators.
OECD iLibrary
OECD iLibrary provides electronic access to books, periodicals and statistics published by the Organisation for Economic Co-operation and Development (OECD)
SpatialDataOnline's Free Mapping Online
This web based spatial system offers tens of thousands of free maps from US and China census data and business data. It also allows users to upload their data (in Excel file) to the system and make US or China maps online without any GIS tools and experience. This service is free for public.
World Bank
Free and open access to data about development in countries around the globe
World Trade Organization
Detailed statistics on key infrastructure services (transportation, telecommunications, finance and insurance) for selected economies; time series of international trade statistics
European Union
Eurostat
Provides direct and free of charge online access to all its statistical databases and associated electronic publications. The Eurostat database is updated twice a day and covers the European Union, EU member states, the Euro Zone, Candidate Countries and EFTA States.
United Nations
United Nations Statistical Databases
Access to the UN Commodity Trade Statistics database, Monthly Bulletin of Statistics Online, National Accounts and various demographic databases.
United Nations Conference on Trade and Development (UNCTAD)
Covers international trade, economic trends, foreign direct investment, population and labor force, commodities, information economy and maritime transport dating back to 1948 in many cases
United Nations Educational, Scientific and Cultural Organization (UNESCO)
The primary source for cross-nationally comparable statistics on education, science and technology, culture, and communication for more than 200 countries and territories.
Economic Commission for Latin America and the Caribbean (ECLAC)
Provides access to statistics related to economic and social development in the Latin American and Caribbean region
Food and Agriculture Organization of the United Nations Statistical Database (FAOSTAT)
FAOSTAT provides time-series and cross sectional data relating to food and agriculture for some 200 countries
International Labour Organization (ILO)
Access to cross-country statistics on the labour market; contains over 100 indicators covering more than 230 countries and economies.
Citing statistics
Please refer to the SFU Library's Citing guide for Statistics Canada, PCensus and CHASS data.