Finding your Library barcode on your SFU ID card 
Your SFU Library barcode is the number that begins with 29345... on your SFU ID card, which is also your library card.  It is not the same as your student number.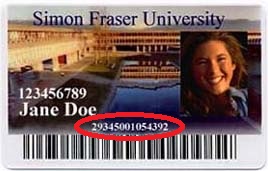 Your barcode is private information. Do not share your barcode with anyone or use it for any purpose not expressly permitted by the SFU Library.
Use your barcode to log in to your account and Library resources
Some borrowers, including non-credit students and external borrowers, don't have SFU computing IDs. If you don't have a SFU computing ID but do have a library barcode, you can use it to:
Logging in and passwords
When you log in to the Catalogue using your barcode number, your password will be your last name unless you have requested to change it. (The password is case-sensitive: MacKenzie is treated differently than mackenzie.)
Contact us for more help or to request a barcode
Talk to staff in in Access Services (Loans and Circulation) for more help, including:
To change your initial last name password if you are logging in with a barcode to something other than your last name, or to get help with your barcode password
To request a Library barcode if you don't have a Library/student card
778.782.4345 - W.A.C. Bennett Library, SFU Burnaby
778.782.5050 - Belzberg Library, SFU Vancouver
778.782.7411 - Fraser Library, SFU Surrey