On this page
Bennett library renewal


Artist's concept for the new entry, lounges and service counters planned for the Bennett library on the Burnaby campus.
The university has earmarked nearly half a million dollars for a major renovation of the Bennett Library, which has changed little since it opened in 1965. Library Dean Chuck Eckman is thrilled about initial plans for a redesigned and welcoming entrance to the Library. "I love watching the enthusiastic responses from everyone who sees these images showing the potential for the Library to be modernized, humanized and made more comfortable for its users."
In addition to creating more fluid and inviting pathways for users coming into the Library, the renewal will create and enhance services on both the second and third floors. On the second floor, a new Research Commons will be created with the Thesis Defence Room at the centre. The new facility will serve the needs of graduate students and others with advanced research agendas. The Research Commons will have group study spaces with technology to facilitate collaboration and presentations across campuses and beyond. Individual study spaces, secure storage, data and statistical support, and writing support will also be provided.
The redesigned third floor will feature a new presentation space for public lectures, poetry and book readings and other cultural programming. A totally renovated main entrance will improve access to information services, an enhanced Student Learning Commons, and also a new Library Café.
The renovation of these two floors is just one part of the renewal effort. Eckman says, "The building's overall allocation of space to support physical collections and study spaces needs to be re-evaluated." That includes the heating and ventilation system, washrooms, and seismic upgrades, which are long-overdue.
The Bennett Library renewal is the Library's number one strategic initiative and forms the centerpiece of the Library's fund-raising campaign.
Other Library goals can be found in the Library's new five-year Strategic Plan.
New fifth floor silent study room

A new silent study room is nearing completion on the 5th floor of the Bennett library.
"We want to improve this Silent Study Room to make it more comfortable for students who want absolute silence while studying," says Chuck Eckman.
The room is getting improved lighting, flooring, more comfortable seating and study tables with built in power and lighting.
Komagata Maru online soon
The site will feature a Google map mash-up that traces the round trip for most passengers, including their village of origin.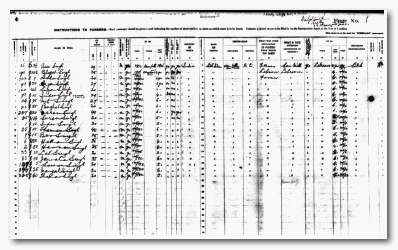 The actual passenger manifest of the Komagata Maru comes alive
when mousing over many of the names on the list in the online
version being created by the SFU Library.
The Library received a $350,000 grant from Citizenship and Immigration Canada under the auspices of the Community Historical Recognition Program to create a website and digital resource that tells the entire story of the Komagata Maru incident.
In 1914, a crowded ship from Hong Kong carrying 376 passengers, including many would be immigrants from Punjab, India, arrived at the port of Vancouver. The ship was refused entry to Canada and ultimately returned to India. In 2006 the government of Canada apologized for the incident.
"We're doing some very interesting things with the passenger manifest and it has become a sub-project of its own," says Brian Owen, head of Library Technology Services. The website will take data from the manifest, the inquiry report of the Indian government, and various iterations of the passenger list that have been compiled over the years. "As users mouse over each line in the digitized image (at left) there will be a pop-up containing all of the information associated with the name of the passenger, plus in some cases linkages to related content," says Owen. The site will feature a Google map mash-up that traces the round trip for most passengers, including their village of origin, the port at which they boarded, Vancouver, and the return leg.
Original site content from the local Indo- Canadian community includes personal diaries, an interview with the great great grandson of Gurdit Singh who chartered the Komagata Maru and was one of the most prominent f igures throughout the incident.
The website splash page will feature a very distinctive photo mash-up that echoes our official title: Komagata Maru: Continuing the Journey. Visit the Komagata Maru web site.
BC Postcard collection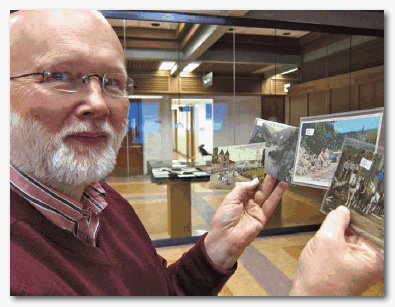 Special Collections librarian Eric Swanick sees postcards as a sort of 20th Century Twitter, with their brief messages, open to the public.
Part of the Library's strategic plan is to acquire enduring special collections centred upon material reflecting the cultural, economic, social and political history of the province of BC. "Our 8,000 postcards, mostly from British Columbia, are a rich and largely untapped resource for historians and the public," says Swanick.

A feature article by Swanick about the Library's postcard collection was published in SFU's aq: The Magazine of Simon Fraser University in November 2011. Funding is available to digitize approximately 2,000 postcards from the collection. These will be available online in early 2012.
Get your work into the Summit repository
Like many SFU faculty and staff, Barry Shell has boxes of old documents under his desk collecting dust. Shell has been writing about SFU research for 25 years. His collection of newsletters captures a unique slice of SFU history and they may be the only copies in existence. Some of them predate the Internet, and though html versions were loaded onto a web server in the 1990s, that server is gone, lost in a faculty shuffle years ago. To preserve this archive and make it available to a wider audience, Shell is putting the documents into Summit.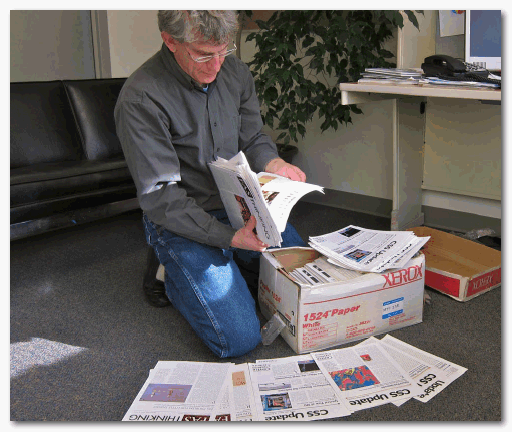 SFU staff writer Barry Shell goes through a box of old newsletters kept under his desk.
They are now being scanned into the Summit repository.
Summit is the name of the university's institutional repository, a place for historical ephemera, academic research materials, source data and other scholarly assets. Launched in August 2011, Summit provides a permanent online home for materials that may otherwise be lost. By residing in Summit they will be indexed by Google, backed up and preserved as computer technologies change over the decades.
Don Taylor, Assistant Head of Access Services, suggests Summit is also an ideal place for "the director's cut" version of works—the version as the author intended before a publisher revised it. He recommends faculty consider uploading niche materials, things that don't fall into the regular publishing stream, like research reports, supporting materials or bibliographies that are rather long. "These materials are valuable to the wider community," says Taylor, "and the goal of the repository is to promote the scholarly output of the institution and engage the community."
The process of getting works into Summit starts with registering with Taylor or his staff in Document Delivery Services at the Library. Once registered, users are assigned to a collection and can start uploading material themselves. The library also offers a number of services to assist SFU community members to get their content into Summit. They can digitize paper documents and they also will organize html file directories. You can send files to summit@sfu.ca, or provide online locations of existing files. According to Taylor, all that's required is an email saying, "I want to get my stuff in there," and they will help get it done.
Student Learning Commons turns 5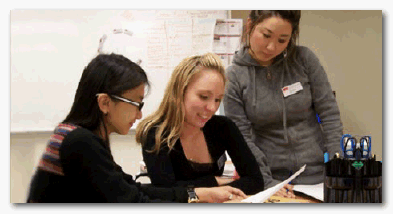 The Library's Student Learning Commons celebrated its fifth anniversary in the Fall of 2011. Officially launched in Fall 2006, the Student Learning Commons (SLC) is an academic learning centre mandated to assist and support undergraduate and graduate students in their academic pursuits. The SLC provides writing and learning support services across the three SFU campuses, including support for students in W, Q, and B courses, international students, English as an Additional Language students, college transfer students, graduate students and many others.
SLC head Donna McGee Thompson says, "Looking at how much the number of students visiting the SLC for academic and writing support has grown over the past five years, it is clear we are meeting a need. I think I can speak for all of the members of the SLC team in saying that having this kind of impact on the student experience is professionally and personally rewarding." McGee Thompson recently took over from SLC founding director Elaine Fairey, now the Associate University Librarian for Learning and Research Services.
Staff advancements and moves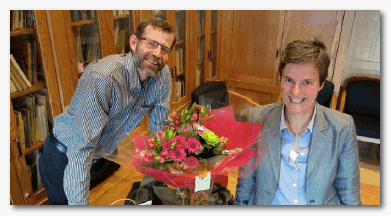 Todd Mundle (L) will take over as head of Collections and Scholarly
Communications as Gwen Bird (R) becomes executive director
of the Council of Prairie and Pacific University Libraries.
In October 2011 Associate University Librarian Gwen Bird was appointed Executive Director of the Council of Prairie and Pacific University Libraries (COPPUL). Together with changes to the Library's strategic plan, this resulted in a cascade of staff moves and reassignments.
COPPUL is a consortium of 22 university libraries located in Manitoba, Saskatchewan, Alberta and British Columbia. Member libraries cooperate to enhance information services through resource sharing, collective purchasing, document delivery, and many other similar activities.
Bird has an extensive history with COPPUL, serving as the first consortium representative on the CNSLP/CRKN Negotiations Resource Team from 2003-08. She also chairs the COPPUL Collections Committee, a position she's held since 2005. She was recipient of the first COPPUL Outstanding Contribution Award in 2008. With Bird's appointment, the COPPUL office will move to the Bennett Library at SFU, so physically, she won't be moving very far.
To achieve new strategic planning goals, and to respond to Gwen Bird's departure, the following staff changes were made:
Todd Mundle was appointed Associated University Librarian (AUL) for Collections and Scholarly Communications, a portfolio which now includes Acquisitions/Serials Division, the Thesis Defence Office, the Summit Institutional Repository and the Scholarly Communications program.
Natalie Gick was appointed AUL for Administrative Services, including budget, finance and human resource support as well as oversight of the Management and Equipment and Building Services Units. A recruitment to replace Gick as Head of the Fraser Library at SFU Surrey is now underway.
Elaine Fairey's portfolio was expanded to include all Library public services, including Access Services, Information and Instructional Services, Student Learning Commons and the recently launched Research Commons. Fairey's new title is AUL for Learning and Research Services.
Brian Owen's portfolio was expanded to include Special Collections in addition to library information technologies. Owen's new title is AUL for Library Technology Services and Special Collections.
Donna McGee Thompson was appointed Head of the Student Learning Commons, and Nicole White (formerly Gjertsen) was appointed Coordinator of the new Research Commons.
New fund-raiser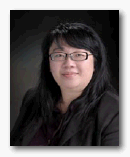 Virginia Hong
The Library has a new advancement officer. Before coming to SFU, Virginia Hong worked as a manager in the Fund Development field within the family and youth homeless sectors in Calgary. She did strategic fund-raising development, corporate relations, marketing and communications and volunteer management.
Hong recently completed a Bachelor's of Business Administration degree at Mount Royal University with a major in Non-Profit Management. She is also a member of the Association of Fund-raising Professionals and has held memberships with the Association of Directors of Volunteer Resources and Canadian Gift Planners Association. A volunteer since the age of 12 years old, she's given time to the Calgary Food Bank, Women In Need Society, Inn from the Cold Society and the Calgary Humane Society, among others.
If you have any questions about the library's future funding projects or would like to discuss donations to the library, please contact Virginia Hong by phone: (778) 782-9341 or email: virginia_hong@sfu.ca.
Upcoming Events
Celebration of SFU Authors
March 20, 2012, 3:30pm to 5:00pm
Wosk Room - 7th floor, WAC Bennett Library
Details: Celebration of SFU Authors: Home
Sir Arthur Conan Doyle Collection Launch
March 24, 2012,  2:00pm until 4:00pm
Special Collections, Room 7100
Details: You're invited to spend an afternoon with Sir Arthur Conan Doyle
SFU Burnaby Open House
May 26. Library tours and other events.
---
The SFU Library Update is published by the SFU Library.
Charles Eckman, Dean
Barry Shell, writer and editor. Leslie Ste. Marie contributed to this issue.

© 2011 Barry Shell. Permission granted to reproduce articles for SFU promotional purposes. Comments and suggestions welcomed.
ISSN 1929-316X (Print)
ISSN 1929-3178 (Online)

Ask. Explore. Discover.