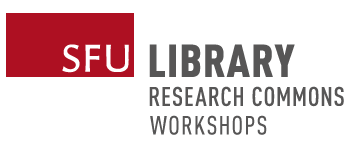 Dates
Friday, October 27, 2023 - 1:00pm to 4:00pm
Location
Burnaby, Bennett Library, Lab 2105
All times are Pacific Time Zone (Vancouver, BC, Canada).
About the workshop
This in-person workshop focuses on the literature review and literature search. At this session you will learn:
conventions of literature reviews;
the steps in conducting a literature review;
methods for staying organized;
search strategies,
advanced features of research databases,
tips to further develop effective and efficient research skills.
In the second part of this workshop, you will work under guidance with your own research topic. To get the most out of this workshop, you should have a well-defined research question. 
We will be in computer lab 2105 in W.A.C. Bennett Library at Burnaby Campus. There will be desktop computers to use, but feel free to bring your own laptop to work on.