Published by Mark Bodnar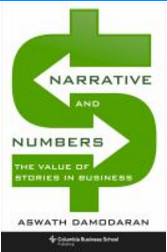 My apologies for the last-minute notice on this one... I've just heard about a webinar that may be of interest to students and faculty in accounting and finance.  
This Wednesday (April 12, 2017), from 2:30-3:30 Pacific time, Professor Aswath Damodaran from NYU Stern will discuss his new book on valuation "Narrative and Numbers: The Value of Stories in Business" and answer questions.
"The webinar will include segments on how to value a range of companies, from start-ups like Uber to established firms like Ferrari... <more>