On this page
Contact Indigenous Initiatives librarians Ashley Edwards and Jenna Walsh at lib-indigenous@sfu.ca with any questions.
Indigenous communities in BC
Within the province we know as British Columbia, there are 198 First Nations, and 30 languages, with 60 dialects spoken. These numbers don't include the many First Nations, Metis, and Inuit Peoples whose home territories fall outside the province's borders. 
In other words, SFU is located on the unceded, shared, current, and traditional territories of multiple Nations.
Land acknowledgements for SFU
The Office of Aboriginal Peoples provides information on the territories that SFU occupies, and the Bill Reid Centre provides the Coast Salish places names for areas around Burnaby Mountain, which in Sḵwx̱wú7mesh (Squamish) is known as Lhuḵw'lkuḵw'áyten, meaning "where the bark gets pe[e]led in the spring." This name is derived from the word for the arbutus tree, lhulhuḵw'ay or "always peeling tree." The Bill Reid Centre provides an audio recording of Lhuḵw'lkuḵw'áyten, providing learners an opportunity to hear, and practice, the pronunciation of the mountain's name. 
From the SFU Communicators Toolkit, here are recommendations for land acknowledgements for each of the three campuses:
Burnaby campus
Simon Fraser University acknowledges the unceded Traditional Coast Salish Lands including the Tsleil-Waututh (səl̓ilw̓ətaʔɬ), Kwikwetlem (kʷikʷəƛ̓əm), Squamish (Sḵwx̱wú7mesh Úxwumixw) and Musqueam (xʷməθkʷəy̓əm) Nations.
Surrey campus
Simon Fraser University acknowledges the unceded traditional territories including Semiahmoo, Katzie, Kwikwetlem (kʷikʷəƛ̓əm), Kwantlen, Qayqayt and Tsawwassen First Nations. 
Vancouver campus
Simon Fraser University acknowledges the unceded Traditional Coast Salish Lands including the Squamish (Sḵwx̱wú7mesh Úxwumixw), Tsleil-Waututh (səl̓ilw̓ətaʔɬ) and Musqueam (xʷməθkʷəy̓əm) Nations.
Please review A Guide to the Pronunciation of Indigenous Communities and Organizations in BC for pronunciations. 
Ensuring meaningful land acknowledgements 
It has become common practice for people to acknowledge the land they are on at the start of an event. You've most likely heard, or seen, land acknowledgements being done in places like classes, workshops, on course syllabi, websites, even at Science World. But what are they?
A land acknowledgement recognizes the Indigenous territory that you are located on, at that specific moment. It should be stated from the heart, be personal, and some recommend including an action towards reconciliation. Taking this approach keeps acknowledgement from being a token gesture, or being a checklist item. The Library and Information Studies Students' Association (LISSA) at the University of Alberta has created a document on writing and personalizing land acknowledgements. The document contains important questions to ask yourself, and possible components to include. 
To learn more about the community (or communities) on whose traditional, and current, territory you reside, check out the interactive map by Native Land.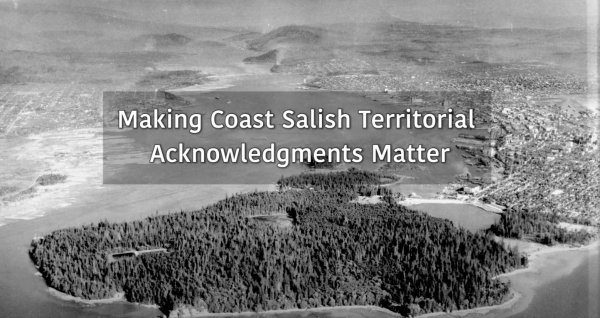 For an in-depth discussion, watch Making Coast Salish Territorial Acknowledgments Matter, "A panel discussion targeting genuine reconciliation and making territorial acknowledgements matter. Learn about Musqueam, Squamish and Tsleil-Waututh protocol practices and how people can integrate reconciliation steps into their own work. Deepen your practical understanding of colonialism and be an ally in confronting Coast Salish cultural erasure here in the Unceded Territories."
Starting your class with a territory acknowledgement is step towards Indigenizing your teaching practice. Take it further by inviting students to reflect on what they know about the land they grew up on, or reside on currently. How does it shape their identity? These type of reflections are positionality statements.
Positionality statements  
Positionality statements are a way of recognizing the intersections that make up someone's experience, and how it shapes their worldview. There are two theories at work: positionality and intersectionality.
In her 2017 book, Marisa Duarte (Pascua Yaqui/Chicana) wrote that "the methodology of positionality requires researchers to identify their own degrees of privilege through factors of race, class, educational attainment, income, ability, gender, and citizenship" (p. 135). This recognition helps researchers "understand how their way of making meaning, of framing research, within their conceptual universe is tied to their positionality within an unjust world" (p. 135). How these factors come together is known as intersectionality, a term coined by Kimberlé Crenshaw in the late 1980s. Intersectionality is how these overlapping facets of someone's identity impact their lived experiences, and therefore their worldviews. In many Indigenous cultures, situating yourself within your community and kinship networks indicates your relationships and who you are accountable to (Wilson, 2008). 
Writing a positionality statement invites and encourages people to reflect on the land they grew up on, and on how different aspects of their identity intersect. Here's an example of in class positionality activity, from English 359 (many thanks to Dr. Alix Shield for sharing).  
Resources
Land acknowledgements
Positionality
Intersectionality
References
Duarte, M. (2017). Network sovereignty: Building the internet across Indian Country. 
Wilson, S. (2008). Research is ceremony: Indigenous research methods.