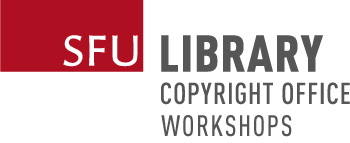 Do you upload readings or other materials into Canvas? Include photos, diagrams or maps in your PowerPoint slides? Use blogs or social media in your courses? Use teaching materials you find online? All of these activities can implicate copyright. Copyright protects written, artistic, musical and dramatic works, as well as performances, sound recordings and broadcast signals.
The SFU Copyright Office will explain SFU's policies and guidelines outlining how you can use copyright protected materials in your courses (in-person and in Canvas), and how to find materials with fewer restrictions such as Open Access publications and materials without copyright protection. We will explain your rights as the creator of your course materials as well as the Copyright Office's services.
Bring your copyright questions and concerns.
​Visit the copyright website for FAQs, resources, links and videos. Contact the Copyright Office with any questions (copy@sfu.ca).
If you can't make it, the Copyright Office welcomes requests for custom workshops or presentations for your department or class. Email copy@sfu.ca to schedule.
Upcoming workshops