On this page
These guidelines are for exhibitions or displays which have already been confirmed.
For more information about exhibition and display spaces at the SFU Library, including how to propose a display, see Exhibition and Display Policy.
Time period and location for your display
Check your acceptance email for:
details about when your display will be in the Library
where your display will be in the Library. (See floor plan below.)
Start and end dates for the display
Note that:
You can set up any time after the Library opens on the first day of your display.
You must remove all items from your display before the Library closes on the last day of your display. 
The display area that has been assigned to you 
Note the location for your display: West, East, or South.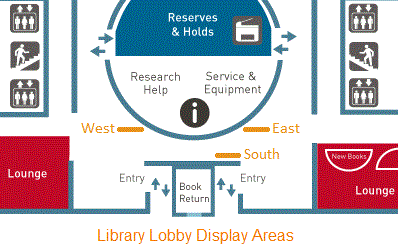 Your display contents
Displays in the lobby are not protected or guarded.
While our experience is that displays are treated with respect, it's possible that items may be damaged or go missing. We advise you not to use anything in your display that is valuable or difficult to replace. 
Out of consideration for Library users and staff, please do NOT include:
scented items (the University supports a scent-free environment)
objects that could be dangerous (sharp objects, food that could spoil, etc.).
Including resources from the SFU Library Collection in your display
We strongly encourage including a few books, DVDs, etc. from the Library collection in your display.
Contact the Collection Management Assistant for help finding books or other Library materials for your display, as well as book stands if needed. 
Note that anyone will be able to check out the Library materials from your display. 
Posters
Posters are welcome, however please do not attach posters to walls or windows.
Check your display
We recommend that you check on your display from time to time to ensure that it is intact.