On this page
Shadow Life by Hiromi Goto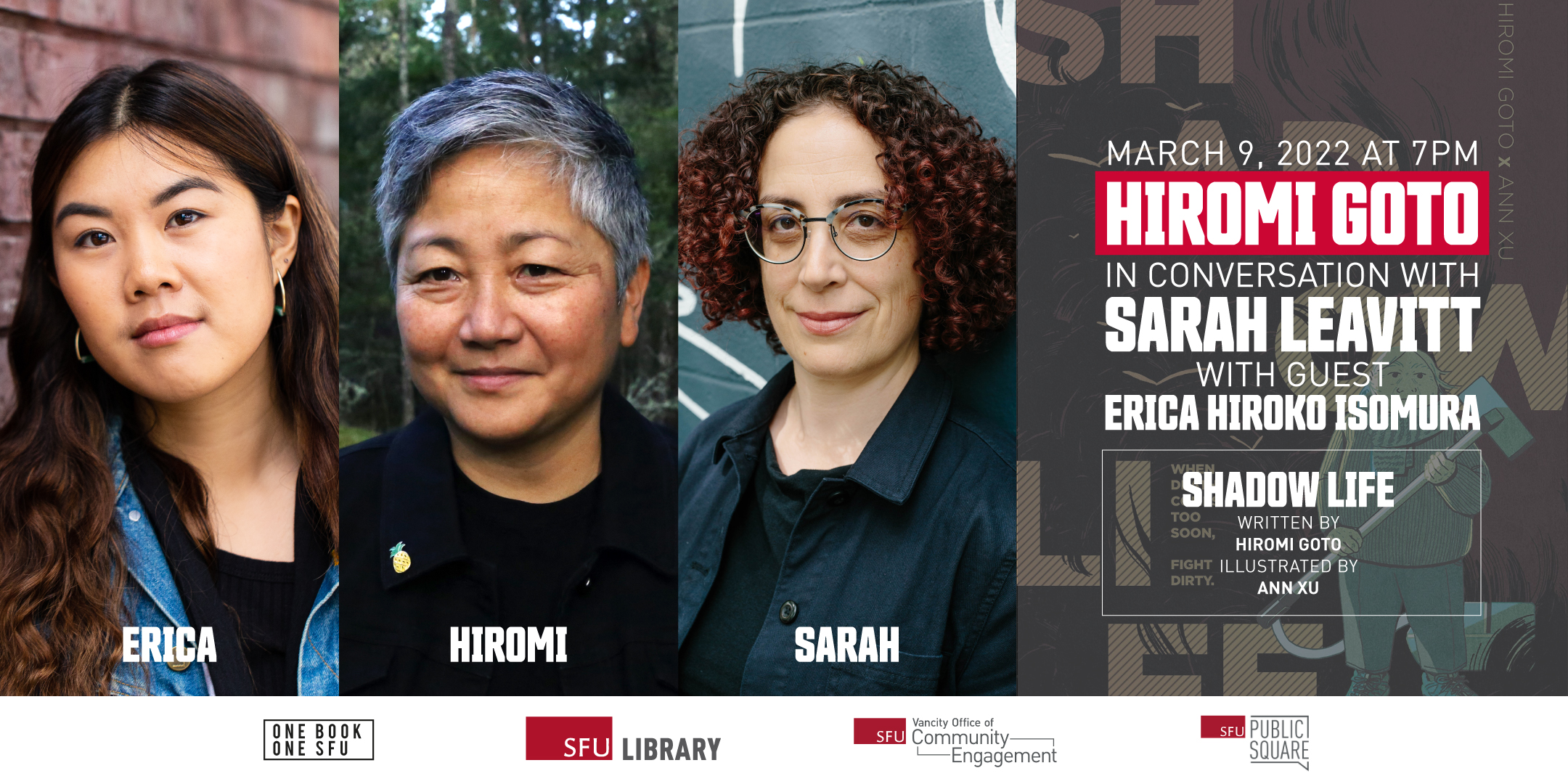 About the book
"This wry genre-bending graphic novel … delves into aging, independence, lost love, and mortality with a whimsy that doesn't undercut its literary heft. ... The loose black-and-white line art by Xu, including interspersed wordless panels, perfectly captures the progression of Kumiko's emotions from serenity to revelation to distress to determined defiance, as well as the narrative's fantastical and surreal turns. Quiet sensitivity and humor shine throughout, lighting the bright triumph in one woman's twilight." -- Publisher's Weekly starred review
"Goto's latest is an empowering, emotional tribute to defiant, independent, kick-ass old women living their best lives." -- Booklist
Borrow the book: Shadow Life is available for borrowing at all three branches of SFU Library.
About the speakers
Hiromi Goto is an emigrant from Japan who gratefully resides in Lekwungen Territory.  Her first novel, Chorus of Mushrooms, won the 1995 Commonwealth Writers' Prize Best First Book, Canada and Caribbean Region, and was the co-winner of the Canada-Japan Book Award. Her second adult novel, The Kappa Child, was awarded the 2001 James Tiptree Jr. Memorial Award. She's published three novels for children and youth, a book of poetry, and a collection of short stories (adult). Her other honours include The Sunburst Award and the Carl Brandon Parallax Award.
Hiromi's most recent book, Shadow Life (2021) with artist Ann Xu and published by First Second Books, is her first graphic novel. She is currently at work trying to decolonize her relationship to writing and the land.
Sarah Leavitt's first book, Tangles: A Story About Alzheimer's, My Mother, and Me, was published in Canada and internationally, and translated into French, German and Korean. Tangles was the first comic to be nominated for a Writers' Trust Award, and has become a widely-studied work in the growing field of comics and medicine. A feature-length animation of Tangles is in development with Giant Ant animation studio and a major American production company.
Sarah's second book, Agnes, Murderess, won a Vine Award for Canadian Jewish Literature (fiction) and an Alberta Book Publishers Award (speculative fiction). Agnes was a finalist for both Canadian comics prizes, the Doug Wright Awards and Joe Shuster Awards. Sarah has also published short comics in magazines and anthologies, as well as self-publishing her work in printed zines and online.
Her current work-in-progress is a collection of short, experimental comics about her partner's death in 2020. You can read most of them on Instagram.
Sarah has been developing and teaching comics classes in the UBC School of Creative Writing since 2012 — as of July 1, 2021 she will be the school's first Assistant Professor of Graphic Forms. Her particular areas of interest include autobiographical comics, formal experimentation in comics, and comics pedagogy – developing strategies for teaching comics creation as well as exploring how comics creation shapes students' work in other forms of writing. Sarah is also an instructor in the Biomedical Visualization and Communication Certificate, a collaboration between the UBC Faculty of Medicine Hackspace for Innovation and Visualization in Education (HIVE) and the Centre for Digital Media.
Born and raised on the west coast, Erica Hiroko Isomura is a yonsei Japanese and Chinese Canadian essayist, poet, multi-disciplinary artist, and cultural producer.
Isomura is the recipient of Room magazine's 2021 Emerging Writer Award and won first prize for creative nonfiction in Briarpatch's 2019 Writing In The Margins contest. In 2021, her poem "Language is" made the CBC Poetry Prize longlist.
Isomura's writing and poetry is published and forthcoming in Canadian literary magazines including Room, carte blanche, The Maynard, Vallum, and The Fiddlehead.
Isomura is currently at work on a book of essays, a poetry collection, and a project bringing multi-generational, racialized artists into conversation with one another.
Learn more about Erica Hiroko Isomura's writing, audio, and visual work.
Listen to the conversation
Watch the evening of reading and conversation with Hiromi Goto, Sarah Leavitt, and Erica Hiroko Isomura.
---
Jonny Appleseed by Joshua Whitehead

About the book
"Jonny Appleseed weaponizes story to bring the rez (and urban rez) to life, shrouding its characters in luminous layers so they're neither good nor bad but immersed in worlds and words. Unflinching and intimate, Joshua Whitehead takes his readers on a journey to the heart of an NDN glitter princess with generous, swooning prose. Unforgettable." -- Eden Robinson
"With only seven days until he returns home for his stepfather's funeral, Appleseed spends a pyretic week attempting to reconcile the competing factions of his life: sex, friends, work, sex, family, identity, sex. Throughout, memories of his kokum (grandmother) intrude upon the chaos, and these unexpected moments of remembrance prove most striking. A radically original new voice." -- Booklist
"Every so often, a book comes along that feels like a milestone, with revolution nestled beneath every sentence, every word. Oji-Cree/nehiyaw two-spirit/Indigiqueer writer Joshua Whitehead's Jonny Appleseed is one of those books." -- The Globe and Mail
Borrow the book: Jonny Appleseed is available as an ebook through SFU Library, with unlimited user access.
About the speakers
Joshua Whitehead (he/him) is a Two-Spirit, Oji-nêhiyaw member of Peguis First Nation (Treaty 1). He is currently a Ph.D. candidate, lecturer, and Killam scholar at the University of Calgary where he studies Indigenous literatures and cultures with a focus on gender and sexuality. His dissertation, tentatively titled "Feral Fatalisms," is a hybrid narrative of theory, essay, and non-fiction that interrogates the role of "ferality" inherent within Indigenous ways of being (with a strong focus on nêhiyawewin). He is the author of full-metal indigiqueer (Talonbooks 2017) which was shortlisted for the inaugural Indigenous Voices Award and the Stephan G. Stephansson Award for Poetry. He is also the author of Jonny Appleseed (Arsenal Pulp Press 2018) which was long listed for the Giller Prize, shortlisted for the Indigenous Voices Award, the Governor General's Literary Award, the Amazon Canada First Novel Award, the Carol Shields Winnipeg Book Award, and won the Lambda Literary Award for Gay Fiction and the Georges Bugnet Award for Fiction. Whitehead is currently working on a third manuscript titled, Making Love with the Land to be published with Knopf Canada, which explores the intersections of Indigeneity, queerness, and, most prominently, mental health through a nêhiyaw lens. Currently, Whitehead is premiering his newly edited anthology, Love after the End: an Anthology of Two-Spirit and Indigiqueer Speculative Fiction. You can find his work published widely in such venues as Prairie Fire, CV2, EVENT, Arc Poetry Magazine, The Fiddlehead, Grain, CNQ, Write, and Red Rising Magazine.
Vivek Shraya's best-selling book, I'm Afraid of Men, was her­ald­ed by Vanity Fair as "cultural rocket fuel," and her album with Queer Songbook Orchestra, Part‑Time Woman, was included in CBC's list of Best Canadian Albums of 2017. Her newest book, The Subtweet: A Novel, was published in 2020.
She is one half of the music duo Too Attached and the founder of the publishing imprint VS. Books. A Polaris Music Prize nominee and four-time Lambda Literary Award finalist, Vivek was a 2016 Pride Toronto Grand Marshal, was featured on The Globe and Mail's Best Dressed list, and has received honours from The Writers' Trust of Canada and The Publishing Triangle.
She is currently a director on the board of the Tegan and Sara Foundation and an Assistant Professor of Creative Writing at the University of Calgary.
---
Washington Black by Esi Edugyan

About the book
Shortlisted for the Man Booker Prize, "Washington Black is an engrossing hybrid of 19th-century adventure and contemporary subtlety, a rip-roaring tale of peril imbued with our most persistent strife." -- Ron Charles, The Washington Post
"Escape is only the beginning. From the brutal cane plantations of Barbados to the icy wastes of the Canadian Arctic, from the mud-filled streets of London to the eerie deserts of Morocco, Washington Black is the tale –- inspired by a true story –- of a world destroyed and the search to make it whole again." -- 2018 Man Booker Prize Longlist Synopsis
Borrow the book: Copies of Washington Black are available to all members of the SFU community at SFU Burnaby's W.A.C. Bennett Library, SFU Vancouver's Belzberg Library, and SFU Surrey's Fraser Library.
About the speakers
Esi Edugyan is the author of the novels The Second Life of Samuel Tyne, Half-Blood Blues, and Washington Black. Half-Blood Blues won the Scotiabank Giller Prize, was a finalist for the Man Booker Prize, the Governor General's Literary Award for Fiction, the Rogers Writers' Trust Fiction Prize and the Orange Prize for Fiction.
Her latest novel, Washington Black, also won the Scotiabank Giller Prize and was a finalist for the Man Booker Prize, the Rogers Writers' Trust Fiction Prize, and the Andrew Carnegie Medal for Excellence.
She lives in Victoria, British Columbia.
Omar El Akkad is an author and journalist. He has reported from Afghanistan, Guantanamo Bay and numerous other locations around the world. He is the recipient of a National Newspaper Award for Investigative Journalism and the Goff Penny Award for young journalists.
His work has appeared in The Guardian, Le Monde, Guernica, and many other newspapers and magazines. His debut novel, American War, is an international bestseller and has been translated into thirteen languages.
Omar lives in the woods just south of Portland, Oregon. 
Listen to the conversation
Watch the evening of reading and conversation with Esi Edugyan and Omar El Akkad.
---
Son of a Trickster by Eden Robinson

About the book
"Eden Robinson is a writer with a magical touch. Crisp prose, taut dialogue, and a cast of maniacal characters you sure as hell don't want living next door." — Thomas King
"Son of a Trickster is a novel that shimmers with magic and vitality, featuring a compelling narrator, somewhere between Holden Caulfield and Harry Potter. Just when you think Jared's teenage journey couldn't be more grounded in gritty, grinding reality, his addled perceptions take us into a realm beyond his small town life, somewhere both seductive and dangerous. Energetic, often darkly funny, sometimes poignant, this is a book that will resonate long after the reader has devoured the final page." —2017 Scotiabank Giller Prize jury.
Borrow the book: Copies of Son of a Trickster are available to all members of the SFU community at SFU Burnaby's W.A.C. Bennett Library, SFU Vancouver's Belzberg Library, and SFU Surrey's Fraser Library.
About the speakers
Eden Robinson has matriarchal tendencies. Doesn't have a pressure cooker, but knows how to jar salmon. Her smoked salmon will not likely kill you. Hobbies: Shopping for the Apocalypse, using vocabulary as a weapon, nominating cousins to council while they're out of town, chair yoga, looking up possible diseases or syndromes on the interwebs, perfecting gluten-free bannock and playing Mah-jong. Be warned, she writes novels and tends to be cranky when interrupted. Robinson is a Haisla/Heiltsuk author. Monkey Beach, her first novel, was shortlisted for both the Scotiabank Giller Prize and the Governor General's Literary Award for fiction in 2000 and won the BC Book Prize's Ethel Wilson Fiction Prize. Her novel Son of a Trickster was shortlisted for the Scotiabank Giller Prize. Her latest work is Trickster Drift.
Cherie Dimaline is a Métis author and editor from the Georgian Bay community. Her award-winning fiction has been published and anthologized internationally. She has edited numerous publications including Spirit, FNH, Muskrat Magazine and FACE. Dimaline was named the first Writer in Residence in Aboriginal Literature for the Toronto Public Library. She also coordinates the annual Indigenous Writers' Gathering in Toronto. The Marrow Thieves, which  won the Governor General's Award for English-language children's literature and the 2017 Kirkus Prize in the young adult literature category, is Dimaline's newest dystopic sci-fi novel aimed at young adults in which global warming has devastated the planet and the Indigenous people of North America are hunted for their bone marrow.
This event was part of SFU Vancouver's 30th Anniversary.
Listen to the conversation
Watch the evening of reading and conversation with Eden Robinson and Cherie Dimaline.
---
Tomboy Survival Guide by Ivan Coyote

About the book
"Coyote is poetic in their phrasing and plain spoken with their truths." —EDGE Media Network
"An emotionally powerful memoir by a great storyteller about normal life." —The Globe and Mail
"Speaking for those who have had 'difference squeezed or pounded or prayed' out of them and of being 'trapped in a world that makes very little space for bodies like mine,' Coyote is by turn eloquent, provocative, and persuasive." —Vancouver Sun
"A wryly confessional memoir... by turns raw, bittersweet, and funny." —Publishers Weekly
Borrow the book: Copies of Tomboy Survival Guide are available to all members of the SFU community at SFU Burnaby's W.A.C. Bennett Library, SFU Vancouver's Belzberg Library, and SFU Surrey's Fraser Library.
About the speakers
Ivan Coyote is the award-winning author of eleven books, the creator of four short films, and has released three albums that combine storytelling with music. Ivan is a seasoned stage performer and long-time road dog, and over the last twenty years has become an audience favourite at storytelling, writer's, film, poetry, and folk music festivals from Anchorage to Amsterdam. Ivan often grapples with the complex and intensely personal issues of gender identity in their work, as well as topics such as family, class, social justice and queer liberation, but always with a generous heart, a quick wit, and the nuanced and finely-honed timing of a gifted raconteur. Ivan's stories remind of us of our own fallible and imperfect humanity while at the same time inspiring us to change the world.
Tegan Quin is a musician and half of the Canadian indie pop band, Tegan and Sara. Tegan and Sara have sold more than one million albums, and have received seven Gold certifications, one Double Platinum certification, three Juno Awards, two Polaris Prize nominations, and a Grammy nomination. They have performed on some of the world's biggest stages, from the 2015 Oscar Telecast to major festivals such as Coachella, Lollapalooza and Glastonbury. Tegan has openly identified as queer since the beginning of her career in 1998, and has been an outspoken feminist advocate for LGBTQ equality and gender justice. Tegan is a board member of the Girls Rock Camp Foundation and have supported several LGBTQ organizations over the past two decades. The Tegan And Sara Foundation is an extension of Tegan and Sara's work, identity and longstanding commitment to supporting and building progressive social change.
Listen to the conversation
Watch the evening of reading and conversation with Ivan Coyote and Teagan Quin.
---
The Argonauts by Maggie Nelson

About the book
"Maggie Nelson is one of the most electrifying writers at work in America today, among the sharpest and most supple thinkers of her generation." —The Guardian
"Maggie Nelson's new book, The Argonauts, is wholly complex and pleasurable, cross-connecting forms of autobiographical, theorhetorical, and epistolyrical inquiry." —BOMB Magazine
"The Argonauts affirms that love is a radical act. . . . Reading [it] feels like watching the rush of a stream, or staring at the lights from a sea of cars driving down a highway at night. . . . Through her flickering prose, Nelson reminds us that there is a real pleasure in change."—The New Republic
"I am joyfully awed by how its queerness is bedrock, how it starts from the place of queerness. . . . In its constant motion between criticism and memoir, The Argonauts is a thrilling realization of that effort so central to so many queer and feminist lives: the effort to live (with) our theory."—Feministing
About the speakers
Maggie Nelson is the author of nine books of poetry and prose, many of which have become cult classics defying categorization. Her nonfiction titles include the National Book Critics Circle Award winner and New York Times bestseller The Argonauts (2015), The Art of Cruelty: A Reckoning (2011), Bluets (2009), The Red Parts (2007), and Women, the New York School, and Other True Abstractions (2007). Her poetry titles include Something Bright, Then Holes (2007) and Jane: A Murder (200). Nelson was granted a MacArthur Fellowship in 2016. She has been the recipient of a Guggenheim Fellowship in Nonfiction, an NEA in Poetry, a Literature Fellowship from Creative Capital, and an Arts Writers Fellowship from the Andy Warhol Foundation. She holds a Ph.D. in English Literature from the Graduate Center of the City University of New York, and has taught literature, writing, criticism and theory at the New School, Pratt Institute, and Wesleyan University. Since 2005 she has been on the faculty of the School of Critical Studies at CalArts, where she currently directs the MFA Creative Writing Program. She lives in Los Angeles.
Amber Dawn is a writer living on unceded territory of the Musqueam, Squamish and Tsleil-Waututh First Nations (Vancouver, Canada). Her memoir How Poetry Saved My Life: A Hustler's Memoir won the 2013 Vancouver Book Award. She is the author of the Lambda Award-winning novel Sub Rosa, and editor of the anthologies Fist of the Spider Women: Fear and Queer Desire and With A Rough Tongue. Her newest book Where the words and my body begins is a collection of glosa form poems. She currently teaches creative writing at Douglas College and the University of British Columbia, as well as volunteer mentors at several community-driven art and healing spaces.
Listen to the conversation
Watch the evening of reading and conversation with Maggie Nelson and Amber Dawn.
---
Open City by Teju Cole

About the book
Teju Cole is an internationally acclaimed Nigerian-American writer and photographer. Cole's deeply emotional yet unmistakably non-sentimental novel, Open City, provokes its readers to grapple with urbanism's transcendent as well as oppressive possibilities.
While Open City is ambitious in scope and unapologetically literate in its frames of reference, it is also accessible. On its fundamental level, Open City is about Julius, a young Nigerian-German psychiatry fellow at Columbia Presbyterian in New York City. We meet him in the autumn of 2006 after a recent breakup with his girlfriend, Nadege. Almost immediately, Cole's invitation to walk the streets of New York (and briefly Brussels) with his protagonist becomes impossible to resist. Through Julius' many interactions and ruminations, the novel is revealed as a nuanced account of the urban immigrant experience, a hesitant love letter to cities, and a witness to the many atrocities of human history. Lastly, in a devastating and powerful turn of plot, the reader is forced to redefine the book, laying bare the murkiness of the most seductive of stories.
About the speakers
Teju Cole is a writer, art historian, and photographer. He is the Distinguished Writer in Residence at Bard College and photography critic of the New York Times Magazine. He has lectured widely, from the Harvard Graduate School of Design to Twitter Headquarters, and gave the 2014 Kenan Distinguished Lecture in Ethics at Duke University. He was awarded the 2015 Windham Campbell Prize for Fiction.
Eleanor Wachtel is the host and co-founder of CBC Radio's Writers & Company, which recently celebrated its 25th anniversary and won the New York Festivals Award. She also co-founded and hosts Wachtel on the Arts. Her most recent books are Original Minds and Random Illuminations: Conversations with Carol Shields, which won the Independent Publisher Book Award. Wachtel has received many honours for her contributions to Canadian cultural life: eight honorary degrees (including from Simon Fraser University, the Emily Carr Institute of Art & Design, McGill University, Concordia, and Dalhousie) as well as Officer of the Order of Canada.