2022 news items: Aldine acquisitions; Frank Anfield collection
Discover the innovative 16th century books acquired by Special Collections (February)
Delve into the Anfield Collection (September)
Special Collections and Rare Books is delighted to announce the Anfield Collection, a remarkable collection of 79 antiquarian books on the topic of voyages of exploration in the Pacific and Arctic
About the
Anfield

Collection

SFU alumnus and donor Frank Anfield's interest in Indigenous art and his friendship with Bill Reid led to his foundational and ongoing support of SFU's Bill Reid Centre. Also interested in the history of European voyages in the Pacific region, he painstakingly acquired a remarkable collection of antiquarian books over 50 years. Primarily from the 18th and 19th centuries, the collection includes books by Pacific and Arctic explorers such as James Cook, George Vancouver, Alexander Mackenzie and Roald Amundsen.
---
2021 news items: Dispatches from the Poetry Wars collection online
Check out the new digital collection: Dispatches from the Poetry Wars (February)

Dispatches from the Poetry Wars was a lively, often contentious North American literary website with a strong satirical, anti-academic and pro-New American Poetry bent. It published poetry, fiction, letters, interviews, documents, polemics, satire, art work, video and audio material. 
Working with the editors of Dispatches, Digital Library Services and Special Collections captured an interactive web archive of the website and its content. 
History
Published between April 2016 and May 2020 under the co-editorship of poets Michael Boughn and Kent Johnson, Dispatches was a self-described "Temporary Autonomous Zone within the poetry field … a centre for loose, interconnected gathering of poets outside the established hierarchies of University based careerist cabals and networks to gather, share work, and address, often satirically, the Official Verse Culture (which includes the Official Avant-Garde)".
Executive editors included the NAP scholar Miriam Nichols, poet/scholar/translator/publisher Ammiel Alcalay, and the poets MTC Cronin, Benjamin Hollander, Andrew Levy, André Spears, Sharon Thesen and Patrick James Dunagan. 
Dispatches Editions, a publishing arm, grew out of the magazine and issued 15 titles between 2017 and 2020. Visit the web archive of Dispatches from the Poetry Wars
---
2019 news items: Dick
Kouwenhoven

Book Arts Studio; 'Perry the Poster Man' collection online
Announcing the new Dick Kouwenhoven Book Arts Studio (March)
Perry Giguere 'Perry the Poster Man' collection now online (April)
With the generous financial support of Irving K. Barber Learning Centre's "B.C. History Digitization Program," nearly 1,200 posters from the Perry Giguere 'Perry the Poster Man' collection have been digitized and put online with descriptive metadata. You can also view the posters in person in Special Collections and Rare Books.

Collection history
From 1978 to 2018, Perry Giguere (aka 'Perry the Poster Man') made a living putting up promotional posters all over Vancouver, always holding on to an extra copy or two at the end of a job.  The result was a comprehensive archives of nearly 250,000 posters documenting cultural, social and political activities in Vancouver over the past four decades. Over the past several years, Special Collections and Rare Books acquired Giguere's collection, which now stands at approximately 35,000 posters. 
Giguere was born in Quebec City on December 16, 1950. After spending his early years in Montreal, he moved to Vancouver in 1973. While studying to be an actor at the Firehall Theatre in 1978, he was approached to put up promotional posters for the theatre and postering soon turned into a full-time, forty year career. Giguere passed away in Vancouver on June 17, 2018. Learn more about Perry Giguere and his legacy.
---
2017 news items: recent Special Collections acquisitions
Recent acquisitions by Special Collections and Rare Books (June)

 Among recent acquisitions by the Special Collections and Rare Books Division are the following collections:
Fisherman Publishing Society fonds: The Fisherman Publishing Society was formed in 1937 to publish The Fisherman, a bi-weekly newspaper. This fonds consists of photographs, cartoons, newspapers and other material documenting significant events in the province's labour history and the evolution of the fishing industry

in British Columbia, including the activities of the United Fishermen and Allied Workers' Union, union protests, and shoreworkers.

"Perry the Poster Man" Collection: Since 1978, Perry Giguere (aka 'Perry the Poster Man') has made a business out of putting up posters promoting Vancouver cultural, social and political activities, always holding on to an extra copy or two at the end of a job. Special Collections has acquired approximately 1,500 posters from his archives relating to: activism and protests; dance; environmentalism; First Nations; labour movement; LGBTQ community; literary events; music; and politics.
Ajaib (Jab) Sidhoo fonds: Photographs, textual records and ephemera documenting the life of Jab Sidhoo, founder of East India Carpets in Vancouver.
Sons of Freedom - Doukhobor Collection: Photographs and textual material relating to the history of a controversial faction of the Doukhobors called the 'Sons of Freedom' or 'Freedomites', and their leader Stefan Sorokin. This group became well known for their use of nude marches, arson and bombings to protest issues such as the government seizure of their land, materialism, and mandatory military service and education in government schools.  Included are records documenting protests by this group from the 1950s to the 1980s, efforts to end the protests, and the government internment of Freedomite children in residential schools in the 1950s.
Ruth Emerson (Wortis) fonds: Ruth Emerson (1938-2015) was a dancer, choreographer, dance educator, and a pioneer of postmodern dance. She was born in Palo Alto, California and eventually settled in Burnaby, B.C. The fonds consists of choreography, scores, promotional material and photographs relating to Emerson's dance career, including her time with the Judson Dance Theatre in the 1960s.
If you would like additional information relating to these, or other, collections held by Special Collections and Rare Books, please contact us.
---
2016 news items: CCF-NDP founder J.S. Woodsworth acquisition
Library receives donation of letters, photos, and manuscripts from CCF-NDP founder J.S. Woodsworth (December)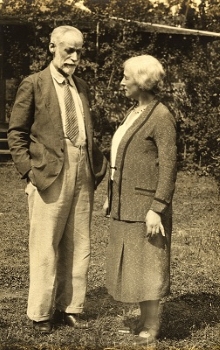 J.S. and Lucy Woodsworth, 1937
Special Collections is pleased to announce the acquisition of a rare collection of documents detailing the lives of J.S. Woodsworth, his wife Lucy and their family. See Never-before-seen collection of CCF-NDP founder J.S. Woodsworth donated to SFU Library for more information.
---
2015 news items: SFU AtoM launch;
Komagata

Maru

Collection online; honouring Jamie Reid; Robin Blaser acquisition; Medieval manuscript acquisition; Force Four Entertainment acquisition;

QMUNITY's

Stories of Older Queers acquisition
SFU Library, Archives launch joint online archives database (July)
The SFU Archives and SFU Library have launched SFU Atom (Access to Memory), an online database for searching their combined archival holdings. The joint venture provides a single interface for discovering descriptions of material from both the library and archives repositories.
Alumni, students, faculty, staff and interested community members can now access the database for anything from reviewing department historical records to finding research materials for a paper or tracing the history of the university.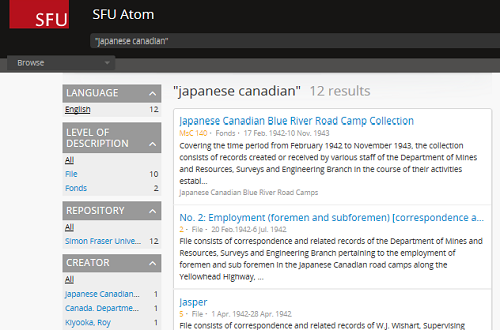 SFU Atom search results screen
SFU Atom contains more than 54,000 descriptions of files, documents, photographs, audio and video recordings and ephemera housed at either the Archives or Special Collections and Rare Books.
Holdings include records of the university, faculty members, campus community organizations, local organizations, businesses and community groups, writers and other notable individuals, and collections documenting historically significant movements and places in British Columbia. Atom also has the capacity to include digital content, some of which will be made available over time in conjunction with SFU's 50th Anniversary. Check out SFU Atom.
Komagata Maru Collection now online (July)
Launched on May 23rd, the 2015 Komagata Maru Collection allows Simon Fraser University to continue the journey in cataloguing, digitizing, and sharing resources central to the story of the Komagata Maru. Sponsored by the Government of India's Ministry of Culture, the project is part of a yearlong series of events, talks, tours, and exhibitions that are taking place in Canada and India to commemorate the 101st anniversary of the Komagata Maru.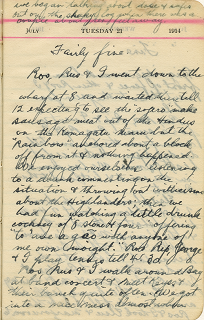 [Neil Gilchrist] Diary - 1914: [entry for July 21, 1914]
The Collection provides an opportunity to delve even further into public and private archives across Canada via the Komagata Maru: Continuing the Journey website. Newly added material includes:
over 50 new photographs of the Komagata Maru and the pioneer South Asian community in British Columbia;
4 diaries related to the Komagata Maru, including excerpts from the rare autobiography of the passengers' lawyer J. Edward Bird
for the first time ever, English translations of two Punjabi diaries;
rare books highlighting the lives of community pioneers;
and over an hour of video documenting the story of the Komagata Maru and Mewa Singh, supplemented by the voices of scholars, academics, and artists.
Through this endeavour we provide scholars, students, and those interested in the history of the Komagata Maru with a wealth of resources to explore this important story to Canadians and South Asians around the world.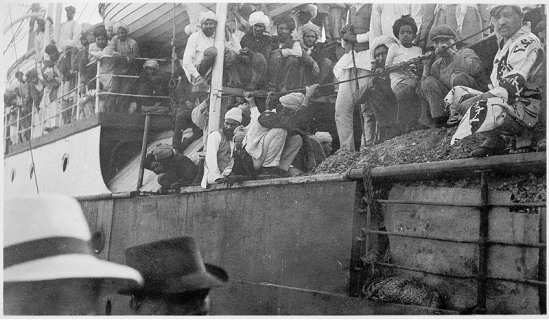 Indians aboard the Komagatamaru [sic], 1914
Honouring the memory of local poet and social activist Jamie Reid (August)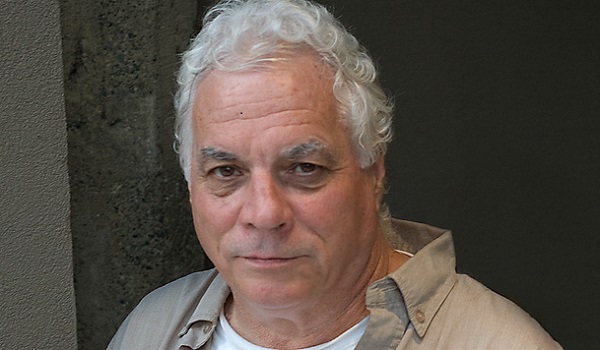 We are saddened to learn of the recent passing of local poet and social activist Jamie Reid, a friend of Special Collections and of a great many members of the local writing, arts and progressive communities.  
Born in Ontario and raised in Vancouver, Jamie started out as a young poet at UBC in the early '60s, where he was a founding editor of the TISH poetry newsletter together with future literary luminaries George Bowering, Fred Wah and Frank Davey.  Following the publication of his first book, The Man Whose Path Was On Fire (1969), Jamie moved away from writing for some years, devoting himself to left-wing activism, but he returned to the fold eventually and over the past twenty-five years published a number of poetry books and chapbooks, including Prez: Homage to Lester Young (1993) and I. Another. The Space Between: Selected Poems (2004).  He also edited and published the avant-garde arts magazine DaDaBaBy and was a strong presence in the Vancouver writing community, frequently assisting and memorializing a variety of literary and artistic figures.  He is survived by his wife of fifty-one years, the painter Carol Reid. He will be missed by many.
A "Celebration of Life" to honour the memory of Jamie Reid will be held Sunday, August 9th between 3:00-6:00 pm at the Wise Hall & Lounge, 1882 Adanac Street, Vancouver. A small display has been mounted in Jamie's memory outside the Special Collections area, 7th floor of the W.A.C. Bennett Library (SFU Burnaby).
Robin Blaser's library coming soon to Special Collections and Rare Books (September)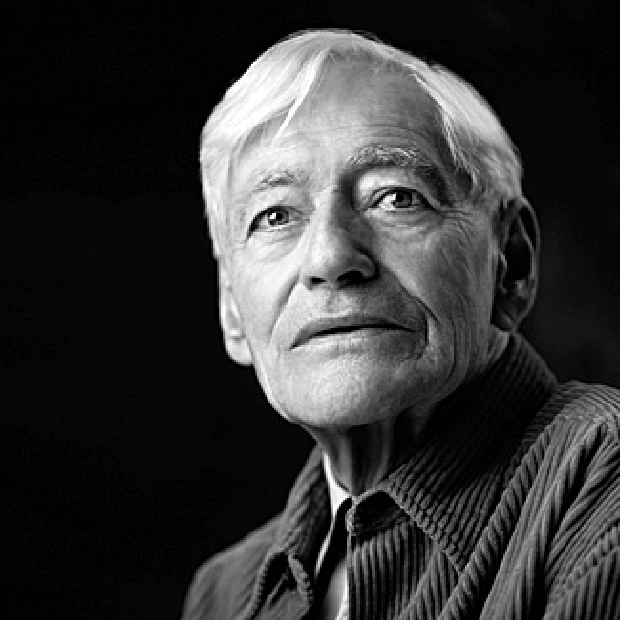 Robin Blaser (1925-2009) was an American-Canadian poet who in the 1950s and '60s established himself in the San Francisco Bay Area as a friend and peer of the emerging poets Jack Spicer and Robert Duncan, as well as other "New American" poets of the day such as the "Black Mountain" writers Charles Olson and Robert Creeley.
In 1966 he moved to B.C to accept a faculty position in the newly established SFU English department where he taught for the next two decades.
In 1972 he became a Canadian citizen and for more than forty years lived in Vancouver, where he flourished as a charismatic and influential figure in the West Coast poetry and arts world. In 2005 he received the Order of Canada and 2008 was awarded the country's top poetry prize -- the Griffin Poetry Prize.
Robin Blaser's library at SFU
Bennett Library's Special Collections & Rare Books division acquired Blaser's literary archive in 2007 and recently his vast library was willed to the library by his long-time partner David Farwell (1945-2020).
It is a large, high quality poet-intellectual's library gathered over a lifetime and reflecting Blaser's wide reading in history, philosophy, religion, anthropology, the classics, French and world literature, and indeed all areas of the humanities. It includes many interesting and rare editions, including works by and about the writers who most influenced him as poet and thinker -- those that he called "the great companions" -- as well as writings by the poets he is closely identified with -- both the "New Americans" and the numerous Canadians he befriended and taught upon his move north.
Many of the books from the Blaser library will go into Special Collections, particularly the Contemporary Literature Collection of 20th & 21st century innovative poetry, and many more will fill the shelves of SFU English's new writer-in-residence office.
Additionally, Special Collections will place on permanent display in the Yosef Wosk Seminar Room a selection of rare and interesting books and other material relating to Blaser, his work and his legacy.
Medieval manuscript a first for SFU Library (September)

Melanie Hardbattle, acting head librarian, Special Collections and Rare Books, with our new medieval manuscript, Anthology of Civil Law, dated 1269. This manuscript will be an invaluable resource for faculty, scholars and students of history, humanities, and SFU's Print Culture Program. Read more about the acquisition. 
Library receives major film collection from Force Four Entertainment (November)
Reception for QMUNITY's Moving Images Project: Stories of Older Queers (November)
On November 24th, Special Collections and Rare Books hosted a reception celebrating the newly acquired collection "QMUNITY's Moving Images Project: Stories of Older Queers." The collection contains 17 oral history interview recordings conducted by QMUNITY, BC's Queer Resource Centre. Project participants, QMUNITY staff, and members of the SFU community gathered to celebrate the achievements of the Stories of Older Queers project and all those who contributed to its success.
Located in the heart of Davie Village, Vancouver's "gaybourhood," QMUNITY is British Columbia's largest LGBTQ community resource centre, hosting a variety of initiatives to serve all sectors of BC's queer community. QMUNITY's Generations program provides educational workshops, support and social events opportunities for queer people aged 55+. In 2009, Generations launched an oral history project to document and preserve the history of queer communities and lives in Vancouver, interviewing 19 elders and and recording their stories. The collection seeks to recognize the skills and experiences of older LGBTQ adults in successfully navigating a homophobic world, and to provide a platform for sharing their accumulated wisdom.
Tuesday's event brought SFU students and staff together with elders from the Vancouver LGBTQ community to share stories and lessons from the project. Participants spoke about their experiences with project planning, interviewing, videography, and finding a home for the interview recordings. QMUNITY volunteers highlighted the life achievements of interviewees, particularly those who have passed away since the project began. Attendees watched clips from the collection that chronicled a broad range of life experiences.
The interview recordings from "Stories of Older Queers" were donated to Dr. Elise Chenier's Archives of Lesbian Oral Testimony and are housed in SFU Library's Special Collections and Rare Books. A portion of the interview recordings containing lesbian and queer women's content can be viewed on the archived ALOT website. All interviews are also available to watch through the library's Digital Collections.
---
1997 - 2014 news items: Aldine collection acquisition
Simon Fraser University Library acquires Renaissance collection of Aldine Books (June)
View text from an exhibit of the Aldus Renaissance Collection held Spring, 1995.
In November 1995 Simon Fraser University acquired 106 rare and valuable books published in Latin, Greek and Italian by Aldus Pius Manutius.
The SFU collection, valued at $500,000, is a who's who of classical writers - Homer, Pindar, Cicero, Euripedes, Ovid, Plutarch, Aesop, Martial and Sophocles among many others. The books are housed in the University's new special collections and rare books library, an elegant, oak-paneled area in the W.A.C. Bennett library. There, in a climate-controlled environment, the books receive the care they deserve.
"This collection is of inestimable significance to the University," says SFU librarian Ralph Stanton. "In publishing history Aldus is second in importance only to Gutenberg, the inventor of the printing press". Manutius is credited with helping to democratize knowledge. Up until he began publishing, books were large, and accessible only to the elite in institutional settings, mainly churches and monasteries. Manutius invented italic type, and began printing smaller, less expensive, secular books that could be read in the home.
"He identified a larger public who wanted books, yet his books are also masterpieces of the printer's craft. Everything about them is superb, from the graceful printer's mark - a dolphin and anchor - to the typography and binding."
The books arrived at the university through a financial arrangement with the Wosk family of Vancouver. "The books will be known as the Wosk-McDonald Aldine Collection," says Stanton. Morris J. Wosk and one of his sons, Yosef, immediately understood the great historical value of these works and their importance to scholars."
We were extremely fortunate to have received these books," he says. "UCLA has one of the largest collections of Aldine Press books and they started with 45. We're beginning with 106 of the finest rare books in the country. Just think what this means to classics scholars, or to owners of rare books who might be looking for a first-class facility than can house their books."
Not surprisingly, Stanton's enthusiasm for the books is shared by their collector, Hugh McDonald, a retired business executive. He and Stanton established an instant rapport when they met in the Fall of 1993, a meeting that led to an exhibition of 14 of the books at SFU in May of 1995, and subsequently to the university's acquiring the entire collection.
"Ralph surprised me with his knowledge of the historical period when Manutius was publishing," McDonald says. "The day we met he and I talked of the times for about four hours non-stop."
A conversation with the collector is a truly remarkable example of what it means to have a classical education. McDonald's erudition and knowledge seem boundless, covering subjects as diverse as the banking system in Venice during the 15th century, the beauty of Gregorian chant, or meter and rhyme in the poetry of Catullus.
When discussion turns to the Aldine books, McDonald's face takes on a special glow. "I didn't collect them simply for the sake of collection rare books," he says. " I bought them for their content. I've been interested in history and the classics all my life."
McDonald is absolutely confident that the collection will be well cared for. "I feel good that a rare book division of the library has been set up so well," he says.
"It's an excellent room, a special place for exquisite books. The facility ranks in quality with the best in the world, in my opinion. Like the other universities I've been associated with, SFU truly cares about the works of the past, about humanities, ethics…all those things that make for a civilized life."
-- Lynn Copeland June 30, 1997