During COVID-19, individual SFU-affiliated researchers (current students, faculty, staff) may book two-hour appointments in the SCRB reading room.
Appointments must be requested at least one week in advance.
For more details, including available days and times, safety requirements, and how to request an appointment, see Booking appointments during COVID in Special Collections and Rare Books.
April 2019 
Perry Giguere 'Perry the Poster Man' collection now online
With the generous financial support of Irving K. Barber Learning Centre's "B.C. History Digitization Program," nearly 1,200 posters from the Perry Giguere 'Perry the Poster Man' collection have been digitized and put online with descriptive metadata.

You can also view the posters in person in Special Collections and Rare Books.
Collection history
From 1978 to 2018, Perry Giguere (aka 'Perry the Poster Man') made a living putting up promotional posters all over Vancouver, always holding on to an extra copy or two at the end of a job.  The result was a comprehensive archives of nearly 250,000 posters documenting cultural, social and political activities in Vancouver over the past four decades. Over the past several years, Special Collections and Rare Books acquired Giguere's collection, which now stands at approximately 35,000 posters. 
Giguere was born in Quebec City on December 16, 1950. After spending his early years in Montreal, he moved to Vancouver in 1973. While studying to be an actor at the Firehall Theatre in 1978, he was approached to put up promotional posters for the theatre and postering soon turned into a full-time, forty year career. Giguere passed away in Vancouver on June 17, 2018.
Learn more about Perry Giguere and his legacy here.
 
December 2016
Library receives donation of letters, photos, and manuscripts from CCF-NDP founder J.S. Woodsworth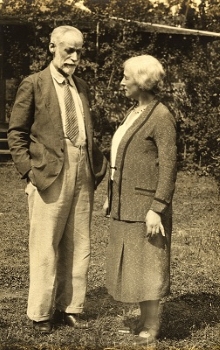 J.S. and Lucy Woodsworth, 1937
Special Collections is pleased to announce the acquisition of a rare collection of documents detailing the lives of J.S. Woodsworth, his wife Lucy and their family. 
See Never-before-seen collection of CCF-NDP founder J.S. Woodsworth donated to SFU Library for more information.
Contact for further information: Melanie Hardbattle, SFU Library Special Collections & Rare Books, 778.782.8842, mhardbat@sfu.ca
 
July 2015
SFU Library, Archives launch joint online archives database
The SFU Archives and SFU Library have launched SFU Atom (Access to Memory), an online database for searching their combined archival holdings. The joint venture provides a single interface for discovering descriptions of material from both the library and archives repositories.
Alumni, students, faculty, staff and interested community members can now access the database for anything from reviewing department historical records to finding research materials for a paper or tracing the history of the university.
SFU Atom search results screen
SFU Atom contains more than 54,000 descriptions of files, documents, photographs, audio and video recordings and ephemera housed at either the Archives or Special Collections and Rare Books.
Holdings include records of the university, faculty members, campus community organizations, local organizations, businesses and community groups, writers and other notable individuals, and collections documenting historically significant movements and places in British Columbia.
Atom also has the capacity to include digital content, some of which will be made available over time in conjunction with SFU's 50th Anniversary.
Check out SFU Atom at http://atom.archives.sfu.ca.
Contact for further information: For more information, contact the SFU Archives duty reference archivist at archives@sfu.ca or the Special Collections and Rare Books archivist at mhardbat@sfu.ca.
Komagata Maru Collection now online
Launched on May 23rd, the 2015 Komagata Maru Collection allows Simon Fraser University to continue the journey in cataloguing, digitizing, and sharing resources central to the story of the Komagata Maru. Sponsored by the Government of India's Ministry of Culture, the project is part of a yearlong series of events, talks, tours, and exhibitions that are taking place in Canada and India to commemorate the 101st anniversary of the Komagata Maru.

[Neil Gilchrist] Diary - 1914: [entry for July 21, 1914]
The Collection provides an opportunity to delve even further into public and private archives across Canada via the Komagata Maru: Continuing the Journey website. Newly added material includes:
over 50 new photographs of the Komagata Maru and the pioneer South Asian community in British Columbia;
4 diaries related to the Komagata Maru, including excerpts from the rare autobiography of the passengers' lawyer J. Edward Bird
for the first time ever, English translations of two Punjabi diaries;
rare books highlighting the lives of community pioneers;
and over an hour of video documenting the story of the Komagata Maru and Mewa Singh, supplemented by the voices of scholars, academics, and artists.
Through this endeavour we provide scholars, students, and those interested in the history of the Komagata Maru with a wealth of resources to explore this important story to Canadians and South Asians around the world.

Indians aboard the Komagatamaru [sic], 1914
August 2015
Honouring the memory of local poet and social activist Jamie Reid
We are saddened to learn of the recent passing of local poet and social activist Jamie Reid, a friend of Special Collections and of a great many members of the local writing, arts and progressive communities.  

Born in Ontario and raised in Vancouver, Jamie started out as a young poet at UBC in the early '60s, where he was a founding editor of the TISH poetry newsletter together with future literary luminaries George Bowering, Fred Wah and Frank Davey.  Following the publication of his first book, The Man Whose Path Was On Fire (1969), Jamie moved away from writing for some years, devoting himself to left-wing activism, but he returned to the fold eventually and over the past twenty-five years published a number of poetry books and chapbooks, including Prez: Homage to Lester Young (1993) and I. Another. The Space Between: Selected Poems (2004).  He also edited and published the avant-garde arts magazine DaDaBaBy and was a strong presence in the Vancouver writing community, frequently assisting and memorializing a variety of literary and artistic figures.  He is survived by his wife of fifty-one years, the painter Carol Reid. He will be missed by many.

A 'Celebration of Life' to honour the memory of Jamie Reid will be held Sunday, August 9th between 3:00-6:00 pm at the Wise Hall & Lounge, 1882 Adanac Street, Vancouver.
A small display has been mounted in Jamie's memory outside the Special Collections area, 7th floor of the W.A.C. Bennett Library (SFU Burnaby).
Photo credit: Brian Nation
Contact for further information: Tony Power, Contemporary Literature Collection Librarian: 778.782.6676, power@sfu.ca
September 2015
Medieval manuscript a first for SFU Library
Melanie Hardbattle, acting head librarian, Special Collections and Rare Books, with our new medieval manuscript, Anthology of Civil Law, dated 1269. This manuscript will be an invaluable resource for faculty, scholars and students of history, humanities, and SFU's Print Culture Program.
Read more about the acquisition here.
November 2015
Library receives major film collection from Force Four Entertainment
The SFU Library is pleased to announce that Vancouver film and television production company Force Four Entertainment has donated a valuable collection of fim and television materials. 
For more information on this generous donation see: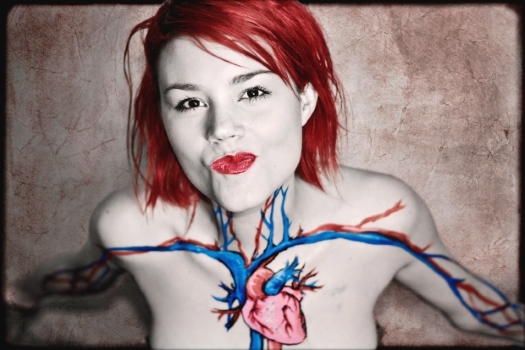 One of the films donated by Force Four Entertainment is a documentary entitled "65 Red Roses".  The documentary chronicles Eva Markvoort's search for a double lung transplant.