In November 2015, the SFU Library recognized the generous donation by Dr. Robert and Rosemary Coupe of an extensive and significant collection of rare books, pamphlets and other items by and about William Morris.
Discover our comprehensive collection of rare books and other materials representing the diverse range of William Morris' activities as a writer, typographer, and social activist in the
SFU Library catalogue
.
Collector Dr. Robert L. M. Coupe
Inspired by Philip Henderson's biography of William Morris in the early 1970s, Dr. Robert Coupe purchased his first Morris book -- a new edition of Cupid and Psyche -- approximately forty years ago. Over the intervening decades, he visited book fairs and rare book shops, acquired the services of book dealers locally and internationally and, eventually, used the internet to build up an extraordinary and comprehensive collection of well over 1,000 items either by or relating to William Morris.
Dr. Coupe's interest in the illustrated editions of Morris' work led him to write his own book Illustrated Editions of the Works of William Morris in English published by the Oak Knoll Press and British Library in 2002. A second edition was published in 2011.
Collection highlights
Dr. Coupe's collection represents the diverse range of William Morris' activities as a writer, typographer, and socialist activist. Some of the highlights of the collection include:
An extensive collection of volumes published by Morris' Kelmscott Press, including multiple editions of some of the works 
Rare pamphlets and books relating to Morris' socialist activities
Copies of Morris' Icelandic saga translations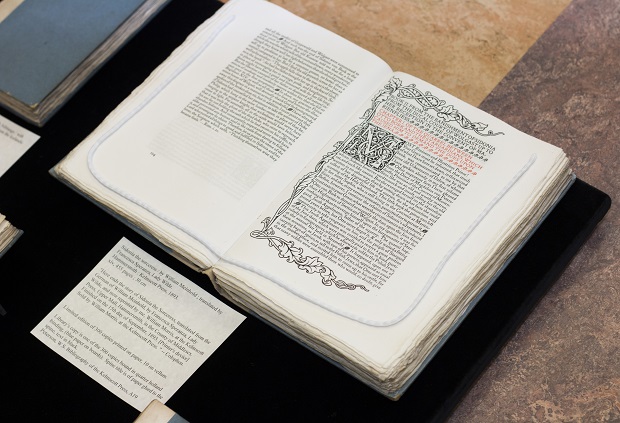 About William Morris
William Morris (1834-1896) was an English artist and textile designer, poet, novelist, typographer, and socialist activist. He is considered to be one of the most influential figures in Britain during the Victorian era. Associated with the British Arts & Craft movement, Morris's designs became a major influence on Victorian interior design and decoration. A founder of both the Socialist League and the Hammersmith Socialist Society, Morris was an active proponent of Socialism in the 1880s.
In addition to producing English translations of many Icelandic sagas and classical texts, Morris published his own prose romances and epic poems, such as The Earthly Paradise (1868-1870) and A Dream of John Ball (1888).
In 1890 Morris founded the Kelmscott Press, close to his home, Kelmscott House, in Hammersmith. Basing them upon German and Italian typography of the 1400s, he designed three typefaces: Golden, Chaucer and Troy. Before his death in 1896, Morris printed sixty-six limited edition illuminated-style print book volumes at the press, the most celebrated being the 1896 edition of Chaucer.