In 2014, nearly 100 years after the Komagata Maru episode, Mr. Amarjit Singh Brar and his family donated to Simon Fraser University Library, Special Collections and Rare Books a suitcase full of his father's documents, scrapbooks, diaries, photographs and other unique items chronicling the history of South Asians in Vancouver from the time of the Komagata Maru. Arjan Singh Brar originally came to Canada in 1926. An active member of the pioneer South Asian Canadian community, he held numerous roles with the Khalsa Diwan Society at Vancouver's first Sikh Temple located at 1866 West Second Avenue, and was at the centre of the religious, political, economic and social life of the community.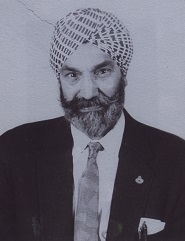 Arjan Singh Brar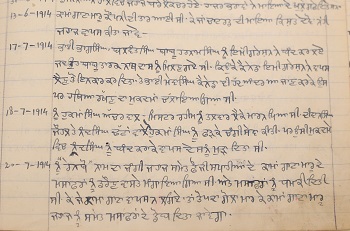 Page 19 of diary documenting events during the Komagata Maru incident
The heart of this collection is Arjan Singh Brar's diary. Started in the 1920's, it documents the history of the community beginning in 1904 and ending in 1947. Penned with his careful hand, this diary combines a record of the official life of a Temple executive with the chronicles of an astute historian documenting the daily lives of early South Asian immigrants in Vancouver. Included are day to day accounts of the Temple Committee and funds raised for charitable causes, anecdotes about life in Vancouver, and photographs of the historic Second Avenue Gurdwara. A significant highlight of the diary is its account of the Komagata Maru episode from a South Asian Canadian perspective – recorded chronologically is the community's response to the ship's arrival, including the activities of the Shore Committee, and events leading to the ship's eventual departure. Originally in Punjabi, the diary has now been translated into English.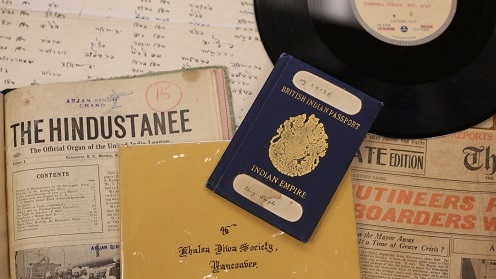 A selection of items from the Arjan Singh Brar Collection
 
Among the many other special items in the collection are:
The Arjan Singh Brar Collection is a rich addition to the Simon Fraser University Library's growing collection of records documenting South Asian history in British Columbia. Many of the items from this collection, including those listed above, have been digitized and are available online at Komagata Maru: Continuing the Journey