On this page
O'Reilly Online Learning (formerly Safari Books Online) provides a rotating collection of technology, digital media, and business books plus educational video. Both trade (e.g, O'Reilly) and academic publishers (CRC, Wiley) area included in the collection.
Create and activate an O'Reilly Online Learning account to access
To use O'Reilly Online Learning (ORL) you will need to create a ORL account on ORL's website using your SFU email address.
To start, click on the Institution not listed? link.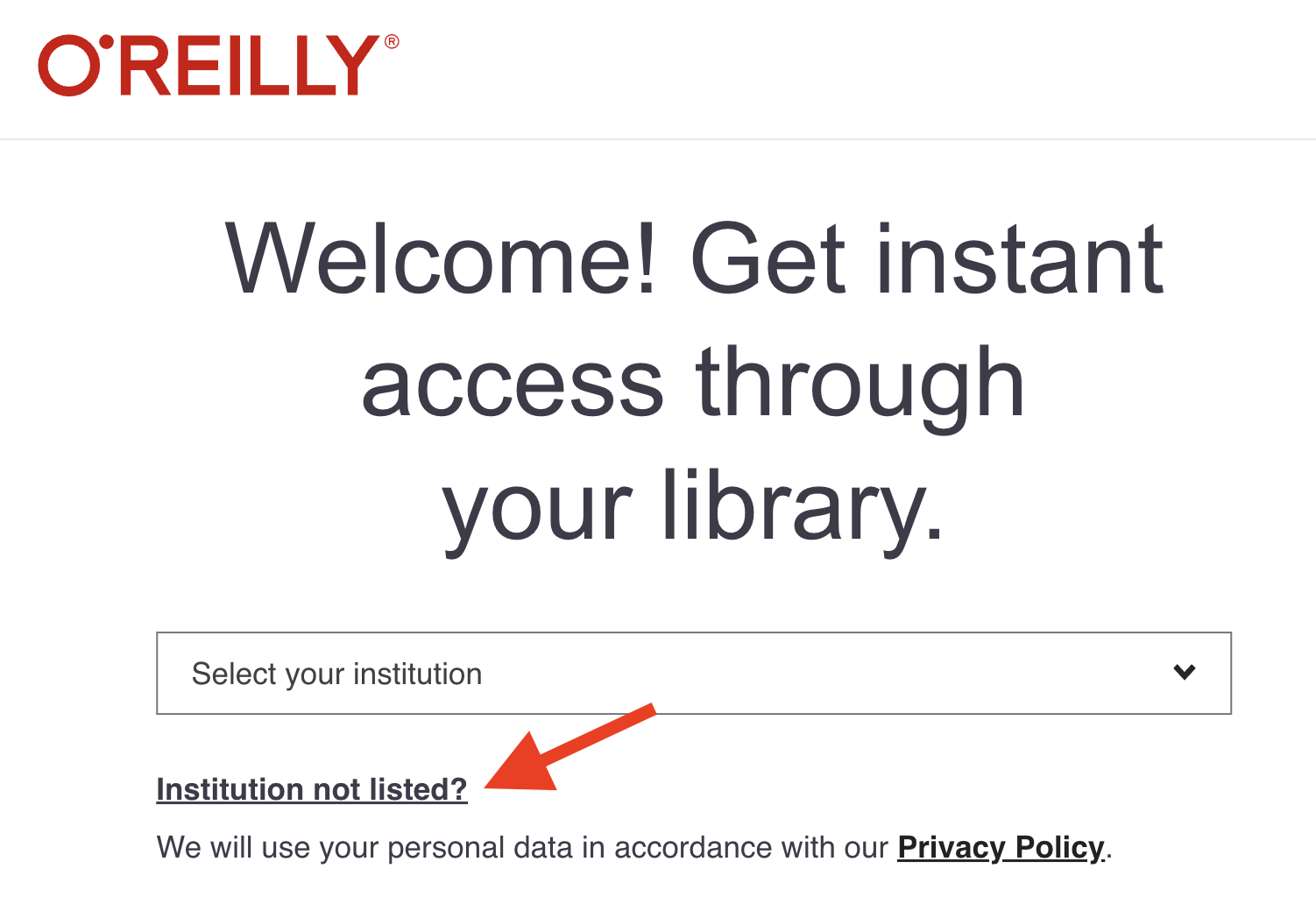 In the next screen, enter your @sfu email address. You must register with a valid SFU email address.  You'll be allowed to proceed through to your book.
Separately you will receive an email at that @sfu address asking you to complete the O'Reilly account creation process. Your login will be your @sfu email address. Do not re-use your SFU password as your O'Reilly password. Using that login and password, you can access O'Reilly ebooks in the future.
SFU Terms of Service: Your privacy and use of ORL
The SFU Library makes the O'Reilly Online Learning service available to you for your convenience. Your use of the O'Reilly Online Learning service at Simon Fraser University is voluntary.
Please be advised that the personal information you disclose to O'Reilly Online Learning is stored on servers located in the United States of America. When you use this service, no personal information about you is collected by or for the University. Canadian privacy laws do not apply to personal information you provide directly to O'Reilly Online Learning. You may wish to review the O'Reilly privacy policy before using the service.
Access to O'Reilly Online Learning is restricted to current students, faculty and staff with a valid SFU computing ID at Simon Fraser University.  Alumni access is not permitted.
Help
For assistance email the Library at libhelp@sfu.ca.