On this page
W.A.C. Bennett Library's 'new front door'
The university community and friends showed up in large numbers May 7 to help the SFU Library celebrate completion of an extensive renovation of the main (third) floor of its Burnaby campus W.A.C. Bennett Library.

"This is a great day," VP Research Mario Pinto told the crowd, noting that unlike most other universities the library reports to the VP Research office, reflecting its central importance to both the university's mission and its research enterprise.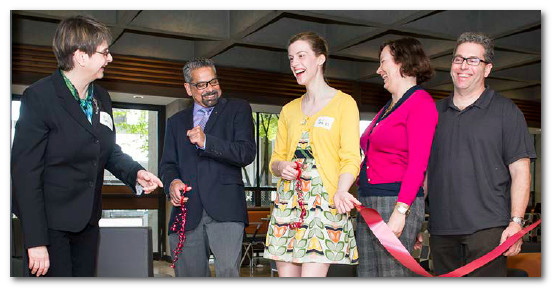 Cutting the ribbon at the official opening are (l to r): Acting Library Dean Elaine Fairey, VP Research Mario
Pinto, student Heather Dunbar and library renewal project managers Natalie Gick and Garth Lauer.


Every year the W.A.C. Bennett Library receives more than a million visitors and in the fall semester almost 10,000 visits a day, despite all the online services now available, says Pinto.

"The research and intellectual expansion which is fundamental to the university experience would not be possible without the extensive services and resources provided by the library.

"The connection between people, facilities and resources—with an emphasis on people—orchestrated by the library inspires researchers at all levels."

The new features on the main floor include an integrated hub combining information and checkout services with reserves within a dramatic circular space at the centre of the main floor.

The library entrance was renovated to provide better integration with Convocation Mall and space for an automated book return. The revitalized space also encompasses a new Learning and Events room, student lounge, and enhanced Student Learning Commons consultation space.

"This is essentially our new front door," says Natalie Gick, the associate university librarian for administrative services who managed the project. "We wanted the space to be as bright, inviting and comfortable as possible, filled with innovative places to conduct research and study in as well as areas for exchange, collaboration and quiet contemplation. "

It's been completely revitalized to accommodate the contemporary use of library collections for teaching and research, the rapid growth in collaborative studies, SFU's primary focus on student, research and community engagement, and the central role of digital technology in all university activities."

The brightly lit entrance both draws people in and enlivens the outside Convocation Mall, says Gick. "Spacious study lounges with modern, comfortable furniture and multiple power outlets stretch on either side of the entrance. And services—both high-tech self-serve options and from librarians and assistants—are readily available, front and centre."

Revitalizing the W.A.C. Bennett Library is a key element of the SFU Library's current strategic plan and a centerpiece of its fundraising priorities.
For more: W.A.C. Bennett Library Renewal: Main Floor 2013 - 2014.
Bird returns as library dean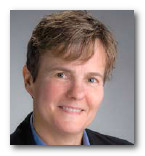 Gwen Bird
Gwen Bird is returning to the SFU Library as dean of libraries/university librarian after three years as executive director of the Council of Prairie and Pacific University Libraries. Her appointment is effective Oct. 1, 2014, for a five-year period.

Bird was selected after an international search from a list of 26 candidates. She first joined SFU in 1999 and was most recently associate university librarian for collections services, from 2005-11.
For more: Home is where the heart is for new library dean.
Research haven - with a view
Research Commons offers inspiring new spaces, programs, services
Julia Lane has a message for other grad students who haven't yet taken advantage of the SFU Library's Research Commons (RC):

"What are you waiting for?" says the arts education PhD student. "It's easy in grad school to feel like the experience is 'set' and has to be hard and lonely. But there are many supports available at the Research Commons that can make it so much better. You just need to reach out and grab onto them."

Research Commons head Nicole White (left) and PhD student Julia Lane both love the RC's new space.


The RC is located in a newly renovated access-controlled space on the seventh floor of W.A.C. Bennett Library with spectacular city and campus views.

It is being equipped with wireless access, workstations, bookable group consultation rooms and areas for discussion and relaxation. The RC also reaches the Surrey and Vancouver campuses through its programming, services and connections.

Since the RC launched in 2011, thousands of graduate students, faculty and staff members, senior undergraduates and other researchers have heeded Lane's advice.

In 2014 alone, more than 500 graduate students have attended RC workshops and presentations both in person and online on a wide spectrum of topics ranging from time management and finding statistics to using thesis templates and citation management software.

"We're developing the Research Commons as a physical and virtual hub that is welcoming, adaptable, technologically sophisticated, collaborative and supportive of a variety of research needs, primarily for graduate students but also welcoming others," says librarian and Research Commons head, Nicole White.

"We provide dedicated staff and services that support study and research and will be piloting expanded access to technology and software used during all stages of the research life cycle.

Some of the RC's most popular programs include:
Thesis Boot Camp, a multi-day workshop to help graduate students make serious progress on their dissertation or master's thesis.
Read-Ahead, the RC's flagship writing service. Students submit longer pieces of writing to trained writing facilitators in advance of an in-person discussion where they receive substantive feedback regarding structure, argumentation, flow and other writing concerns.
Qualitative Data Analysis Support, for those using qualitative or non-numeric data in their research, particularly very rich text-based and/or multimedia information. Graduate peer facilitators provide open and course integrated software training and consultation on NVivo for both individuals and research groups.
The Research Commons also houses the Thesis Office, which provides support on the requirements for dissertations, theses, projects and extended essays for submission to the library and for publication.


Thesis Boot Camp attendees take a break from writing to share refreshments and inspiration. The
popular multi-day workshops help graduate students make serious progress on their dissertation
or master's thesis.
For more info: Research Commons.
A passion for collecting
Paul E. Baldwin book and movie collections honour longtime SFU librarian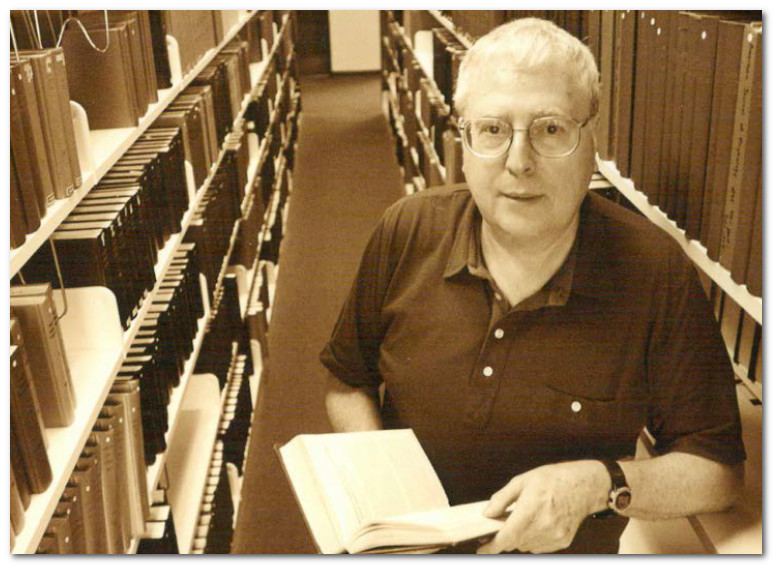 SFU librarian Paul Baldwin loved books and developed
innovative tools to improve online library accesss.
"For a collector… ownership is the most intimate relationship that one can have to things, "wrote the great 20th-century literary critic and essayist, Walter Benjamin. "Not that they come alive in him; it is he who lives in them."

In that spirit, Nadine Baldwin hopes that her late husband, retired SFU librarian Paul Evered Baldwin, will live on in his collection of more than 1,500 contemporary movie DVDs, which she donated this year to the SFU Library.

It's the same wish she has for the Paul E. Baldwin Book Fund she set up at SFU after her husband died in 2007 at age 69. The $20,000 endowment provides funds annually for the library to purchase books on topics close to his heart—the American Midwest and the Canadian Prairies and in particular the women of these regions.

"My main thing is I want him remembered, "says the retired UBC librarian. "I know it won't be forever, but the books and DVDs are marked with his name so people know where they came from. SFU can more ably carry out this sort of thing than an individual and one hopes it will always be there."

The Paul E. Baldwin DVD collection, appraised at more than $39,000, is now catalogued and will be available to borrow in the fall, says SFU librarian Don Taylor who oversees the media collection.

"Outside of work and especially following his retirement, developing his film collection was one of Paul's passions," says Taylor. "It's wonderful that the collection is now available at SFU as a resource for students and researchers and as a legacy for Paul."

Baldwin was born in Lincoln, Nebraska, in 1938. He earned a BA at the University of Nebraska, an MLS at the University of California (UC), Berkeley in 1962 and an executive MBA at SFU in 1977. After Berkeley, he worked at several jobs in California before becoming head of cataloguing at UC Santa Cruz, where he met his wife.

The pair moved to Vancouver in 1971 when Baldwin joined the SFU Library as head of cataloguing, ultimately becoming the library's first associate university librarian a decade before he retired in 2002.

Throughout his career, Baldwin was drawn to technology, particularly as it affected users, says former SFU colleague and library dean emeritus, Lynn Copeland.

"He had an abiding interest in making print catalogues and indexes more accessible and developed practical tools for providing improved online access to library users," says Copeland.

"By the time of his retirement he had achieved this goal through the exploitation of computer technology as it was constantly evolving over the roughly 40 years of his career, being for example one of the earliest users of ebooks."

Five of those years were spent establishing the British Columbia Union Catalogue, involving 23 university, college and public libraries. It was an impressive feat of administration and coordination, says Copeland. On Baldwin's watch, card catalogues were closed, their contents were converted to machinereadable form and computer output microform catalogues were introduced, as an interim step to online catalogues.

Although most of his career was spent at SFU, Baldwin remained involved in provincial and national library affairs.

Says Copeland, "Paul's legacy may be found every day in the ease with which libraries and their patrons can access bibliographical information and the published materials it describes."

For more: Give to the Library: Library Donors - Paul Baldwin.
Brar gift an Indo-Canadian history 'treasure'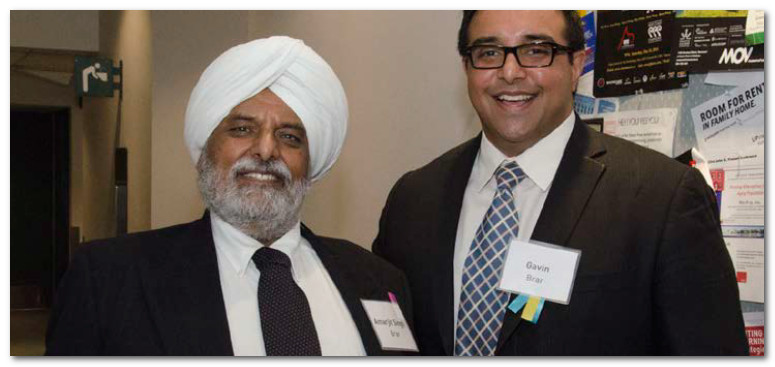 Amarjit Singh Brar, with help from his son Gavin Brar,
arranged the donation of his father's papers to SFU.
Amarjit Singh Brar always knew his late father Arjan Singh Brar's diary, newspaper clippings and papers were important to South Asian scholars because several of them from came India to see the collection.

His father held numerous roles with the Khalsa Diwan Society at Vancouver's first Sikh Temple and was at the centre of the religious, political, economic and social life of the pioneer South Asian Canadian community.

But Brar, a retired Vancouver accountant, never realized the magnitude of the collection's importance until three years ago. That's when the SFU Library asked to borrow and digitize it for a new interactive website and archive chronicling the 1914 Komagata Maru incident.

Last month marked a century since 376 passengers arriving in Vancouver from India—via Hong Kong and Shanghai, China and Yokohama, Japan— on the Japanese steamship Komagata Maru were denied entry due to exclusion laws designed to keep Asian immigrants out of Canada. After two months, the ship was forcibly sent back to India with all but 24 still aboard where British India police in Calcutta shot dead 19 of the passengers.
"To me, it was my dad's memories, that's what I was holding on to," says Brar. "And then they came and said you have a treasure here, why don't you expose it and let everyone else see. And that's when it finally kicked in that I have something the whole world should see."

After making the loan, the Brar family decided this year to gift the collection to the library, to serve as a unique and valuable resource for students and researchers globally.

Launched in 2012 with support from Citizenship and Immigration Canada, the library website Komagata Maru: Continuing the Journey uses the incident to explore the struggles and contributions of the Indo-Canadian community.

The site has attracted more than 16,000 visits from 81 different countries, including the U.S., Canada, the U.K. and India.

It contains a wealth of digitized material in addition to the Brar collection along with video interviews with scholars, community members and even pioneer immigrants and their descendants. And more than 350 educators have downloaded the site's lesson plans, designed in consultation with education professionals for elementary and secondary schools.

Arjan Singh Brar's descendants were guests of honour at SFU's Vancouver campus May 23 at a ceremony commemorating the 100th anniversary of the Komagata Maru's arrival, during which President Andrew Petter thanked the Brar family for their generosity.


SFU President Andrew Petter (left) and Multiculturalism Minister Tim Uppal (far right) pose with the
Brar family at an SFU ceremony May 24 marking the 100th anniversary of the Komagata Maru incident.

Their patriarch's diary, ranging from the early 1920s until his death in 1961, includes day-to-day accounts of the temple committee, anecdotes about life in Vancouver, funds raised for charitable causes and first hand accounts of the Komagata Maru Shore Committee. The collection also includes large portfolios full of newspaper clippings dating from 1904 to the 1930's chronicling South Asian community events, including one marked "Komagata Maru".

"It makes me feel very proud that I can put my father's name out in the spotlight for future generations," says Brar.

"The older generations are passing away and the newer generations don't know who Arjan Singh was.

"This way, everybody will know."
The SFU Library Update is published by the SFU Library.
Elaine Fairey, Acting Dean
Stuart Colcleugh, writer and editor

© 2014 Permission granted to reproduce articles for SFU promotional purposes. Comments and suggestions welcomed.
ISSN 1929-316X (Print)
ISSN 1929-3178 (Online)

Like us at Facebook
Follow us on Twitter
Watch us on YouTube