On this page
From your shelves to ours
SFU Special Collections librarian Eric Swanick searches along a shelf full of books, picks out a slim volume turning it carefully in his hands, and opens it to page 208, a page that he's obviously memorized. It's a beautifully preserved Oscar Wilde novel, The Picture of Dorian Gray. "We know it's a true first edition because here on this page the word 'and' is missing a letter. When the second state was published, they put the 'a' back in," says Swanick.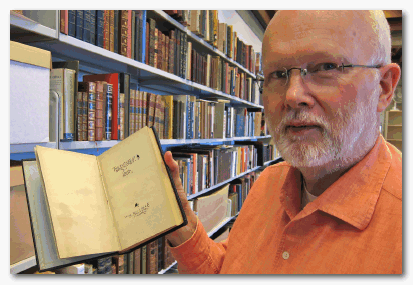 This book is just one of 2,600 volumes collected by the late Emily McWhinney, recently bequeathed to the Library in memory by her husband, jurist and international scholar, Edward (Ted) McWhinney. The collection includes an impressive set of several first editions Dickens novels as well as two inscribed first editions from Graham Greene. One volume by noted Dickensian illustrator, George Cruikshank contains a letter by the artist. Another is a signed Gertrude Stein with the inscription, "From Gertrude to Paul, whose prose has inspired me", possibly for her friend Paul Bowles.
Swanick describes Emily McWhinney's books as primarily a literary collection, belonging to a reader who then became a collector – a knowledgeable one, too. Books on collecting and building a collection sit among the Durrells (Gerald and Lawrence), the Beardsleys, and the children's literature. Research volumes on illustration are next to examples ranging from Thomas Bewick to Edward Gorey. According to Swanick, the collection is a major contribution to literary and historical studies with some texts already having been used by faculty in the classroom.
Once catalogued, much of the McWhinney collection will stay intact and be accessible within Special Collections identified by a special "In Memory of " bookplate as well as a recognition line in the bibliographic record.
Swanick says researchers will be able to locate and search the entire bequest. "If it were my collection, I would like to have the same sort of thing done, to acknowledge that part of me is now part of the university and can be recognized as such," says Swanick, emphasizing the importance of acknowledging donors. He recalls one donor who said it was like parting with one of your children, a sentiment echoed by Ted McWhinney. "Collecting the books was an important intellectual escape for Emily. As her executor, it was important to reassure her that her library would be well cared for after her death," he says. McWhinney was also impressed by how carefully SFU contractors packed the books for transport, each according to size and subject.


Emily McWhinney
The collection includes many German children's books as well as a set of early Harlequin romances. Emily McWhinney was born in Berlin in 1925, but in 1938 her family had to suddenly abandon their home and all their possessions and flee Germany for Canada. She chose a career in Economics and Commerce, and was one of the first women to obtain graduate degrees and professional qualifications to practice before the Montreal, Toronto and New York Stock Exchanges. Emily married Ted McWhinney in 1951, and was instrumental in and supportive of his political, academic and literary endeavors.
Swanick points out that donors can achieve what an academic library cannot. Libraries do many things, from meticulous cataloguing and digital archiving, to sharing knowledge through open access, but they can't match the passion of a dedicated collector. "This is such a rich collection. Bequests like these push us into areas where financially we cannot afford to go and breathe new life into our collections and the university," says Swanick.
The Peak gets digitized
When SFU's student newspaper, The Peak, approached the Library to digitize the dusty pile of tabloid-sized back issues stored in their subterranean offices, library staff jumped at the opportunity.
"A student newspaper is such a motherlode of information, not just about the university but everything else going on," says Brian Owen, Associate University Librarian - Library Technology Services and Special Collections. "It gives a different perspective on university life, not just the official view."
And his opinion is echoed by Peak staffer, Larry van Kampen. He ranks it alongside Hugh Johnston's book Radical Campus as a rich resource of student focused history.
"If you have any interest in the history of SFU this is a big deal; there's 45 years' worth here," says van Kampen, marketing and advertising manager for the paper as well as a board member.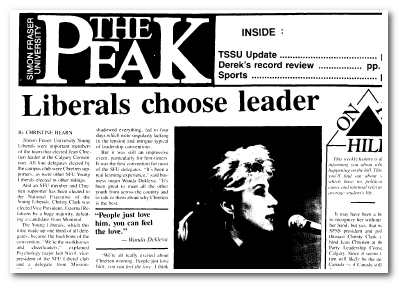 Stories from SFU's student newspaper, like this one from June 1990, are now available online
Opening up access to The Peak's back catalogue will be a big benefit to researchers, the media and alumni, as well as the newspaper itself. Student newspapers don't often receive the glory of their mainstream counterparts, yet according to van Kampen, it's where many journalists and politicians start out. BC Premier Christy Clarke's student life is well documented in the new digital archive.
Digitization of The Peak was first suggested to the board by Graham Templeton, former opinions editor of the newspaper. Van Kampen says they looked at several companies to digitize the records but only SFU offered online hosting, an important prerequisite for the project.
So the contract went to the library, keeping the resource in the family as part of the Public Knowledge Project searchable open access database. Future issues will be digitized to keep the collection current.
Mark Jordan, Head of Library Systems, considers this a win/win acquisition for the library. "It's unique and it's available here," he says, noting that Google indexes everything stored in the library's content management system, which makes The Peak's content far more widely available.
But the story doesn't end here. During the digitization process, other student publications such as Liberté were found among the newspaper archives. Although incomplete and sporadic, these editions give a valuable alternative view of student life on campus.
New head of Fraser Library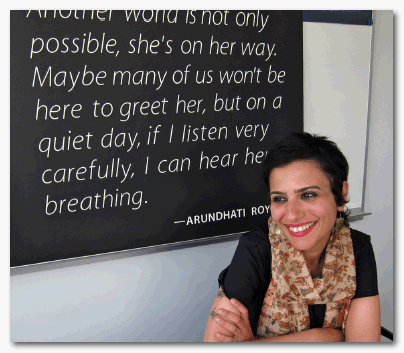 Baharak Yousefi
Two weeks into her new position as head librarian at SFU's Surrey campus, Baharak Yousefi considers the view from her office window. She looks out at the stunning architecture of Surrey's new City Centre public library. Its website advertises a café, teen lounge, community meeting rooms, WiFi and public computers in addition to traditional lending services-–community involvement that Yousefi considers important for libraries today. "I am a book person, but to me, libraries are a lot more than books. They are about public space, communal effort, social consumption--the idea of the commons," she says. Books are about ideas, and sharing those ideas is easier with open community access.
For Yousefi, returning to SFU is like coming home. Her interest in books grew while studying for her undergraduate and masters degrees at SFU. After graduating, she worked in the retail world at Chapters and Duthie's Books, where she watched how buyers interacted with books. "In a very naïve way, I thought libraries were about giving books away," says Yousefi, echoing a favourite quote by Zadie Smith: 'A library is a different kind of social reality, which by its very existence teaches a system of values beyond the fiscal.' Yousefi was inspired to enrol for a masters degree in library science at UBC where she was pleasantly surprised to discover that lending is only a small part of a library's mandate.
Yousefi feels that libraries are part of a resurgence of caring in neighbourhoods around the Lower Mainland, like the car co-op she belongs to, or food sharing programs and community gardens. "I have a sense of optimism," she says. A framed Arundhati Roy quotation sits in her office emphasizing this hope: 'Another world is not only possible, she's on the way...' So it's not surprising that Yousefi describes community engagement as her most urgent role at SFU. Her primary objectives are sustainable access to scholarly communications and helping students develop critical thinking skills around information and research. "We also need to make faculty aware of curriculum and assignment planning resources available to them through the library," she adds. Yousefi looks again out her window, reflecting on the whirlwind of her first months as head librarian, and waves towards the Surrey Public library saying, "I love the SFU story: the promise... the radicalism. It's great to be back."
Belzberg Library gets new Student Learning Commons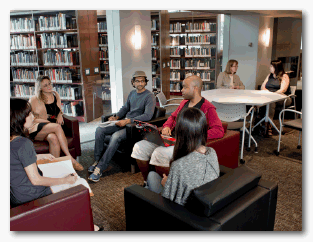 New Student Learning Commons. 
Karen Marotz is second from the right.
In 2007, shortly after he pledged a donation to improve the Belzberg Library at SFU Vancouver, benefactor Dr. Yosef Wosk said, "I think it would be nice if there was a fireplace." A great believer in dialogue and group learning, Wosk felt a fireplace would draw people in.
After a few delays due to the move of Contemporary Arts from Burnaby to the Vancouver campus, renovations in the Belzberg Library are finally complete and the result is a new Student Learning Commons (SLC).
A central part of the renovation is a new multi-use area where students can collaborate on projects and assignments and work together to discuss ideas. SLC peers are there to help students with academic writing and other study skills. "We had been offering those services before, but we didn't have a home. Dr. Wosk's generous donation has let us build this home," says Belzberg head librarian Karen Marotz. And yes, it includes a fireplace.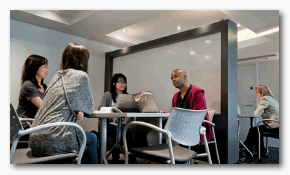 Walls can be moved to create up to three
rooms in the new Student Learning Commons
at SFU Vancouver.
Marotz's old office was transformed into a private consultation space where librarians and SLC coordinators can meet one-on-one or in small groups with students and faculty.
Marotz is thrilled with the space and the increased support available for students. The SLC primarily provides one on one consultations with student peers who focus on academic writing, study skills, coaching and advice. They may show students how to write a good argument, but peers are not there to do actual editing or proofreading. Instead, they give students the skills to do their own work. Dal Sohal coordinates SLC services at SFU Vancouver.
The SLC also runs workshops on topics such as presentation techniques, improved writing, how to study better, and critical thinkings skills. "Students register online and we make sure we have a good range of workshops available," says Marotz.
Adding abstracts to PKP
Ten years ago Dan Laitsch began publishing research reviews for the Association for Supervision and Curriculum Development (ASCD), an educational policy organization in Washington, DC. He was amazed at how popular the reviews were. Professional educators had no way to access relevant research and were often unaware it existed. So his biweekly service generated incredible traffic on the ASCD website.

Dan Laitsch
In 2005 Laitsch joined SFU's faculty of education and is now director of the Centre for the Study of Educational Leadership and Policy where he co-edits the International Journal of Education Policy and Leadership. It was one of the first publications to be hosted by SFU Library's Public Knowledge Project (PKP), the world's preeminent Open Source scholarly publishing system, developed primarily at SFU. "We are truly committed to open access concepts," says Laitsch who loves the power of PKP to democratize knowledge. "Since we are at a public institution, funded by tax dollars, we should not be putting up barriers to public access to research and knowledge."
Now he's working on a new open source component for PKP inspired by his research reviews at ASCD. It's called Research Briefs a collaborative project with San Diego State University and Central Connecticut University that provides users with structured research summaries, similar to the US Education Resources Information Center, but completely user driven. Laitsch and his colleagues are building a searchable catalogue for educators. Done entirely with free open source software, Research Briefs allows users to upload and review research literature. "It's at the 'if you build it, will they come' stage," says Laitsch. The free open source template can be embedded in any website.
Brian Owen, head of PKP, describes Research Briefs as an open source equivalent to traditional library abstracting services, but with the added value of user reviews. Citing Wikipedia as a successful example of such a crowd-sourced phenomenon, he says, "Dan's project has to get that Wikipedia energy going for it."
Laitsch is confident he can achieve critical mass by going to the classroom for a solution. He's using Research Briefs as a teaching tool, working with masters students who upload and review suitable research as part of their class curriculum. So far, two instructors, one at SFU and one in San Diego have solicited over 200 reviews from four classes. "These are Masters students in Education Leadership," says Laitsch. "Their job is not to critique the research but to find studies that they think are good and worth sharing. Ultimately, we hope to get teachers, leaders, and policy makers to access this research to inform their practice."
Passionate about sharing knowledge, Laitsch sees open access as the way forward. He is working with Brian Owen, and the father of PKP, John Willinsky, to refine Research Briefs so that it can be used to review research from any discipline. "We're in a fascinating time. A hundred years ago you were lucky if you got out of high school. Nowadays many more people go on to university. The level of ability of the average knowledge consumer is stronger today and people are engaging more intelligently with knowledge. Open access to research strengthens the conversation we have with policy-makers and government, and ultimately, I hope, this leads to a better life," he says.
Upcoming Events
Rachel Blau Duplessis
American poet/critic Rachel Blau Duplessis reads from her open-ended life poem, Drafts.
Oct 3, 12:30pm.
Bennett Library, SFU Burnaby, room 7100 (Special Collections).
Norman & Allan Safarik
Norman and Allan Safarik will read from their new book Bluebacks and Silver Brights: A Lifetime in the B.C.Fisheries from Bounty to Plunder.
Oct. 11, 12:30pm.
Bennett Library, SFU Burnaby, room 7100 (Special Collections).
The Printing Room At St. Michael's College
University of Victoria University Librarian Jonathan Bengtson on creating a print room with real presses and type and its impact on teaching and learning.
Oct. 26, 4:30pm.
Bennett Library, SFU Burnaby, room 2020.
Bill Bissett's Visual Art
Carl Peters (English, University of Fraser Valley).
Nov. 7th, 12:30pm.
Bennett Library, SFU Burnaby, room 7100 (Special Collections).
The Publick Library Of The University And The Origins Of Intellectual Property
John Willinsky will deliver the inaugural SFU Library Distinguished Scholar in Residence lecture.
Nov. 8th, 1:00pm.
Bennett Library SFU Burnaby, room 2020.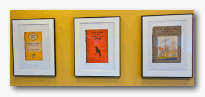 Check out the new book-cover art on the 2nd floor, Bennett Library, SFU Burnaby
---
The SFU Library Update is published by the SFU Library.
Charles Eckman, Dean
Amanda Maxwell, writer
Barry Shell, writer and editor

© 2012 Barry Shell. Permission granted to reproduce articles for SFU promotional purposes. Comments and suggestions welcomed.
ISSN 1929-316X (Print)
ISSN 1929-3178 (Online)

Ask. Explore. Discover.