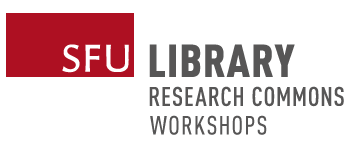 Dates
Friday, September 22, 2023 - 9:00am to 2:30pm
Location
via Zoom (link will be sent to participants 24 hours before the workshop/event begins)
This workshop is in the past and registrations are unavailable.
Registration dates
closed Thursday, September 21, 2023 - 6:00am
All times are Pacific Time Zone (Vancouver, BC, Canada).
About the workshops
Start the new school year off right! Join us for a day of workshops that will cover everything that you need to know about graduate research and writing. Register for the event and come for the whole thing, or drop in to hear the sessions that are of most interest to you! 
 9:00-9:10am
Welcome 
 9:10-9:30am
Building your research and thesis toolkit
Julie Jones, Research Commons Librarian 
Being a grad student is challenging! Building a toolkit that will support your learning and help you thrive is important. And September is a great time to do it. This mini-workshop will outline key tools, services, and supports to be aware of (and use!) during your time at SFU. 
 9:30-10:00am
Scholarly publishing 101
Rebecca Dowson, Digital Scholarship Librarian
This mini-workshop will highlight the topic of open access, provide insight into publishing venues, and will help you choose a suitable journal for publishing your research.
 10:00-10:05am 
Screen break 
 10:05-10:55am

Research ethics and integrity 
Kristie Westerlaken, Director of SFU Research Ethics, and Ethics Officers, Samantha Roper, Candase Jensen, and Kim Lajoie
Description: TBA
 10:55-11:00am 
Screen break 
 11:00-11:50am
Ten actions to take to build a sustainable academic writing practice
Julia Lane, Phd Writing Services Coordinator Student Learning Commons
This is a power-charged 50 minute workshop that will teach you 10 concrete actions to build a sustainable and productive academic writing practice. Taking these actions will provide a structured path through the seemingly abstract, amorphous journey of thesis writing, and academic writing in general. For those keeping track, yes, that's 5 minutes per concrete action!! Did we mention that this workshop is power-charged? See you there. 
 11:50-12:00pm 
Brief discussion before lunch
 12:00-12:40pm
Lunch break
 12:40-12:45pm
Welcome back
 12:45-1:15pm
An introduction to managing your research data: Strategies for data storage, sharing, and publishing
Keshav Mukunda, Research Data Librarian
Many funding agencies, journal publishers, and universities require research data to be ethically and appropriately published and shared online. Data sharing also encourages collaborative research enquiry, supports new discovery and innovation, and foregrounds research accountability. Not sure how to get started with planning to publish your research data? This session will get you thinking about how, when, and where to publish and share your research data for future use, and will also discuss strategies for data storage and organization.

 1:15-1:20pm
Screen break 
 1:20-1:50pm
Bringing GIS and mapping into your research: An introduction GIS tools and resources at SFU
Sarah (Tong) Zhang, Librarian for Geography, GIS, & Maps
GIS (Geographic Information Systems) relies on a simple notion of organizing data into layers using geography as the organizing key. GIS has been applied across disciplines to understand what's going on at all scales in the world. Beyond the analytical power of GIS, web map apps and story maps have become wonderful engagement and communication tools to reach wide audiences. Are you interested in exploring how you can bring GIS and mapping into your research? Attend this workshop to learn why spatial thinking matters and to become aware of a variety of GIS/mapping tools and library resources available to you as a grad student at SFU. 
 1:50-1:55pm
Screen break 
 1:55-2:25pm
Level Up! Tips and tricks for research productivity
Julie Jones, Research Commons Librarian
Learn how to keep up with research! In this workshop, we'll go over tips and tricks that will save you time and enhance your current awareness as a researcher, including setting search and citation alerts, citation searching, software tools to help with writing reference lists and literature reviews, and more.
 2:25-2:30pm
Closing