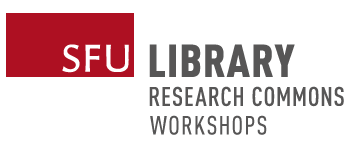 Dates
Thursday, June 2, 2022 - 12:00pm to 1:00pm
Location
Burnaby, Bennett Library, Rm 7010, Research Commons
This workshop is in the past and registrations are unavailable.
Registration dates
closed Thursday, June 2, 2022 - 11:00am
All times are Pacific Time Zone (Vancouver, BC, Canada).
About the series
A series of casual themed conversations where graduate students can connect, ask questions, and share their experiences, feedback, and ideas. No presentations and no Power Points. 
Note: This is an in-person event. If you wish to attend online (via Zoom) instead, please register here.
Grad Conversation: Research Ethics
Our guests for this Conversation possess expertise and experience with the research ethics process. Graduate students are invited to ask questions and share experiences in a casual setting. No presentations, no slide decks; just space for open discussion. 
Grad Conversations are jointly presented by the Research Commons and Graduate & Postdoctoral Studies.
Guests: 
Kristie Westerlaken, Director, SFU Research
Ethics
As the Director of Research Ethics, Kristie is responsible for providing leadership, management expertise, and expert knowledge of ethics and integrity relating to the conduct of research at SFU.
Kristie just joined SFU at the beginning of May. Prior to this, she was the Director of Research Ethics at BC Cancer for over seven years upon returning home to Canada after living in Australia for an extended period of time. She started her career in Research Ethics at Griffith University's Office for Research in Brisbane, Queensland after completing her Master's and PhD which both focused on counterproductive work behaviour, personality disorders (psychopathy and narcissism), emotions, and leadership. Her previous career was in the legal and insurance industries in Australia and Canada.
Samantha Roper, Ethics Officer, 

SFU 

Research Ethics
As one of the research ethics officers, Samantha is responsible for the review of ethics applications submitted to the ORE. These include applications from Faculty, Staff and Students as well as national and international ethics applications which involve

SFU

as a collaborator. 
Samantha joined the Office of Research Ethics in October 2019. Prior to this, she spent 10 years in medical ethics and research governance at Guy's and St

Thomas'

NHS Foundation Trust in London, England during which time she led on the set up and launch of a UK-wide ethics Proportionate Review Service pilot project on behalf of the National Health Service. 
Samantha is passionate about promoting the Office of Research Ethics as a resource for researchers and her favourite advice for researchers is "Don't be a hero – we're here to help, please ask us!"
Kim Lajoie, Ethics Officer, 

SFU 

Research Ethics
In her role as a research ethics officer, Kim reviews ethics submissions from all three campuses, and provides guidance to faculty, staff and students on all matters related to the ethical conduct of research involving human participants at SFU. Kim holds a PhD in Neuroscience from the Universite de Montreal, with expertise in motor control. Prior to her current position, she spent 10 years as a scientist and lab manager in the department of Biomedical Physiology & Kinesiology, as well as Mechatronic Systems Engineering here at SFU.
Candase Jensen, Ethics Officer, 

SFU 

Research Ethics
Candase has been in the Office of Research Ethics for the past four years. In her role as a research ethics officer, she is responsible for providing support to SFU researchers and for the review of human research ethics applications from across the university. She is passionate about research ethics education and excited for opportunities to share knowledge and learn new things. Candase is preparing to defend her MA thesis this fall in the department of Sociology and Anthropology at SFU. Her thesis is focused on the intersection of the history of research ethics policy and social science and humanities research.