On this page
What are reserve materials?
Reserve materials, also known as "Course Reserves", are items required or recommended by instructors for study in a specific course or class.
The types of reserve materials are:
Books and book chapters
Print and online articles
DVDs & videotapes
Course materials such as overheads, notes, practice exams
Links to web sites
Find reserve items
In order to find and locate a reserve item, you must know either:
Course name and number (for example: GERO 300 for Gerontology 300)
or
Professor's name
or
Book or item title
Log into the Student Information System to look up your course name and number or professor's name, if you don't know this information already.
Use Library Search or the Course Reserves System to look up items on reserve
Search for reserves in the Reserves system by title, course number, or instructor, or use Library Search.
For printed materials such as paper books note the following:
the item's title
the SFU Library (Belzberg [SFU Vancouver], Bennett [SFU Burnaby], Fraser [SFU Surrey]) where the item resides
the loan period:

how long the item can be checked out for, e.g. 2 hours, 4 hours, etc.

the call number (call #):

to find the item on the shelf, you will need the call number (#) of the item (book, video or DVD), e.g. RC 523.2 S5352 2004. This number is the item's address and will help you locate the item on the Course Reserves shelf. 

prof. copies (of books) or photocopies of articles are also found using call numbers, e.g. "Photocopy 2043", or "Prof Copy 101".

These items are at the far right hand end of the reserve shelf.

the item's availability:

under Call #, note whether item is either In Library (available for check out) or is due at a specific date and time e.g., Due 12-04-17 06:54PM. This means that the item is checked out by someone else and is unavailable until it's returned. 
Items on reserve in the Library's Catalogue: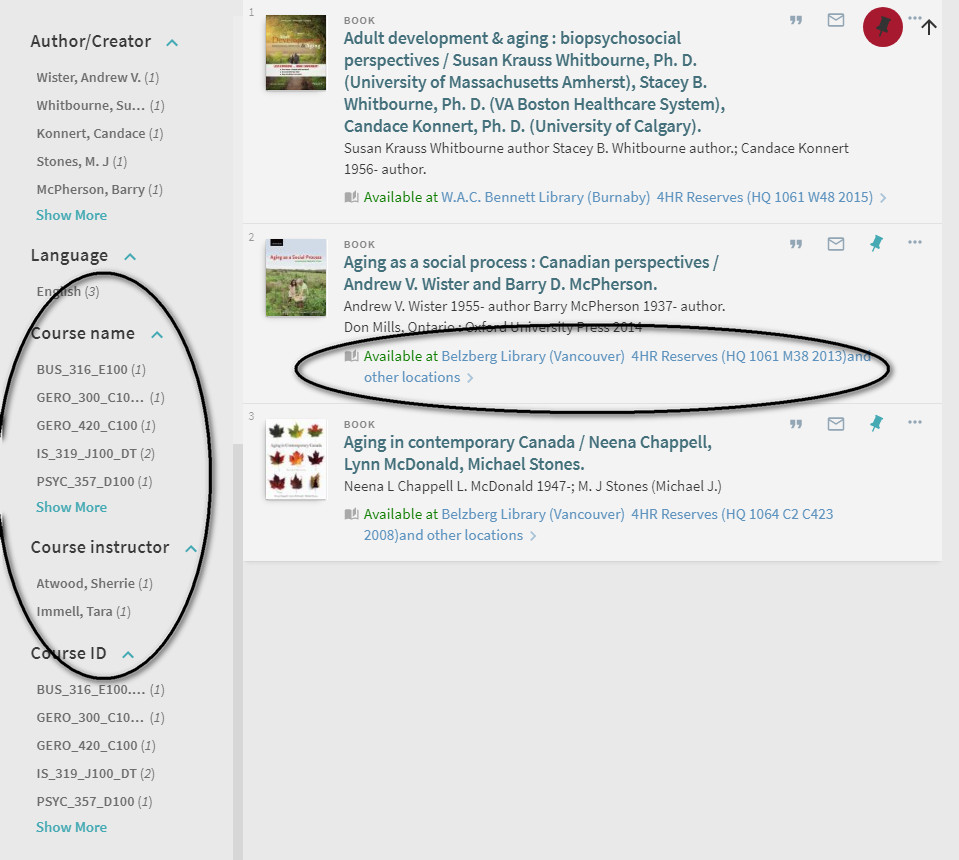 Locate reserve items within the Belzberg Library
At the SFU Vancouver's Belzberg Library,  printed or papber-based reserve materials including books, prof. copies, photocopies, DVDs, and videos are located on the Course Reserves shelf on the main floor of the Library. With the call #, you will find the item on that shelf.  To locate the Course Reserves shelf, see the Belzberg Library (SFU Vancouver) floorplan.
If the record (above) indicates that item is In Library but you can not find it, please come to the Circulation Desk.
Borrow reserve items
All items (books, articles) can be used in or out of the library; either way, they must be

signed out

(checked out) at the Circulation Desk.
There is a limit of 3 items per publication type (e.g. 3 books and 3 photocopies).
If item is checked out, ask circulation staff when it is scheduled to return. If you want the item, ask staff to place a hold on it to secure it.
Reserve materials must be returned to the same library where they were borrowed.
Loan periods
Reserve materials have short loan periods (2 hours to 7 days) to allow greater access to these materials for all students in the course.
Renewals
You may renew an item if no one else has placed a hold on it.
The first 3 renewals for an item on reserve can be done online from Your Library Record or in-person at the Belzberg Library Circulation Desk or call Belzberg Circulation at 778.782.5050. Please note, items cannot be renewed if they have been placed on hold by another person.  
All subsequent renewals (more than 3 times) must be done in-person at the Belzberg Library Circulation Desk.
Fines
Fines are steep to encourage prompt return: $1.00 per hour per item when the Library is open.