This guide is intended to help you with your CA 117 research that focuses on the analysis of a historical art object. It will help you find  scholarly sources of information relating to the object and its historical, social, or political context.  It will suggest helpful questions to ask at each stage of the object-driven research process, recommending resources and search strategies along the way.
Additional research help

If you need help, please contact Sylvia Roberts, Liaison Librarian for Communication & Contemporary Arts at 778.782.3681 or sroberts@sfu.ca or Ask a librarian.
First steps: interrogate the object
When starting off researching an art historical object, you may only have relatively limited information available. For example, this "Cantonese Opera Makeup Box" (pictured below) in the UBC Museum of Anthropology collections provides basic information about the item, including its country and culture of origin.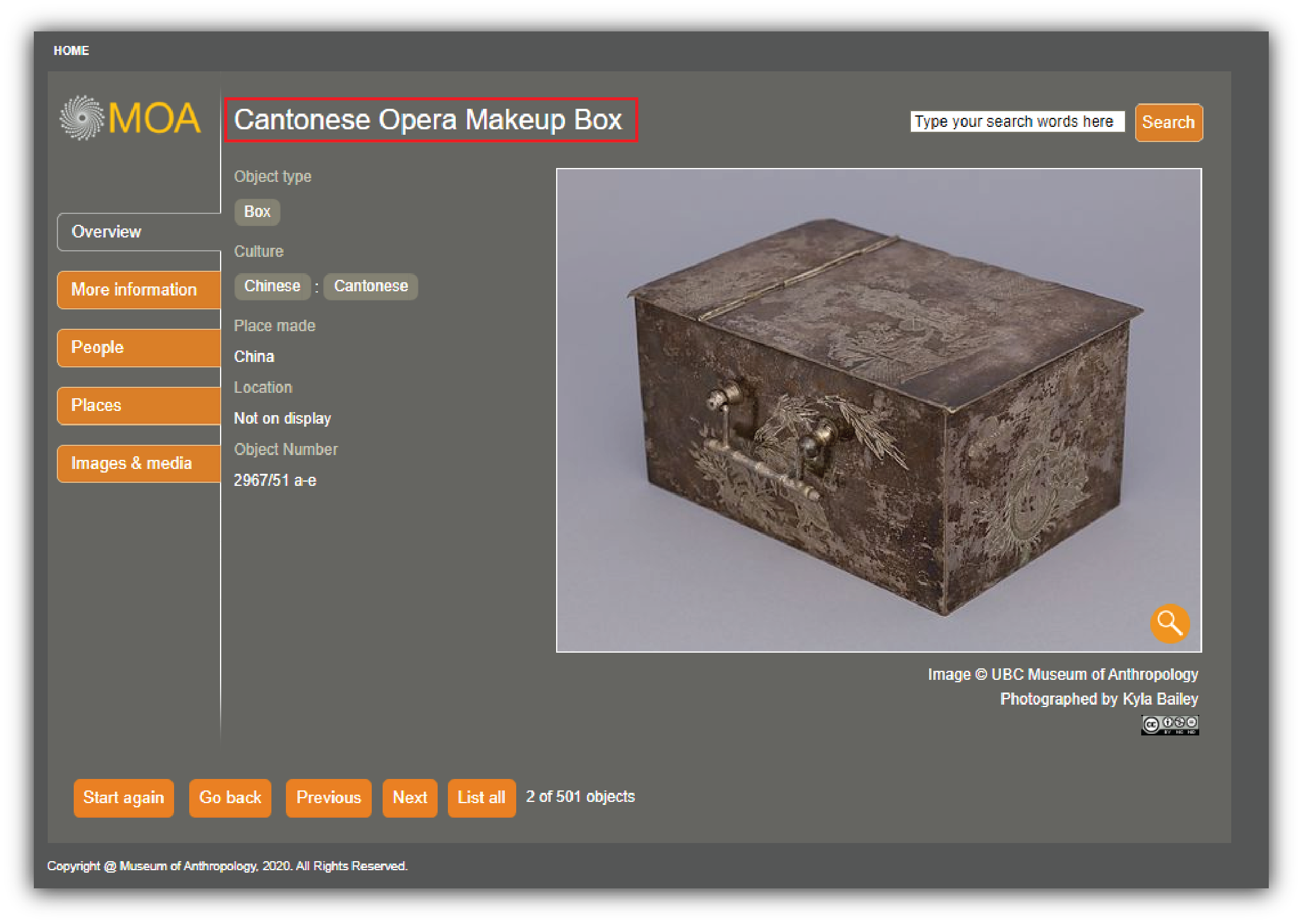 Key questions
Before beginning a search for information sources relating to this item, it is a good idea to start by considering what you already know about the object and what you want to learn.
One way to do this is to ask a series of questions about the item, including:
Who made the object?
When was the object made?
Why was the object made?
How was the object used?
Who used the object?
If this information is not available in the accompanying description of the object, you may need to make educated guesses for some of these questions. In the case of the Cantonese Opera Makeup Box, there is a "More information" section of the page with some helpful additional details.
This page includes a brief description of the object's "History of use," a "Physical description" that includes details about its material construction and design, and an estimate for its "Date Made" details.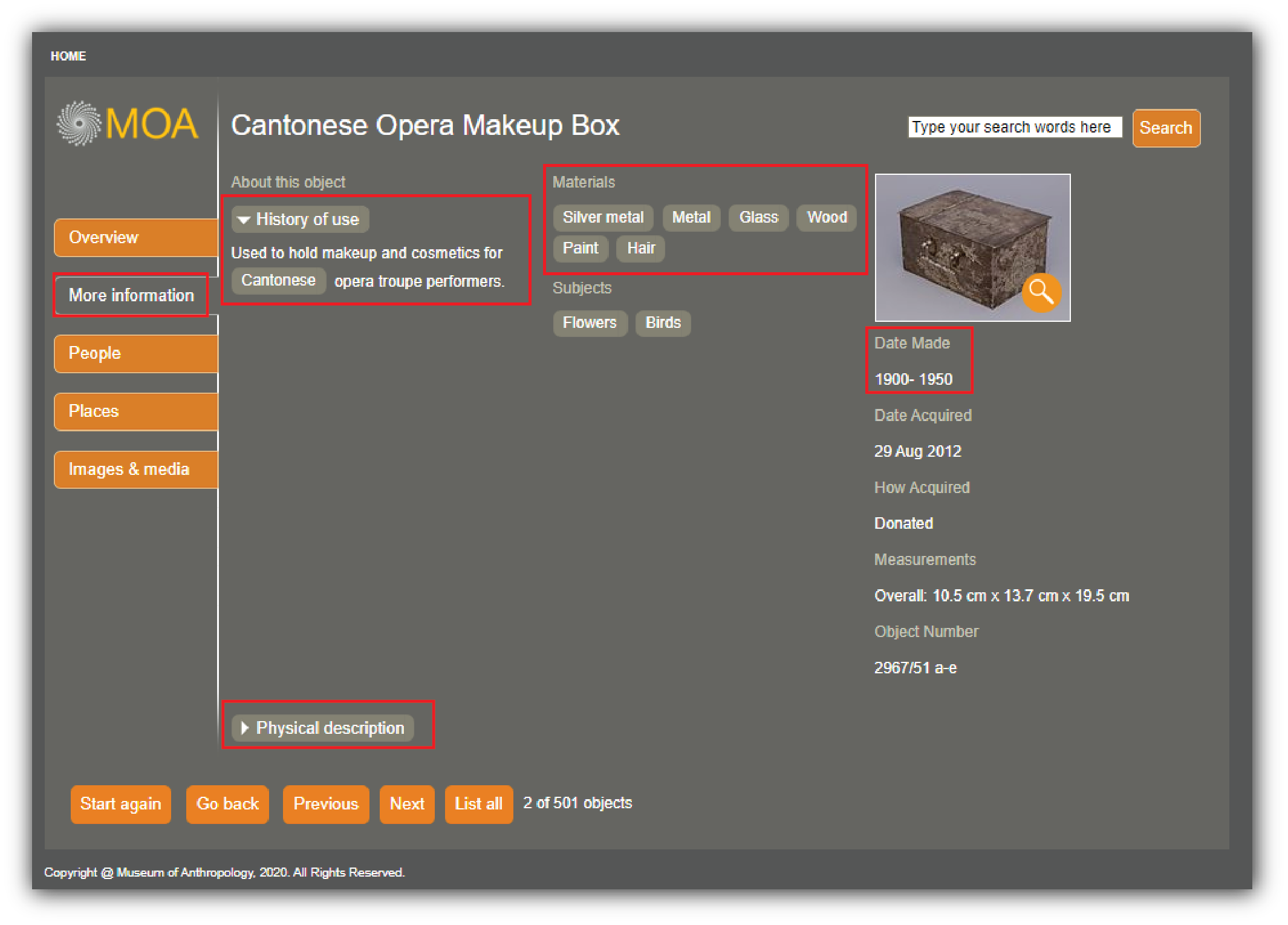 Planning your search
Unless your object is unique and famous, it may be difficult to find discussions of the specific object you have chosen for this assignment,  However, discussions of similar objects or related phenomenon will be useful in understanding your object.
For the example of the Cantonese Opera Makeup Box, this object's name is quite generic in nature, so it can be difficult to search for discussions of this specific object.  Sources that describe this type of item (that is, from the same location, time period, and for the same use) will need to be used instead.
Some questions that can help steer your search for similar or related objects can be found below:
What is your object made out of?
How was it made? Was your object created by hand, or was it manufactured by machine?
Does your object have a characteristic design or style?
Is your object meant to be used for a specific purpose? Is it meant to be decorative?
How does this object's design relate to other objects from this time period?
Does this object have any symbolic value? Does it include any representations?
What characteristics of users can you infer based on the object and its description?
Getting background information
Depending on your level of familiarity, it can be helpful to refer to background reference sources, such as encyclopedias, to help familiarize you with key terms and concepts related to the historical object and its context.  For historical art objects, start with Oxford Art Online.
For the example of the Cantonese Opera Makeup Box, it might be helpful to find background information about Cantonese Opera, or Chinese Opera more generally, and how makeup is used in this context.  You may want to consider how the box ended up in a BC museum, perhaps as an example of the phenomenon of opera troupes touring for the Cantonese diaspora.
One way to search reference sources through the SFU Library is to use some of the general encyclopedias listed on this page. A search for "Cantonese opera" the Oxford Reference Online database, for instance, returns a list of encyclopedia entries providing a helpful overview of the topic and period-specific terminology.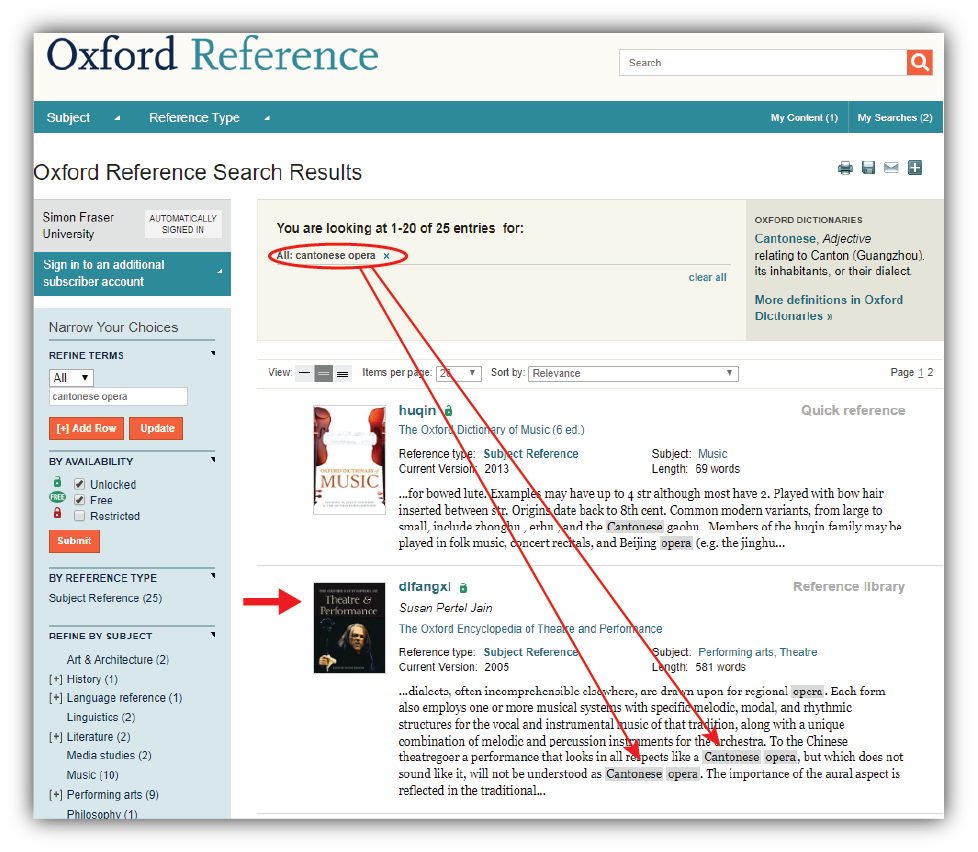 Clicking on one of the search results brings us to an encyclopedia entry related to our topic. At the top of the page, we can see the name of the encyclopedia that this entry originates from. On the left-hand side of the page, we can see related entries from the same encyclopedia. Reading through this entry gives us additional terminology that we can use in subsequent searches.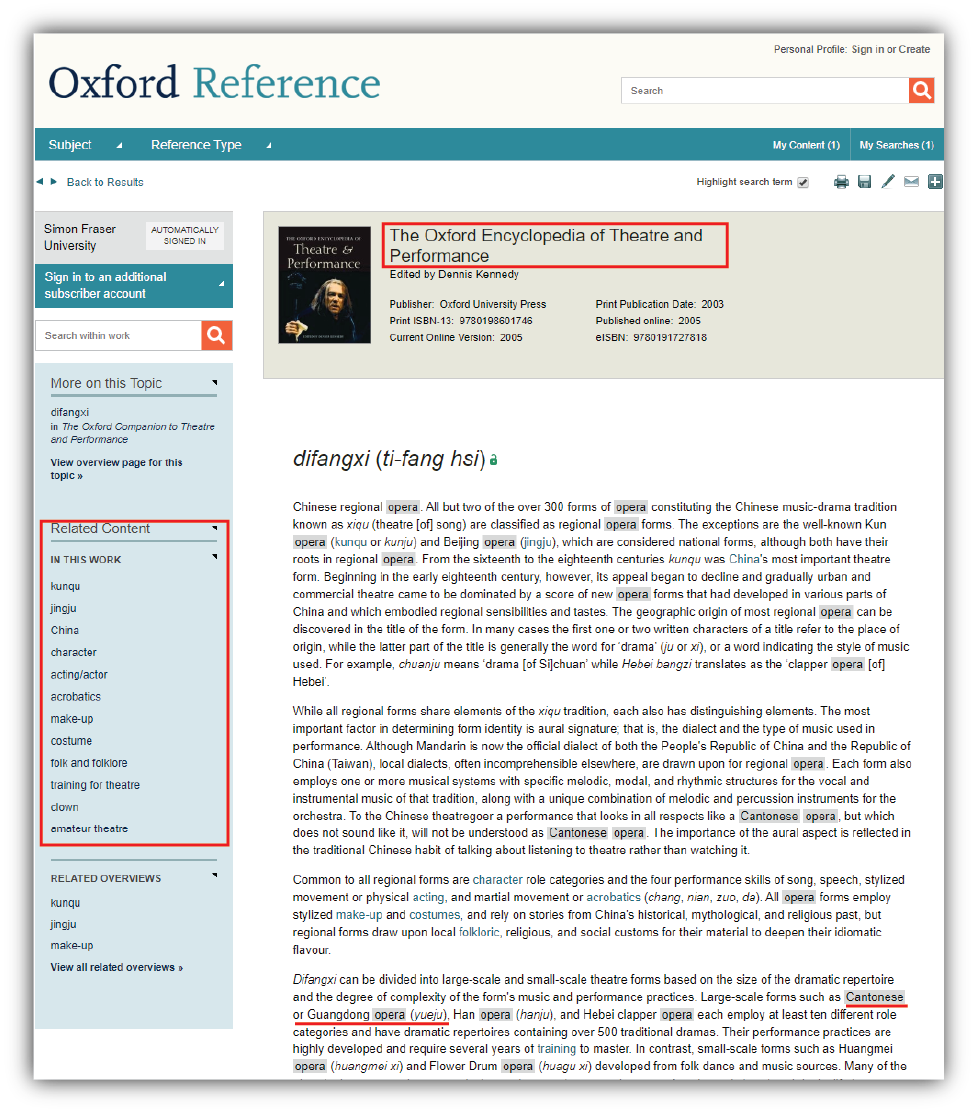 Terminology
Make note of useful details and terms during this initial research stage so that you can use them as search terms when you start to search for more in-depth information.
Oxford Art Online includes a dictionary of art terminology.  If you need to understand terminology or phenomenon beyond the visual arts and art history,  use general or subject specific dictionaries in the Library collection, such as the Oxford English Dictionary.
Finding secondary sources
In humanities research, secondary sources are works that interpret, describe, or evaluate primary sources. These works are typically created by individuals that are not personally connected to the time period or event from which the primary source originates.
Some common types of secondary sources include journal articles, books, book chapters, conference papers and films.
Journal articles
Scholarly journal articles can be a great type of secondary source to use for your research.  Libraries subscribe to article indexes to help researchers identify useful articles about people or topics. The SFU Library subscribes to a large number of index databases of various types.  To help researchers find useful indexes for their research, SFU librarians have created lists of the  best databases for each discipline.
Index databases represent each article from a selection of publications. Each article is represented by a record that gives citation information (author, title, journal name, volume, issue, date of publication) and descriptive information (subject terms that describe the focus of the article, an abstract as summary of the article).  The citation information helps you find the full text of the article, if not included in this database.
Some databases that are particularly useful for finding articles related to research on historical art objects are:

**Art Full Text**
Periodicals, journals, and reproduction of images covering fine, decorative and commercial art, folk art, photography, film, and architecture.
Arts & Humanities Citation Index 
A multidisciplinary index to the journal literature of the arts and humanities, including Archaeology, Art, and History
Project MUSE Search 
Humanities and social sciences peer-reviewed academic journals and ebooks from university presses and scholarly societies world-wide.
JSTOR 
An archival collection of scholarly journals mainly in the arts, humanities and social sciences
America: History and Life 
Literature on all aspects of U.S. and Canadian history, culture and current affairs from prehistory to present.
Historical Abstracts 
Abstracts of journal articles, book reviews, dissertations on the history of the world outside, excluding Canada and the United States, since 1450. Access is limited to 6 users at a time. Users will be automatically logged out of the database after 12 minutes of inactivity.
CBCA Complete
Comprehensive Canadian periodical collection for reference and current events. Publications include scholarly journal articles, trade publications, dissertations, books, newspapers and magazines.
Academic Search Premier
Multidisciplinary index to academic & popular journals with many full-text articles.
Books
To find print or e-books related to your historical object, you can use the SFU Library catalogue. After doing a keyword search in the catalogue, select "Books" from the "Resource Type" filters. Please note that the SFU Library currently searches "Online Resources only" by default.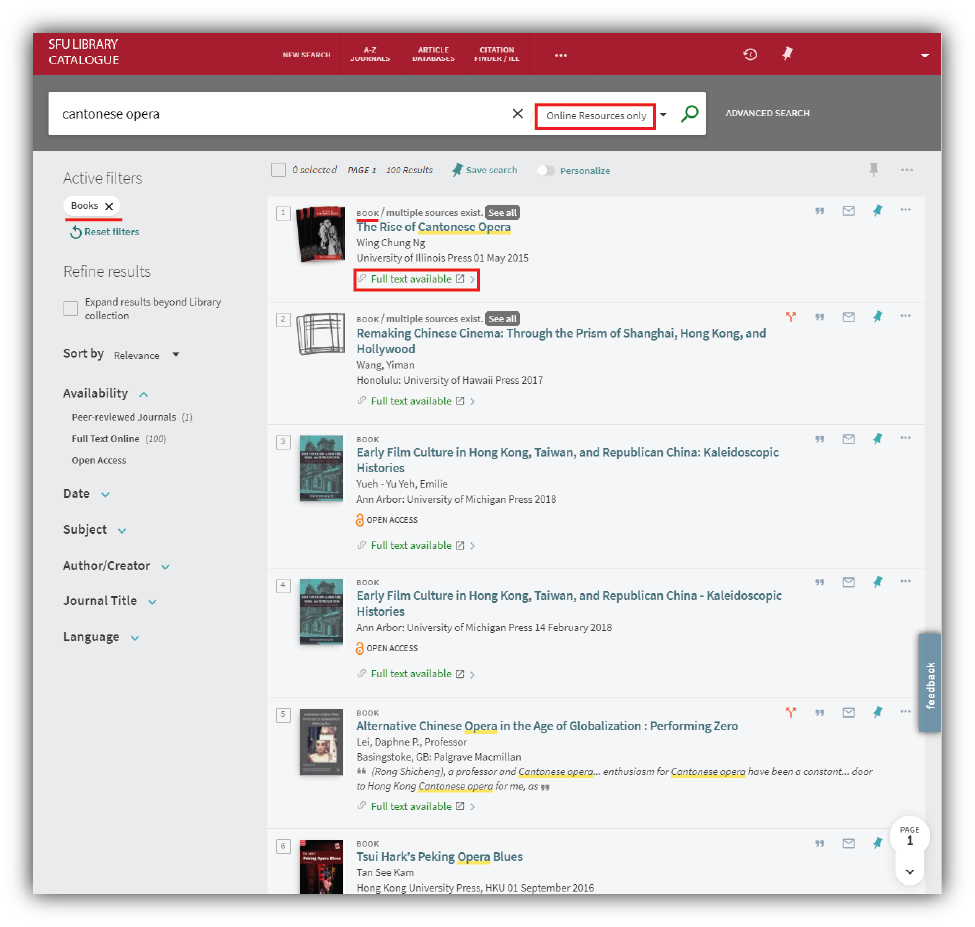 Because books tend to cover a wider range of information, it is important not to dismiss a book simply because its title does not include the specific term or concept you are looking for.
You can use a book's table of contents or index to find sections or pages related to your object or its context. In some cases, a book's table of contents will be included in the library catalogue record for the title.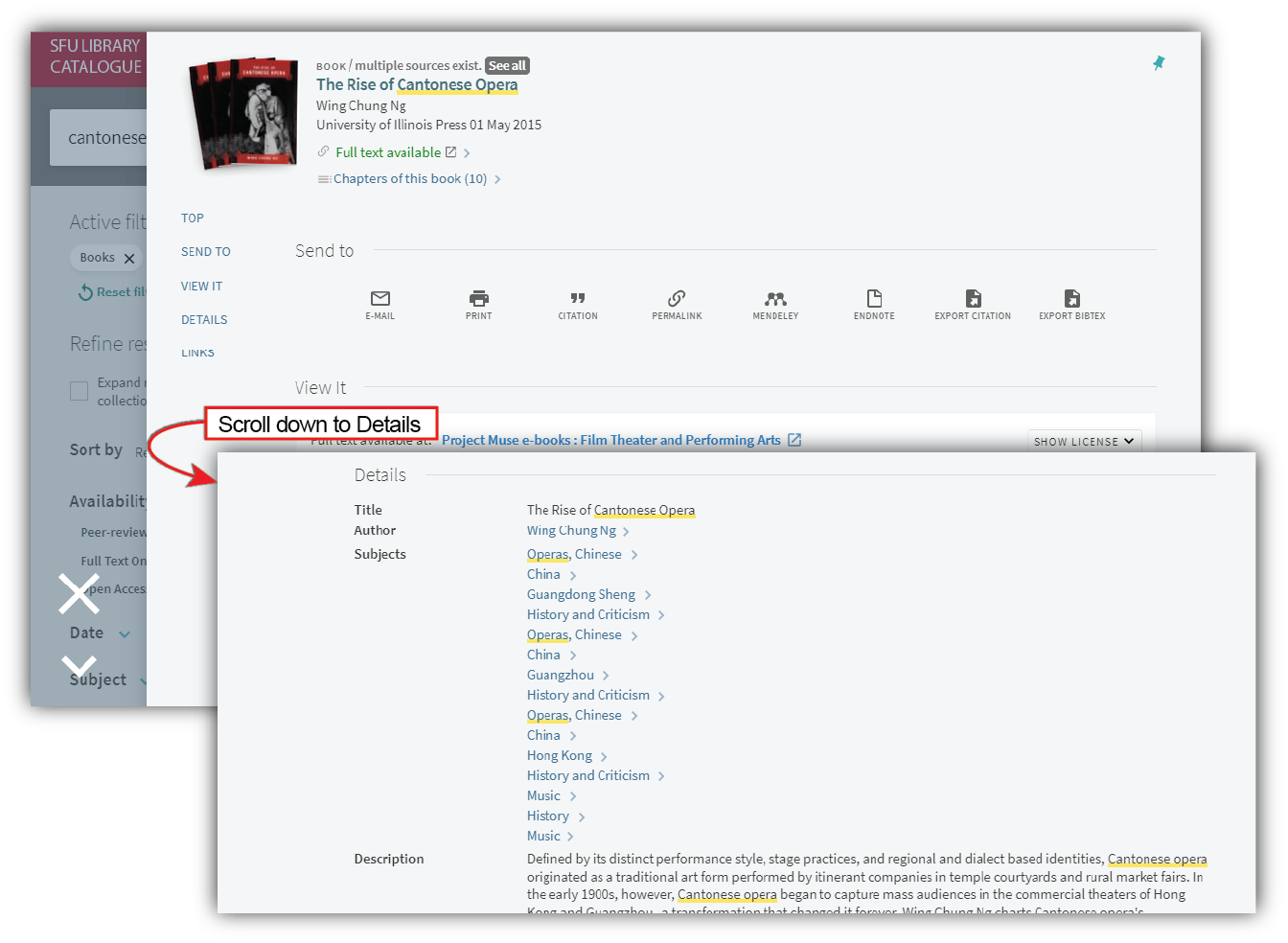 You can also search for books by topic using library subject terms. If you're not familiar with subject terms related to your topic, you can find them listed on the catalogue record for books you have already found on your topic. Clicking on these subject terms will find all the books that have a major focus on that topic.
For more search tips, you can refer to the SFU Library's Catalogue Search Guide.
Finding primary sources
Depending on the needs of your research, you may need to find primary source materials related to the historical object you have chosen.
A primary source is a document or other sort of evidence written or created during the time under study, or by one of the persons or organizations directly involved in the event. Primary sources offer a view of a particular event, such as an exhibition or creation of a work, in the context of its time.
These primary sources might take the form of a similar object to the one that you have chosen, or it could include a newspaper article from the item's historical time period describing the item or a related issue.
Similar or related objects
Depending on the nature of your chosen object, you may want to search for a similar or related type of object, which can be found in visual art databases. Using some of the guiding questions listed above, use the details you have gathered about your object or type of item to carry out your search.
ARTstor
The ARTstor Collection currently contains over one million images. The Collection documents artistic traditions across many times and cultures and embraces architecture, painting, sculpture, photography, decorative arts, and design as well as many other forms of visual culture.
Empire Online
Manuscripts, print, and visual primary sources on colonial history, politics, culture and society around the world from 1492-1969.
Early Encounters in North America 
Prints, drawings, paintings, maps, bibliographies, photographs, letters, diaries, memoirs, and accounts of early encounters in North America from 1534 to 1850. It includes perspectives of explorers, Indigenous peoples, missionaries, officials, slaves, soldiers, and traders.
Historical newspapers and documents
Newspaper articles or other documents written during the time period that the chosen object or item type was created or used can be another useful type of primary source to consider. Below are a list of databases containing these types of primary sources.
Historical Newspapers
Searches full page and article images from the Globe and Mail, the New York Times, the Wall Street Journal and the Washington Post from the mid to late 19th century with embargoes on the most recent 3-8 years of newspaper issues.
Detailed search guide
Gale NewsVault 
Historical full page and article images from the Globe and Mail, the New York Times, the Wall Street Journal and the Washington Post from the mid to late 19th century.
Coverage of specific newspapers
Detailed search options
Early Canadiana Online
Books, government documents, and magazines documenting Canadian history from the 16th to 20th centuries.
British Columbia Historical Newspapers
Digitized versions of historical community newspapers from around the province of British Columbia from 1865 to 1994.
Electronic Enlightenment
Over 77,000 letters between over 10,000 people in Europe, the Americas and Asia from the early 17th to mid 19th century, with scholarly annotations.
Additional resources
Primary Sources for the Humanities
This guide includes primary sources (diaries, letters, maps, prints, pamphlets, handbills, manuscripts) grouped by geography. 
See Primary sources: SFU Library Databases for a list of primary sources in alphabetical order.
Citing your sources
A key element of your annotated bibliography is to provide an accurate and complete citation for  each of the information sources.  Academic research practice requires that you credit the influence of authors and artists on your research by citing the works that you've used in support of your own discussion.  This also enables your reader to find these sources for their own research.
Each academic discipline tends to use a particular citation style to describe publications.  The basic description typically includes the author, title, publication and year of publication in the citation.  The way that this information is presented (the order and punctuation) varies to reflect how that academic field emphasizes.
Historians and art historians typically use Chicago/Turabian citation style.  This enables researchers to cite a variety of primary and secondary sources in footnotes, to help the reader focus on the evidence instead of being distracted by publication information, as with in-text citations. 
The SFU Library Chicago / Turabian citation style guide provides an overview and examples for frequently used publications. 
Art history papers often need to cite images found in publications or online.  You may find it helpful to also consult the SFU Library guide to fCiting tables, figures, and images: Chicago (17th ed) citation style).