On this page
Contact info

If you need help, please contact Sylvia Roberts, Liaison Librarian for Communication & Contemporary Arts at 778.782.3681 or sroberts@sfu.ca or Ask a librarian.
This research guide provides an overview of sources and strategies for use in your literature review.
If you do not find what you need, please Ask a Librarian or contact me, Sylvia Roberts, Liaison Librarian for Communication. 
My work week is split between SFU Vancouver and SFU Burnaby. If you email me (sroberts@sfu.ca), we can figure out how to consult in real time, by phone or in person. Or, for a more immediate response, Ask a Librarian.
WHY A LITERATURE REVIEW?
•Provides a critical written account of the current state of research on a selected topic
•Identifies areas of prior scholarship
•Places each source in the context of its contribution to understanding the specific issue, area of research, or theory under review
•Describes the relationship of each source to the others that you have selected
•Identifies new ways to interpret, and shed light on any gaps in, previous research
•Points the way forward for further research.
---
HOW TO TELL IF IT'S SCHOLARLY
When you use books or journal articles published by an academic or scholarly publisher, you can feel confident that the quality of the research and its presentation have been assured. This is not always true of sources that do not undergo a peer review or scholarly editorial process, such as web pages or popular magazines or newspapers.
To ensure you are using credible, high quality resources, you need to evaluate the content of the information and credentials of the author. Once you practise this for a few papers, it will become second nature to you.
| | |
| --- | --- |
| Required criteria: | Frequently present criteria: |
| The author is a professor or researcher, affiliated with a university or research institution | An abstract of the article summarizes the article at the beginning |
| The author cites all the sources used in their research, in notes, footnotes and a bibliography or reference list | The structure of the article is formal and academic; usually containing an introduction, a literature review of previous relevant research, methodology, discussion, conclusion |
| The article uses the language of experts | Peer-reviewers or referees are listed in the journal |
| Graphic materials and illustrations add to the meaning of the article | The journal does not contain glossy ads for consumer products |
| Empirical research articles include a methodology section, a discussion of results and implications for further research |   |
Not sure if a journal is peer-reviewed?
Use Ulrich's Periodicals Directory / ulrichsweb.ca. Search for the journal title.  Review the results.
All peer-reviewed journals will have a referee's jersey icon (red-circled in the screen shot below) beside the journal title.  "Refereed" is another way of saying that a journal is peer-reviewed, i.e. reviewed by experts to assure the articles are of a high standard and contribute significantly to scholarship in the field.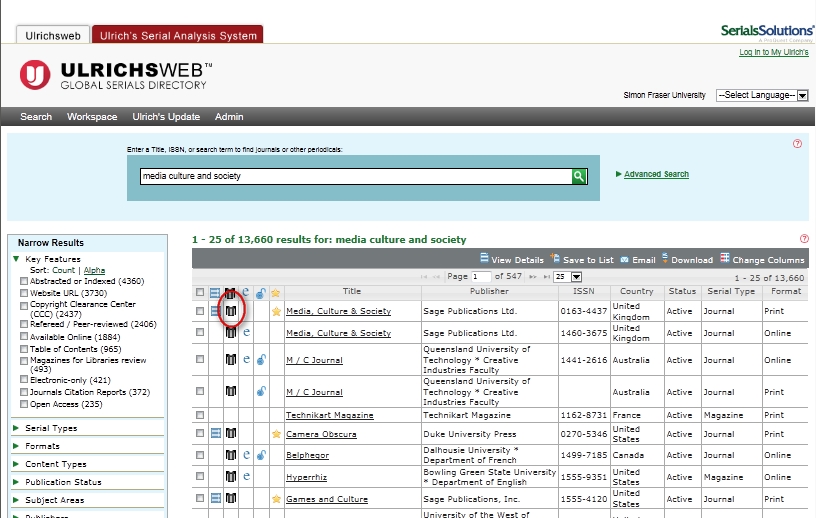 ---
PLANNING YOUR SEARCH STRATEGY
It's useful to spend a bit of time considering the best sources to use for your specific topic, based on the nature of the material that you want.
For this project, you're being asked to find research literature pertaining to your research question. You may want to consider whether you want books, theses, technical reports, academic articles, conference papers, or a combination of these sources. Think of where you need to go to find these sources of information.
---
Search terms
NOTE: Computers are a literal technology. They only find exact matches for your search terms!
Once you have defined your topic, analyze it, breaking it down into concepts. Identify search terms to represent each concept.
Think of synonyms for each term such as "cell phones" or "cellular telephones " or "mobile phones".  You can also use the names of specific groups, companies, and organizations as search terms, e.g. "nokia" or "motorola".
Note any spelling variations for your terms, abbreviations or other variations that may affect your ability to find matching records.
Different aspects of your topic may be represented by a variety of terminology.  Different disciplines may represent an issue using different terminology.  As you conduct your searches, note which terminology works in which subject specific database.
Some search tools provide a thesaurus of the controlled vocabulary (subject descriptors) used to describe the topic of the publication being described in each record. You can use a thesaurus to find the appropriate subject descriptors (terminology) for use in a specific index. Use of subject descriptors helps to insure you don't miss key records on your topic and may suggest terminology you haven't considered using.
A keyword search is a good starting place as it will find your search term anywhere in the record but a subject search will find those articles that are CHIEFLY on your topic.
---
Search tools
I've listed databases that I think will be most useful for finding literature relating to CMNS 362 research.  If you don't find what you need from these sources, Ask A Librarian for help.
START HERE:
Communication & Mass Media Complete
Covers fields of communication, mass media studies, as well as film, linguistics and selected sources in business and education

INVESTIGATE RESEARCH IN RELATED DISCIPLINES

Sociological Abstracts 
Indexes articles, books, and conference proceedings in sociology and related fieldsIndexes major sociological literature, including communication; also investigations of computer and new media applications in anthropology, business, collective behavior, education, gender studies, health, racial interactions, urban studies, and other disciplines
Indexes books, articles and reports on physical and human geography.  Especially useful for place based research, focused on topics like use of public space, gentrification, mobility, urban spaces, communities, etc.
Indexes journals from the fields of nursing and allied health, including coverage of public health topics.
Index to business literature, including trade & industry publications; good for business applications of communication technologies and new media
Provides descriptions of academic journal articles and reports about education and training, from kindergarten to adult learners and teachers
PsycInfo
Indexes academic literature on the psychological aspects of communication and information behavior
 
IF YOU'RE NOT SURE WHICH DISCIPLINE, ASK A LIBRARIAN or USE A MULTIDISCIPLINARY SEARCH TOOL:
Web of Science
A cross-disciplinary academic index. There is no controlled subject terminology so you have to anticipate which words would appear in the title and abstract of records that might be pertinent to your research. Citation searching feature helps you track influential articles after publication.
Humanities & Social Sciences Index
A good source for cross-disciplinary research, covering academic journals in anthropology, community health, geography, philosophy, planning & public administration, economics, communications, film, journalism, political science and other areas
Google Scholar 
Intended to provide a search engine for scholarly materials on the web, including articles, conference proceedings, digital repositories, but also finds student papers, library guides and other non-research materials. Emphasis on scientific and technical literature.
WARNING: Use with caution. Criteria for results ranking and scope of searching are NOT available so you don't know what you're missing.
---
Super searching tips
When using databases such as the Library catalogue and the article indexes you can use the following techniques to improve the relevancy of your results. Ideally, you should capture most documents that are significantly about your topic, without missing really key information and without having to wade through hundreds of records to find a good one.
Consider the following search strategies. Use the link to Help in each database record to find the specific strategies that apply.
1. Use TRUNCATION symbols to find all variations of a term.  $, ?, *, ! are common truncation symbols.  * is used in most databases

 E.G. Canad* will find records that include Canada, Canadian, Canadesis, etc. Google and other web search engines do not use truncation.

2. BOOLEAN OPERATORS allow you to combine terms to narrow or broaden your database searches.

         AND requires BOTH terms to be found in search results (use this for finding two or more concepts)
         OR requires EITHER term to be found in search results (use this for finding synonyms)
         NOT eliminates term(s) from search results (be careful, you may eliminate worthwhile articles with NOT)

3. FIELD SEARCHING: Allows you to focus your search by looking for your search terms in specific parts of the record, for example, the author or title field. A subject descriptor search limits your search to those words in the descriptor field and eliminates those records that don't focus on your subject.

4. LIMITERS: Some databases allow you to limit your results by date of publication, by publication type (e.g. scholarly journals or case studies). Look for limiting options on the main page of the search screen.
NOTE: Don't use an option to limit your result to full text articles. The Where can I get this? link in record will lead you to full text in any database or electronic journal.

5. COMBINE SEARCHES: Many databases will let you create sets of records and combine them. This gives you greater control over your results as you can search all terms dealing with one search concept at a time and then combine your results. Look for a menu option, button or tab on the first page of the search screen that indicates you can do this.
Use your search grid to record your search strategies and the results each database delivers. If you want to revisit a database, to try new search terms or look for specific methodologies, it will be helpful to know what you've already done and whether it was helpful.
---
Capitalizing on good results
Most article index results are listed in date order by default. Some databases will let you change the sort order by relevance (determined by an internal algorithm), by author, by source, etc.
Academic research sources, such as scholarly journal articles, books and reports can provide factual information & analysis AND the seeds for additional research.  Note any subject descriptors or other terminology that you can use to extend your search. Use the reference list in key articles to identify additional related articles, significant authors and theoretical approaches, etc.
Use a citation search tool, like Web of Science, to find articles that have cited a specific work since they'be been published.
If you're not getting enough results, consider looking for literature that deals with a broader or related topic that bears on your research question. You can also consider searching for articles that use a methodology that interests you.
---
CITING YOUR SOURCES
Use the Library's Citation Style guides to help you cite your works in the proper format.
If you do not find what you need, Ask a Librarian.