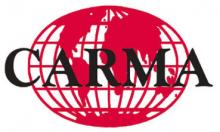 Published by Mark Bodnar
A double dose of good CARMA news before the first series of fall storms hits us tonight... 
1.  Our trial* license to the CARMA Video Library has been extended for another year!
(Note: CARMA = The Consortium for the Advancement of Research Methods and Analysis)
[...]
2.  The first CARMA webcast of the 2016/17 academic year has now been posted to their archive and is available for you to view in the comfort of your office or home... I suspect that the "strategic management" perspective of this webcast will make it particularly relevant to BUEC Buzz readers: 
Dr. Herman Aguinis on: "The When and Why of Effects: Moderation and Mediation in Strategic Management Research"
Abstract: For decades, hypotheses that involve moderation and mediation have been central to strategic management research and many other fields ...