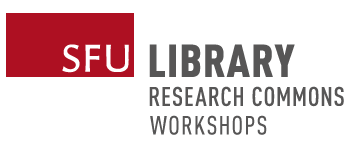 Dates
Thursday, July 13, 2023 - 1:00pm to 3:30pm
Location
Burnaby, Bennett Library, Rm 7010, Research Commons
All times are Pacific Time Zone (Vancouver, BC, Canada).
About the workshop
The SFU Library thesis template is a Microsoft Word file designed to assist students in preparing theses, projects, and extended essay(s) in accordance with formatting standards and requirements for submission to the Library.
There are 3 parts to this workshop:
1. SFU Library's research data specialists will give instruction on how to store, preserve (archive) and, if appropriate, share research data for future uses. (15 to 20 minutes)
2. SFU Copyright Office will briefly explain copyright law as it relates to reproducing copyright protected material in your thesis and other published works, and explain how to request permission from copyright holders when required. (20 to 30 minutes)
3. For the remainder of the time, the Theses Office will walk through the overall structure of your thesis and demonstrate the functionality of the thesis template. You will learn how to:
download the thesis template (a Microsoft Word file) and set up some defaults
format your text using styles (ie. block quotes, lists, references, etc.)
update the Table of Contents, List of Tables and List of Figures
bring in text from other documents
If we have time, we will show you how to:
insert figures/images and tables and generate auto-numbered captions
update the List of Figures and Tables
other tips and tricks
Note: This is an in-person workshop.