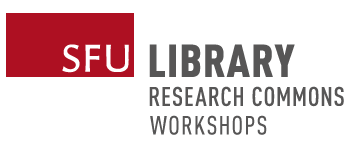 Workshop Dates
Saturday, January 19, 2019 -

9:30am

to

11:00am
Location
Surrey, Galleria 3, Rm 3280
Cancellation deadline date: January 11, 2019
You must cancel by this date to avoid a $25 non-attendance fee applied to your library account in accordance with SFU Library's Cancellation Policy.
-------------------
This workshop is part of All in a Day: Research Roadmap - a suite of our most popular workshops for graduate students and postdoctoral fellows. Mid-morning refreshments will be served at 11:00am
-------------------
Facilitator: Dr. Poh Tan
Do you feel lost or challenged when communicating your research to audiences who are non subject matter experts?  When you're asked about what your research is about, do you often feel it may be too complicated to explain, or you feel as though you must provide all the details for your audience to understand? In most situations, constraints with time limits what and how we can communicate with our research.  This workshop session will address some of those questions and provide strategies for communicating your research with purpose and intent.  If you are preparing for an upcoming presentation or just curious about how you can further develop your communication skills, we invite you to join us for this interactive workshop. 
Dr. Poh Tan is an entrepreneur, a stem cell biologist, an educator, a volunteer and a mother.  She has made substantive contributions to many different fields and has made positive impacts on many people's lives throughout her career. Poh's current focus is on inspiring young children and their educators to use scientific thinking as a tool to open up their world and courageously walk into a bright future full of limitless possibilities.  Poh obtained her first PhD from the Faculty of Medicine at UBC focusing on the biology of blood stem cells. Her experience led her to a successful career in the biotechnology sector and eventually, helped her become a successful entrepreneur with two businesses.  Poh's passion lies in developing scientific literacy in young children and is currently pursuing a second PhD at SFU.  Through her academic and industry experience, Poh has communicated her research to national and international audiences, including sharing her knowledge as a two time TEDx speaker.  She coaches graduate students to develop their oral and written skills to effectively communicate their research to different types of audiences.     
Last Modified: January 19, 2019