March 20, 2020 update: While the physical SFU Libraries are temporarily closed due to COVID-19 measures, we are happy to continue to support you with any research data management questions remotely. Please feel free to contact us by email at
data-services@sfu.ca
during this time, and we can set up a meeting via video conferencing or telephone.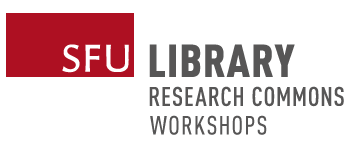 Dates
Tuesday, August 3, 2021 - 3:00pm to 4:30pm
Wednesday, August 4, 2021 - 3:00pm to 4:30pm
Location
via Zoom (link will be sent to participants 24 hours before the workshop/event begins)
Registration dates
open until Monday, August 2, 2021 - 6:00am
All times are Pacific Time Zone (Vancouver, BC, Canada).
Note: This is a multi-day workshop. In order to attend the 2nd day, you are required to attend the 1st day.
------------------
In this beginner's introduction to Git you will learn the basics of working with Git version control. We will start with an overview of Git and version controlling concepts. Making our own repository, we will practice creating a remote repository, cloning, branching and resolving conflicts on a Git project.
Requirements:
You need to have Git bash installed on your computer. We will not be using GitHub, so no need for a GitHub account.
You need a remote secure shell (SSH) client installed:

If you are on a Mac or Linux laptop, you already have it installed.
If you are on Windows and don't have SSH installed (or don't know what it is), we recommend you install Ubuntu on your windows OS before the workshop. We will guide you through installing SSH before the class. 

We assume no previous knowledge of the Linux command line or version control.
Attendance requirement:
You need to attend BOTH days. Different topics are covered each day and it builds on materials covered on the previous day, so if you miss the first day, we won't have the resources to help you catch up in this online environment.
Facilitator
Laura Gutierrez Funderburk
Pegah Ziabari