March 20, 2020 update: While the physical SFU Libraries are temporarily closed due to COVID-19 measures, we are happy to continue to support you with any research data management questions remotely. Please feel free to contact us by email at
data-services@sfu.ca
during this time, and we can set up a meeting via video conferencing or telephone.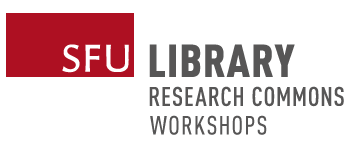 Workshop Dates
Saturday, September 14, 2019 -

11:30am

to

1:30pm
Location
Vancouver, Harbour Centre, Rm 1425
Cancellation deadline date: September 7, 2019
You must cancel by this date to avoid a $25 non-attendance fee applied to your library account in accordance with SFU Library's Cancellation Policy.
-------------------
This workshop is part of All in a Day: Research Roadmap - a suite of our most popular workshops for graduate students and postdoctoral fellows. Mid-morning refreshments will be served at 11:00am
Requirements: Participants will need to bring their own laptop (either Mac or PC).
-------------------
Wondering where to find datasets that will be most suitable for your research project or thesis? The data ecosystem is scattered across multiple providers and subject areas, which makes finding what you need both challenging and time-consuming. This workshop will introduce you to several tools and strategies to find relevant datasets, including open data portals (both governmental and otherwise),
Statistics Canada
,
CHASS
, the
Abacus Dataverse Network
,
Nesstar
,
ICPSR
, and
Statista
.
Facilitator:
Keshav Mukunda
Sarah Zhang
Last Modified: May 22, 2020