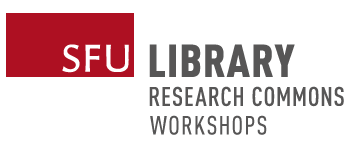 Workshop Dates
Saturday, January 19, 2019 -

11:30am

to

1:00pm
Location
Surrey, Galleria 3, Rm 3290
Cancellation deadline date: January 11, 2019
You must cancel by this date to avoid a $25 non-attendance fee applied to your library account in accordance with SFU Library's Cancellation Policy.
-------------------
This workshop is part of All in a Day workshops - a suite of our most popular workshops for graduate students and postdoctoral fellows. Mid-morning refreshments will be served at 11:00am
-------------------
The OSF is a free, open-source web app that manages research projects at all stages of the research lifecycle. It is used for documentation, file storage, versioning, collaboration, and it connects the various tools researchers currently use. The OSF is produced by the Center for Open Science (COS) and has over 60,000 users across various academic disciplines. Attend the workshop to learn more and explore the OSF.
Last Modified: May 26, 2020