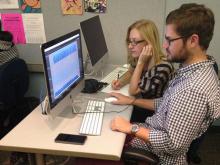 Published by Rebecca Dowson
On September 21, 2016, SFU's Research Commons and the Digital Humanities Innovation Lab hosted a half-day workshop focusing on the scholarly and pedagogical applications of podcasting. Hosted by Colette Colligan and Rebecca Dowson, this first workshop in the Digital Skills Workshop Series attracted graduate students, faculty, and librarians from a diverse spectrum of disciplines in the humanities, including Education, Philosophy, English, History, Communication, and Psychology.
The morning opened with a panel discussion by Hannah McGregor, an assistant professor in SFU's Publishing program, and Roxanne Panchasi and Nicolas Kenny, both associate professors...