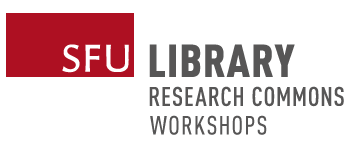 Dates
Wednesday, June 23, 2021 - 3:00pm to 4:30pm
Thursday, June 24, 2021 - 3:00pm to 4:30pm
Location
via Zoom (link will be sent to participants 24 hours before the workshop/event begins)
All times are Pacific Time Zone (Vancouver, BC, Canada).
Computational analysis, also known as distant reading, provides access to information or insights about a text that would be nearly impossible to gather using methods of close reading and "manual" synthesis. This workshop is based on Matthew Jockers' book "Text Analysis with R for Students of Literature". We will provide an introduction to computational text analysis using the programming language R and look at 1-2 analysis techniques based on word frequency. 
This workshop is for beginners.
Software/Technical Requirements:
Attendance requirement:
You need to attend BOTH days. Different topics are covered each day and it builds on materials covered on the previous day, so if you miss a day, we won't have the resources to help you catch up in this online environment.
Facilitator
Pegah Ziabari
Sina Nazeri